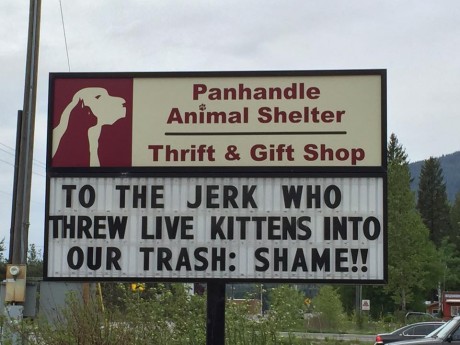 What would you do if you discovered that someone had sealed four kittens in a cardboard box with duct tape and tossed them in a dumpster?  What would you do if you personally witnessed someone toss a cat out of a vehicle that was moving down the road at high speed?  As America becomes increasingly cold-hearted, people are doing things to animals that are incredibly sick and disgusting.  It has been said that a society is judged by how it treats those that are most vulnerable, and our pets are completely and totally dependent on us for their welfare.  When we treat them like garbage, it reveals what is truly in our own hearts.  If you have a weak stomach, you may not want to read this article.  Some of the things that people are doing to cats in this country are absolutely horrific.
For example, a group of high school students in the state of Oklahoma recently "filmed themselves performing a sick dance routine with dead cats"…
A group of students at one of America's top high schools filmed themselves performing a sick dance routine with dead cats in their classroom before posting the video on Facebook, the Daily Mail Online can reveal.

The disturbing footage shows eight young students from a flagship charter school – which is rated among the best schools in the USA – making the cat corpses 'dance' to music in a school laboratory while being 'conducted' by another student.

The students, from the Harding Charter Preparatory High School in Oklahoma, ranked number one in Oklahoma and 23 in the USA, can be seen laughing as they stand in a row with the cats – meant to be dissected in their anatomy class – then wave them side to side to the 'Meow Mix' cat food commercial song.
You can find video of this very sick dance routine right here.
And what in the world are high school students doing "dissecting cats" for anatomy class anyway?
Personally, I have a major problem with cutting cats open for "educational purposes".  No high school kid should ever be doing that.
But this is what is happening to our culture.  For large segments of our population, animals have no other purpose than to be used and abused by us however we want.
This next example is even more disturbing.  In Sandpoint, Idaho someone recently sealed four precious little kittens in a cardboard box with duct tape and left them to die in a dumpster.  Here is a photo of the kittens after they had been rescued…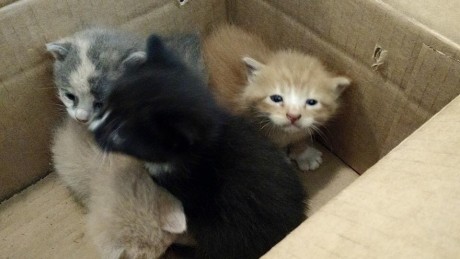 It was the Panhandle Animal Shelter in Sandpoint that posted this photo on Facebook, and the following is what they had to say about this incident…
Please do the right thing and bring animals into the shelter. We are available for intakes between 8:30-5:30 at the "incoming animal" door. These beautiful babies were left in a cardboard box closed with duct tape and placed in the dumpster. Fortunately a kind person heard them and saved them from a horrible death.
In response, the animal shelter posted this message on their billboard…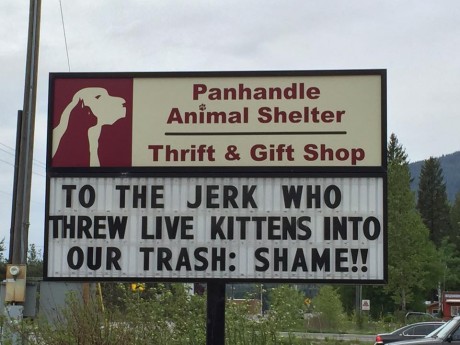 Another extremely disturbing incident just recently took place in Minnesota.  An eyewitness actually saw a driver throw a cat out onto the road while the vehicle was still moving.  Needless to say, the cat suffered severe injuries…
A reward is being offered to find the driver who tossed a cat out of the window of a moving vehicle in Roseville.

The cat was thrown from a blue van or blue sedan driving southbound on Rice Street in Roseville on Saturday, May 2. She sustained broken teeth and three fractures to her hind leg, and much of the skin on her paws and tail was torn off.

Officer Jason Gehrman with the Roseville Police Department responded to a call outside Setzer Pharmacy. He said a woman witnessed the cat being thrown out of the moving car window and went into traffic herself to save the struggling cat.
Are you angry yet?
You should be.
And of course these are far from isolated incidents.  Our entire nation is becoming more wicked and more evil with each passing day.  This is something that I covered in my recent article entitled "11 Examples Of How Evil Is Growing In America Like A Cancerous Tumor".
So why is this happening to our society?
Why is there so much moral decay all around us?
I believe that the dramatic decline of Christianity in the United States has a lot to do with it.  According to a brand new Pew Research report entitled "America's Changing Religious Landscape", the proportion of the population that considers themselves to be "Christian" in any way, shape or form has been shrinking dramatically.  This is especially true of our young people.  The following comes from CNN…
Released Tuesday, the survey of 35,000 American adults shows the Christian percentage of the population dropping precipitously, to 70.6%. In 2007, the last time Pew conducted a similar survey, 78.4% of American adults called themselves Christian.

In the meantime, almost every major branch of Christianity in the United States has lost a significant number of members, Pew found, mainly because millennials are leaving the fold. More than one-third of millennials now say they are unaffiliated with any faith, up 10 percentage points since 2007.
With each passing generation, this nation is becoming less and less "Christian".  You can see this very clearly in the numbers.  After compiling all the data, Pew found that 85 percent of all Americans born between 1928 and 1945 still consider themselves to be "Christian", but for those born since 1990 it is just 56 percent…
Looking at the long view, the generational spans are striking. Whereas 85% of the silent generation (born 1928-1945) call themselves Christians, just 56% of today's younger millennials (born 1990-1996) do the same, even though the vast majority — about eight in 10 — were raised in religious homes.
Without the morality of the Christian faith to guide them, an increasing number of our young people are basing their moral decisions on whatever "feels right" to them.
These days, most people (whether "Christian" or not) are doing whatever seems right in their own eyes, and our society is becoming increasingly chaotic as a result.
So what is the solution?  Please feel free to share what you think by posting a comment below…