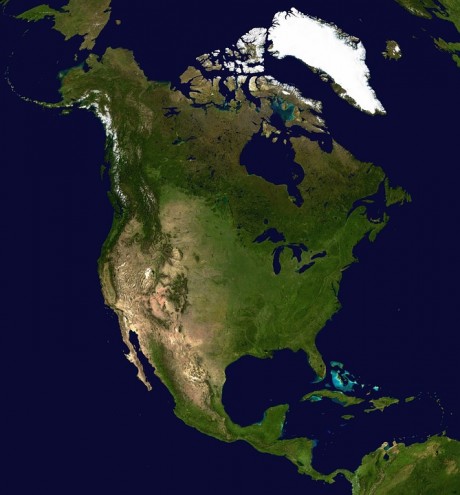 What do you get when you add together one of the strongest El Ninos ever recorded, the worst year for wildfires in U.S. history, and unprecedented earthquake swarms in diverse places all over the country? Since the end of the summer, America has been hit with a truly unusual series of natural disasters. The state of Oklahoma has already set an all-time record for the number of earthquakes that it has experienced in a year, more acres have been burned by wildfires in the U.S. than we have ever seen before, and a "1,000 year rainfall" caused horrific flooding in South Carolina. Those are just a few examples of what we have been seeing, and many believe that this is just the beginning. So why is this happening? Is there something that connects all of these natural disasters together?
Let's start by talking about earthquakes. In the past, we would expect to see earthquake activity along the west coast, but not much elsewhere.
Today, things have dramatically changed. For example, this year the state of Oklahoma has seen nearly eight times as many magnitude three or greater earthquakes as it did just two years ago…
As 2015 nears its end, 850 earthquakes of magnitude three or greater have stirred the state of Oklahoma. Compared to 584 of the same magnitude in 2014 and 109 in 2013, the trend is clear: earthquakes are on the rise.
Other areas of the nation are experiencing highly unusual seismic activity as well. Just recently, east-central Idaho was hit by a swarm of more than 40 small earthquakes…
More than 40 small earthquakes were recorded in east-central Idaho last week in what experts say is another earthquake swarm in the region.

Officials in the Challis area on Friday reported no damage from the micro-quakes that started Tuesday and have mostly gone unnoticed or unreported in an area with residents accustomed to more vigorous shaking.

But the temblors ranging up to 2.9 magnitude have perked up scientists trying to understand the fault system in the area where a 5.0 magnitude quake struck in January.
So why are we seeing so many earthquakes all of a sudden?
That is a question that none of the "experts" seem to have an answer for.
Meanwhile, we are currently on pace for the worst year for wildfires in the history of the United States. Earlier in the year this was not the case, but in August and September there was a sudden explosion of massive wildfires, and now it looks like we are going to easily break the all-time record by the end of this month…
The nation is closing in on its worst wildfire season in recorded history, with nearly 9.8 million acres already burned — the equivalent of Massachusetts, Connecticut, Rhode Island and part of New Hampshire going up in flames.

Two large fires and more than 160 smaller ones remain active, and more fires are expected to be reported before the month ends. Together, they're likely to push the 2015 total past the record 9.87 million acres burned in 2006.
On top of everything else, we have witnessed a series of horrifying floods all over the nation in recent months.
It started in late September. The storm that would later became known as Hurricane Joaquin formed into a tropical depression on September 28th, which also happened to be the date of the fourth blood moon. Hurricane Joaquin never made landfall in the U.S., but moisture from that storm dumped unprecedented amounts of rain along many parts of the east coast. In fact, at one point South Carolina Governor Nikki Haley came out and publicly said that it was the most rain that some areas of her state had seen "in a thousand years".
Subsequently, other parts of the nation also got hit by dramatic floods. We saw flash floods produce "rivers of mud" that completely buried vehicles on highways in southern California, and there was freak flooding in the state of Texas that derailed a train and caused several deaths.
And now, officials are telling us that one of the strongest El Ninos in history could bring record rainfall, flooding and mudslides to the west coast of the United States for months on end. Due to horrible flooding that is already ravaging the region, a state of emergency has now been declared in several counties in the Pacific Northwest, and the experts are telling us that this is just the beginning. The following comes from the Los Angeles Times…
"Of all the years in which there was a strong El Niño present in the tropical Pacific Ocean, this is the wettest start to any of those years that we've observed in the Pacific Northwest, both in Portland and Seattle," said Daniel Swain, a climate scientist at Stanford University.

Powerful rains have struck Oregon hard over the past three days, according to the National Weather Service. On Wednesday, one woman drowned when her car entered floodwaters, and another woman was killed after a falling tree crushed her Portland home, according to local news reports.

A photo published in the Tillamook County Pioneer showed the town of Nehalem covered in floodwaters. The newspaper reported that several families have been flooded out of their homes and U.S. 101 was closed there.
Yes, every year there are natural disasters that we must deal with. They are simply unavoidable. But in 2015 we have seen an extremely strange confluence of disasters that is unlike anything that we have ever seen before. And in particular, this series of natural disasters seems to have intensified greatly since the end of the summer.
So what in the world is going on?
What could possibly be causing this to happen?
Please feel free to tell us what you think by posting a comment below…