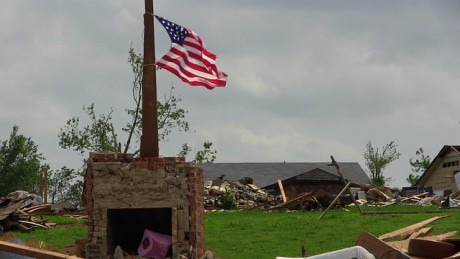 Does the Army expect that there will soon be "disaster stricken" areas all over the country?  As you will see in this article, a job advertisement has been posted on a federal website seeking workers that "will provide emergency support to disaster stricken areas throughout the US". This was originally reported by Shepard Ambellas of Intellihub, but it is not receiving nearly as much attention as it perhaps should.  What parts of the nation does the U.S. Army believe will soon be "disaster stricken"?  By itself, this job ad wouldn't be raising that many eyebrows, but when you combine this with the unusual number of "military training exercises" that are taking place all around the country and with the very strange movements of military equipment that have been reported recently, it gives the appearance that the U.S. military is feverishly making preparations for something big.
You can find the job advertisement that I mentioned above right here.  The following is an excerpt from that job posting…
Employees occupying these positions will provide emergency support to disaster stricken areas throughout the US. Employees must pass a stringent medical screening and be prepared to live and work in extremely austere conditions. Work schedule will initially be arduous, with much overtime. Sleeping arrangements may be limited to using a sleeping bag or in the vehicle used to move from location to location. The duty station for pay purposes for these positions is Kennewick, WA with possible 75% or Greater Business Travel in various locations throughout the US.

Provides emergency support to disaster stricken areas throughout the US.
The duty station for pay purposes for these positions is Kennewick, WA.
On the surface, this ad could certainly be interpreted quite a number of different ways.  And maybe there is nothing strange about this ad at all.  But the reason why it is raising so many eyebrows is because of the overall context of what is happening right now.
An unusual number of large scale military exercises are being held all over America in 2015.  In the alternative media, most of the focus has been on the upcoming Jade Helm exercise, but that is only one of many that are being conducted.
And sometimes, local residents are not even being warned in advance that a major exercise is going to be held in their community.  This was certainly the case with one that took place in Flint, Michigan recently…
It was a peaceful afternoon, and then residents said it seemingly turned hostile.

"I was standing there, and all of a sudden, boom!" Jean Glenn said.

"I mean it was loud, it blew up the whole sky or whatever, it was like four or five big bangs," Annette Humphrey said.

Explosions you'd expect in a war zone echoed through Flint. People's homes shook and those inside were caught off-guard. It all went down Tuesday at the shuttered Lowell Junior High on the city's east side.
Even though the people living there knew nothing about it until they were caught off guard by the very loud explosions, it turns out that the Army had been planning the exercise for at least six months, and it was all part of a much larger exercise being conducted all over the country…
Flint's spokesman Jason Lorenz said the city has been in talks with the Army for six months now about using parts of the city. This is part of a joint exercise being carried out across the United States.
Yes, holding military exercises in U.S. cities is certainly nothing new.  But in 2015 it appears that we are witnessing an unprecedented amount of activity.  It is almost as if preparations are being made for some really big event.  A recent Intellihub article summarized some of the things that we have been witnessing lately…
Is all of this activity building up to something big?
Do those at the top of the food chain anticipate that some very unusual event will happen later this year?
I wish that I had all the answers.  But without a doubt, all of this military activity around the nation seems quite unusual.  And of course if the purpose for all of this activity is to prepare for some big event that is coming, they are not going to tell us in advance anyway.
So what do you think is going on?  Please feel free to add to the discussion by posting a comment below…