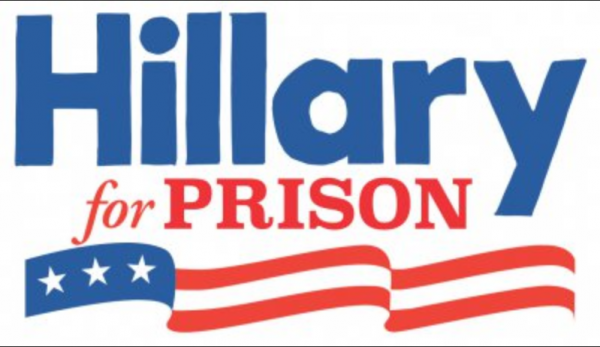 In the United States, nobody is supposed to be above the law, and that includes our elected officials.  If top politicians are permitted to break the law over and over again and get away with it, that sends an absolutely terrible message to everyone else in our society, and it threatens the legitimacy of our entire system of justice.  Hillary Clinton has been caught red-handed mishandling classified documents, it appears that she greatly betrayed our nation during the Uranium One deal, evidence has emerged that she has committed gross violations of campaign finance law, and the very deep corruption at the Clinton Foundation is well known.  Hillary Clinton needs to be prosecuted and sent to prison, and as a member of Congress I will do whatever I can to help make that happen.
Let's start by discussing Hillary's mishandling of classified documents.  According to Fox News, there were classified documents among the 2,800 work-related emails on Anthony Weiner's laptop that the State Department released on Friday, and this is fresh evidence that Hillary Clinton broke the law…
The State Department on Friday released a batch of work-related emails from the account of top Hillary Clinton aide Huma Abedin that were discovered by the FBI on a laptop belonging to Abedin's estranged husband, Anthony Weiner, near the end of the 2016 presidential campaign.

At least four of the documents released Friday are marked "classified."
As we have seen in so many other cases of this nature, it does not matter if Hillary Clinton intended to mishandle classified documents or not.
All that matters is that she did so, and we have very clear evidence that she did.  As Bernard B. Kerik has pointed out, anyone else in the federal government that did what Clinton did would definitely be prosecuted…
The possession, transmission, and failing to secure these documents are all federal crimes that do not require intent. Why hasn't someone been prosecuted? Any member of the @FBI, @TheJusticeDept or #DOD would've been prosecuted in a second for a violation that substantial.
And we have also learned that emails from the State Department during the Trump administration also somehow ended up on Anthony Weiner's laptop.
How in the world did that happen?
We need answers, and someone needs to be held accountable for that.
As bad as the email scandal is, the Uranium One scandal may be even more troublesome for Hillary Clinton.
If you are not familiar with Uranium One, the following is a pretty good summary from the Christian Science Monitor…
President Trump calls it the "real Russia story": allegations that as Secretary of State Hillary Clinton approved the sale of 20 percent of US uranium supplies to Rosatom, the Russian state nuclear company.

The sale was greased by $145 million in contributions to the Clinton Foundation from Canadian executives who benefited from the sale, according to these allegations.

Prosecutors at the Justice Department are now reportedly considering the appointment of a special prosecutor to look into the transaction.
I very much hope that a special prosecutor is appointed to look into Uranium One, because this appears to be an enormous can of worms.
Hillary Clinton also appears to have violated campaign finance law.  It turns out that her campaign helped fund the now infamous "anti-Trump dossier", but she tried to keep that a secret from the FEC.  The following comes from Fox News…
The revelation that Hillary Clinton's campaign and the Democratic National Committee helped fund a salacious anti-Trump dossier last year is raising new legal questions for the Clinton team — with a watchdog group filing a formal complaint alleging they hid the payments from public view.

The Campaign Legal Center filed the complaint Wednesday with the Federal Election Commission, accusing the DNC and Clinton's campaign committee of breaking campaign finance law by failing to accurately disclose the money spent on the Trump-Russia dossier.
This is another instance where it is exceedingly clear that Hillary Clinton should be prosecuted.
So why aren't members of Congress speaking up?
In just a few months, Republican primaries will be held all over the nation for the upcoming 2018 mid-term elections.
If a candidate for Congress will not publicly commit to do whatever they can to put Hillary Clinton in prison, do not vote for that individual.
Hillary Clinton is one of the most corrupt politicians that the United States has ever seen, and she needs to be brought to justice.
Personally, I would love to see a special prosecutor appointed to look into corruption at the Clinton Foundation.  If you doubt that the Clinton Foundation is corrupt, just consider the words of Ted Rall…
More than half of the people who managed to score a personal one on one meeting with Hillary Clinton while she was Secretary of State donated money to the Clinton Foundation, either as an individual or through a company where they worked. "Combined, the 85 donors contributed as much as $156 million. At least 40 donated more than $100,000 each, and 20 gave more than $1 million," the Associated Press reported.

Does that make Clinton corrupt?

Yes. It does.
The Clintons never intended for their "foundation" to help those in need.  Instead, it was used by the Clintons to live an outrageously luxurious lifestyle.  According to Ted Rall, only a very small fraction of the millions of dollars that the Clintons raised ever made it to the needy…
The Clintons extract millions of dollars in travel expenditures, including luxurious airplane accommodations and hotel suites, from their purported do-gooder outfit. They exploit the foundation as a patronage mill, arranging for it to hire their loyalists at extravagant six-figure salaries. Charity Navigator, the Yelp of non-profits, doesn't bother to issue a rating for the Clinton foundation due to the pathetically low portion of money ($9 million out of $140 million in 2013) that makes its way to someone who needs it.

"It seems like the Clinton Foundation operates as a slush fund for the Clintons," says Bill Allison of the Sunlight Foundation, a government watchdog group.
And of course everything that I have just discussed above is just the tip of the iceberg.
There is a very long string of crimes that Bill and Hillary Clinton have been involved in that goes all the way back to Arkansas in the 1980s.
If America is going to continue to be governed by the rule of law, the Clintons must be brought to justice.
As a member of Congress I will do whatever I can to help get the Clintons locked up, and I am calling on every other Republican to make the same pledge.
Michael Snyder is a pro-Trump candidate for Congress in Idaho's First Congressional District, and you can learn how you can get involved in the campaign on his official website. His new book entitled "Living A Life That Really Matters" is available in paperback and for the Kindle on Amazon.com.