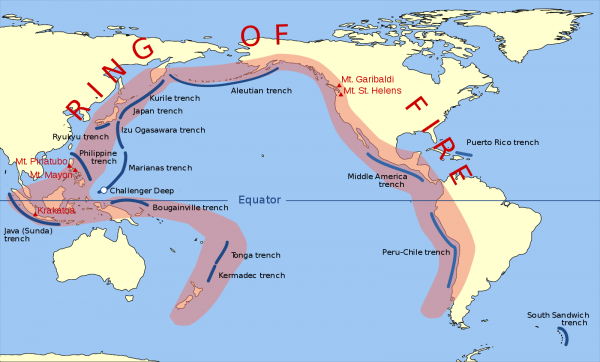 While most of us are preoccupied with other matters, the "Ring of Fire" is starting to shake quite dramatically.  Within the past couple of days, we have seen numerous volcanoes along the "Ring of Fire" shoot hot volcanic ash thousands of feet into the air.  That list of volcanoes includes Popocatepetl in Mexico, Sangay in Ecuador, Klyuchevskaya on the Kamchatka Peninsula, Sabancaya in Peru, Raung in Indonesia, Reventador in Ecuador, and Fuego in Guatemala.  Overall, 28 volcanoes around the globe are currently erupting right now, and most of those are located somewhere along the "Ring of Fire".
If you are not familiar with the "Ring of Fire", here is a pretty good definition from Wikipedia…
The Ring of Fire (also known as the Pacific Ring of Fire, the Rim of Fire, the Girdle of Fire or the Circum-Pacific belt) is a region around much of the rim of the Pacific Ocean where many volcanic eruptions and earthquakes occur. The Ring of Fire is a horseshoe-shaped belt about 40,000 km (25,000 mi) long[1] and up to about 500 km (310 mi) wide.[2]

The Ring of Fire includes the Pacific coasts of South America, North America and Kamchatka, and some islands in the western Pacific Ocean. Although there is consensus among geologists about almost all areas which are included in the Ring of Fire, they disagree about the inclusion or exclusion of a few areas, for example, the Antarctic Peninsula and western Indonesia.
Basically, if you think of a giant band surrounding the exterior of the Pacific Ocean, you will have a good idea of what we are talking about.
Every year, the "Ring of Fire" accounts for the vast majority of the seismic activity that happens on our planet.
The good news is that most of the major events occur in areas that are not heavily populated, and so usually the damage that is caused is minimal.
But the bad news is that the west coast of the United States and the entire nation of Japan both sit directly along the "Ring of Fire", and scientists assure us that it is just a matter of time before both areas are hit by horrific catastrophes.
In Japan, officials are watching Mt. Fuji very carefully.  It hasn't erupted in more than 300 years, but experts are warning that the next eruption could occur at literally any time…
"Mount Fuji is on standby for the next eruption," said Hiroki Kamata, a professor of volcanology at Kyoto University.

More than 300 years, he pointed out, have elapsed since the last eruption in 1707, an eerily long silence that surpasses the previous interval of around 200 years.
Mt. Fuji is not very far from Tokyo, and scientists agree that a major eruption of the volcano could be absolutely catastrophic for the city…
The Japanese government warned in 2020 a major eruption of Mount Fuji would eject so much matter over nearby capital Tokyo, the city infrastructure would collapse.

Visibility would immediately vanish and inches of toxic ash would swiftly clog the filters at power plants.

Although Mount Fuji last erupted more than 300 years ago, the volcano remains active and enters cyclical periods of activity.
Here in the United States, authorities are warning us that a "lava dome" has been forming at Mt. St. Helens…
Viscous magma is known to be bottled-up inside pressure-cooker of Mount St Helens, which is now thought to be ominously surfacing to form a lava dome.

William Rose, a professor of geology at Michigan Technological University recently said in a statement: "The gas emission rate of St Helens is very high and suggests that significant amounts of magma are the surface."

However, Donald Peterson, the United States Geological Survey (USGS) scientist in charge of the Mount St Helens project, has warned how experts are really unsure what to expect.
It is definitely true that Mt. St. Helens could erupt again at any time, but personally I am much more concerned about Mt. Rainier.
It is known as "the most dangerous volcano" in the United States for good reason, and the seismic activity that has been happening at the volcano in recent months has gotten quite a bit of attention…
After a spurt of seismic activity this weekend, Mount Rainier National Park was shaken by a 3.6 magnitude earthquake Sunday afternoon.

The quake hit at 12:31 p.m. and was felt as far as Kent, nearly 80 miles away, the U.S. Geological Survey reported. The relatively shallow quake was centered roughly a mile beneath the earth's surface.
Years ago, I visited the Space Needle in Seattle, and I could clearly see Mt. Rainier from there.  Most people living in the region don't realize that Mt. Rainier is capable of producing gigantic tsunamis of super-heated mud known as "lahars", and those "lahars" can be extremely deadly.  In fact, scientists tell us that they can move at speeds of up to 50 miles per hour.
Needless to say, that is much faster than you can run.
The following is how one author described the danger that the region is potentially facing…
The numerous towns and cities that occupy the surrounding valley would all be at risk for not only severe destruction, but complete annihilation. Residents of cities like Orting, Sumner, Buckley, and Enumclaw are estimated to have no more than 30 minutes before the lahar, speeding down from the many rivers that flow from Mount Rainier, buries their homes and businesses beneath as much as 30 feet of mud and debris. Even the larger cities like Auburn, Puyallup, and Tacoma itself are not safe. Auburn and Puyallup, with nearly 80,000 residents between them, would be covered in 20 feet of mud in less than an hour, and Tacoma, at almost 200,000, is estimated to be hit with nearly 10 feet from the lahar.
Can you imagine the entire city of Tacoma, Washington under 10 feet of super-heated mud?
One of the reasons why I have written about this so much over the years is because someday Mt. Rainier will erupt again.
In fact, I wouldn't want to be living anywhere near any of the volcanoes along the "Ring of Fire" right now.
We are starting to see so many of them pop off like firecrackers in the early stages of 2021, and that is definitely not a good sign.
***Michael's new book entitled "Lost Prophecies Of The Future Of America" is now available in paperback and for the Kindle on Amazon.***
About the Author: My name is Michael Snyder and my brand new book entitled "Lost Prophecies Of The Future Of America" is now available on Amazon.com.  In addition to my new book, I have written four others that are available on Amazon.com including The Beginning Of The End, Get Prepared Now, and Living A Life That Really Matters. (#CommissionsEarned)  By purchasing the books you help to support the work that my wife and I are doing, and by giving it to others you help to multiply the impact that we are having on people all over the globe.  I have published thousands of articles on The Economic Collapse Blog, End Of The American Dream and The Most Important News, and the articles that I publish on those sites are republished on dozens of other prominent websites all over the globe.  I always freely and happily allow others to republish my articles on their own websites, but I also ask that they include this "About the Author" section with each article.  The material contained in this article is for general information purposes only, and readers should consult licensed professionals before making any legal, business, financial or health decisions.  I encourage you to follow me on social media on Facebook, Twitter and Parler, and any way that you can share these articles with others is a great help.  During these very challenging times, people will need hope more than ever before, and it is our goal to share the gospel of Jesus Christ with as many people as we possibly can.