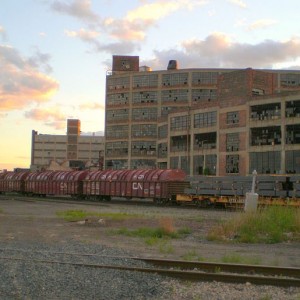 Something very strange is happening to Detroit.  Once upon a time, it was the center of American manufacturing and it had the highest per capita income in the United States.  But now the city is dying and the Chinese are moving in to pick up the pieces.  Lured by news stories that proclaim that you can buy homes in Detroit for as little as one dollar, Chinese investors are eagerly gobbling up properties.  In some cases, this is happening dozens of properties at a time.  Not only that, according to the New York Times "dozes of companies from China" are investing in businesses and establishing a presence in the Detroit area.  If this continues, will Detroit eventually become a city that is heavily dominated by China?
At this point, not too many others appear interested in saving Detroit.  Right now, there are approximately 78,000 abandoned buildings in Detroit and about one-third of the entire city is either vacant or derelict.  People have been moving out in droves and there are only about 700,000 residents left.
For many Americans, Detroit is about the last place that they would want to live.  But to many Chinese, this sounds like a perfect buying opportunity.  According to a recent Fox News report, real estate agents in Detroit are being overwhelmed with inquiries from China…
Downtown Detroit is home to one of the worst housing markets in the country, as prices of homes have collapsed and foreclosures have soared in the city's depressed economy.

But some Chinese investors hungry for real estate are hoping Detroit's losses will be their gain. After Detroit filed for bankruptcy July 18, Motor City property has been a hot topic on China's social media platform, Weibo, according to a Quartz.com report.

News of the bankruptcy, coupled with a Chinese TV report in March that claimed you could buy two houses in Detroit for the same price as a pair of leather shoes, has piqued investors' interest.
And these buyers appear to be quite serious.  One buyer reportedly bought 30 properties recently, and other buyers say that they want to purchase even more homes than that…
And it appears to be translating into real interest; Caroline Chen, a real estate broker in Troy, Michigan, says she's received "tons of calls" from people in mainland China.

"I have people calling and saying, 'I'm serious—I wanna buy 100, 200 properties,'" she tells Quartz, noting that one of her colleagues recently sold 30 properties to a Chinese buyer. "They say 'We don't need to see them. Just pick the good ones.'"
Meanwhile, according to the New York Times, dozens of Chinese companies are moving into the city…
Dozens of companies from China are putting down roots in Detroit, part of the country's steady push into the American auto industry.

Chinese-owned companies are investing in American businesses and new vehicle technology, selling everything from seat belts to shock absorbers in retail stores, and hiring experienced engineers and designers in an effort to soak up the talent and expertise of domestic automakers and their suppliers.

While starting with batteries and auto parts, the spread of Chinese business is expected to result eventually in the sale of Chinese cars in the United States.
Of course this is not just happening in Detroit.  The truth is that the Chinese are buying up real estate, businesses and natural resources all over the country.
But they seem to have a particular interest in Detroit.
Perhaps someone should tell them that Detroit is not actually a very safe place these days.  The violent crime rate is five times higher than the national average, and the murder rate in Detroit is 11 times higher than it is in New York City.
If you call the police, it takes them an average of 58 minutes to respond.  And sometimes the people that are committing the crimes are actually Detroit police officers.  In fact, one Detroit police officer was involved in robbing a gas station just last week…
A Good Samaritan snapped photos of what appeared to be two men impersonating police officers involved in a pistol-whipping and robbery outside a Citgo gas station on Detroit's east side on July 21.

Once Fox 2 aired those photos, an even more disturbing picture developed.

"Several unidentified police officers were working this particular robbery case, recognized one of the suspects in the photographs as being a member of the Detroit Police Department," Chief James Craig said Monday.

Now under arrest are two police sergeants, a 47-year-old officer and 20-year veteran of the Detroit Police Department and his 42-year-old buddy from the police academy, who is a former DPD cop and 17-year veteran of the St. Clair Shores Police Department. The later recently received a distinguished service award.

"In fact, they were police officers, just not working on-duty at the time," Craig said.
Detroit is a dying, bankrupt city.  There does not seem to be much hope of a turnaround for Detroit any time soon.
So why are the Chinese gobbling up so much real estate and so many businesses in Detroit?
That is a very good question.