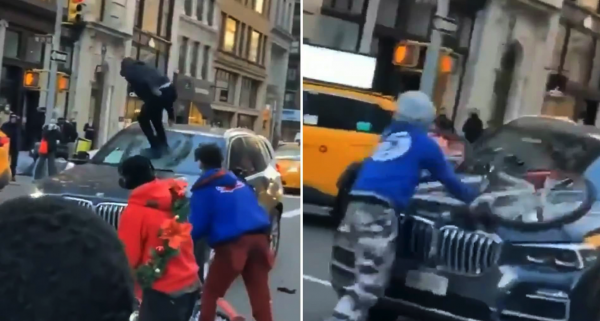 The endless chaos in our streets is directly related to how we have been raising our children for the past couple of decades.  Bad beliefs lead to bad actions, and we have been teaching our kids values that are fundamentally flawed.  In particular, our children are endlessly taught that life has no value in a multitude of ways.  They view thousands of murders on television and in the movies as they grow up, the news glorifies politicians that tell them that it is a good thing to slaughter the unborn, and western nations are increasingly embracing the idea that older people should be willing to ask for the "plug to be pulled" once their "usefulness" is over.  Throughout their lives, our kids are trained to believe that they evolved from animals and that there is nothingness after they die, and the logical conclusion of such a worldview is that the period of time between birth and death is rather meaningless.
If life has no value and our existence is essentially meaningless, you might as well do whatever you feel like doing because tomorrow is not guaranteed for any of us.
Sadly, millions upon millions of our young people have adopted such an outlook at this point, and so we shouldn't be surprised that many of them are completely out of control.
Yesterday, I wrote about how murder rates are absolutely skyrocketing all over the nation.  You might think that this is a bad thing, but if life has no value, what is the big deal?
Today, many Americans were absolutely shocked when dozens of wild youths stopped a BMW on Fifth Avenue in New York City and began brutally attacking it…
Max Torgovnick, 36, was driving in the BMW with his mom when they encountered the large group of youngsters biking up Fifth Avenue near 21st Street.

The pair had just dropped off a holiday donation to a local charity when their vehicle was viciously set upon.

According to eyewitnesses, the teens began blocking traffic and started to attack the luxury car.

Shocking video shows several teens punching the BMW's windows and stomping on its hood.
That account really doesn't capture the true horror of the assault.
To really appreciate what happened, you really need to watch video footage of the incident.
NYC is magical this time of year. pic.twitter.com/vRchtTnmmj

— GrantB911 (@GrantB911) December 30, 2020
If those young people valued the lives of the two people inside that BMW, they would have not attacked them like that.
But they don't, and the reason they don't is because the system raised them to not have any respect for life.
This kind of thing doesn't happen everywhere on the planet.
For example, in Belarus young people are dressing up in formal attire and are attending extremely elaborate balls instead of torching buildings and terrorizing their fellow citizens.
So who is more civilized, them or us?
After months of protests and a year of pandemic, Lukashenko held "a ball for the youth" last night in Minsk. Unreal. pic.twitter.com/iJUwV61Rom

— Scott Rose (@rprose) December 30, 2020
Of course we have been trying to undermine the government of Belarus for years, and our stated goal is to replace it with a form of government that is more similar to our own because we want them to be more like us.
But maybe our goal should be to become more like them.
And the chaos in our streets is only going to intensify as our economy continues to deteriorate.  According to one recent report, we just witnessed the largest one year increase in poverty in this country that has ever been recorded…
Due to the coronavirus pandemic's decimation of the labor market and the months-long expiration of benefits from the government relief package keeping families afloat, the poverty rate in the United States surged from 9.3% in June to 11.7% in November, according to a report released Wednesday by analysts at the University of Chicago and the University of Notre Dame, creating the biggest increase in a single year since the government began tracking poverty in 1960.
Sadly, as our system continues to melt down it is going to fuel even more civil unrest.  The more desperate people become, the worse the violence in the streets is going to get.
Honestly, I don't want to be anywhere around the hordes of young people that have been rioting, looting and burning buildings almost all year long.
If our founders could see us today, they would wonder how things could have possibly gone so wrong.
Of course there are still people out there that have solid values and that are trying to do the right thing.  For instance, I was greatly encouraged when I came across a news story about a homeless man that ran into a burning animal shelter to save the cats and dogs that were trapped inside…
A homeless man is being hailed as a hero after he risked his life to rescue several dogs and cats from a fire at an animal shelter.

The man, Keith Walker, rushed inside the W-Underdogs shelter after a fire broke out Dec. 18, the facility said in a Facebook post.

"Tonight we thank our guardian angels. The homeless man that ran into our burning house and rescued our animals," it said. "Our animals are safe and thanks to the incredible response from the community, everyone is settled and safe warm and secure."
I wish that our society would produce more people like Keith Walker, but it doesn't because the way that we raise kids these days is completely and totally messed up.
Instead, we are producing lots of self-centered idiots like this well-known divorce lawyer…
Cindy Liquori, 55, was dog-sitting at her mother's home in Windsor Locks on Friday when her husband, 59-year-old John Liquori, gunned her down in her sleep, police sources told the Hartford Courant.

John Liquori then lay next to his wife and shot himself to death, according to the source.
John Liquori probably believed that suicide would be an easy way out because he was taught from a very young age to believe that there is nothing after death.
But instead, he quickly found out that he had a date with the big divorce court in the sky.
What we teach our kids when they are young really matters, because it will heavily influence the decisions that they make for the rest of their lives.
As a nation, we have been failing our children for a very long time, and now there is chaos in our streets as a result.
***Michael's new book entitled "Lost Prophecies Of The Future Of America" is now available in paperback and for the Kindle on Amazon.***
About the Author: My name is Michael Snyder and my brand new book entitled "Lost Prophecies Of The Future Of America" is now available on Amazon.com.  In addition to my new book, I have written four others that are available on Amazon.com including The Beginning Of The End, Get Prepared Now, and Living A Life That Really Matters. (#CommissionsEarned)  By purchasing the books you help to support the work that my wife and I are doing, and by giving it to others you help to multiply the impact that we are having on people all over the globe.  I have published thousands of articles on The Economic Collapse Blog, End Of The American Dream and The Most Important News, and the articles that I publish on those sites are republished on dozens of other prominent websites all over the globe.  I always freely and happily allow others to republish my articles on their own websites, but I also ask that they include this "About the Author" section with each article.  The material contained in this article is for general information purposes only, and readers should consult licensed professionals before making any legal, business, financial or health decisions.  I encourage you to follow me on social media on Facebook, Twitter and Parler, and any way that you can share these articles with others is a great help.  During these very challenging times, people will need hope more than ever before, and it is our goal to share the gospel of Jesus Christ with as many people as we possibly can.