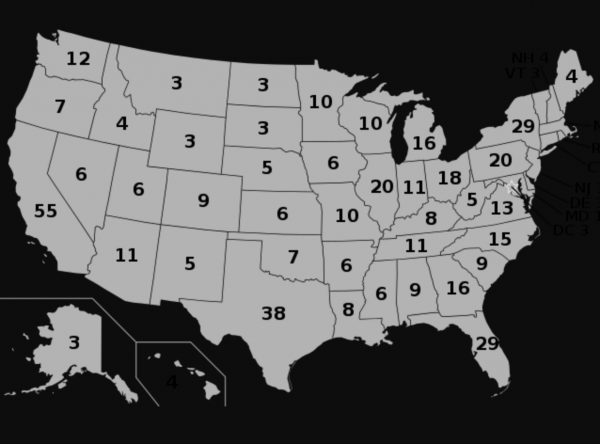 Based on the numbers that we have so far, are there some clues that we can glean about who is winning the race for the White House?  Up to this point, more than 75 million Americans have already voted, and that blows away anything that we have ever seen before.  To put that in perspective, President Trump received a total of 62.9 million votes in 2016, and that was enough for him to win the election.  We haven't seen this much enthusiasm for voting in a really long time, and both campaigns are taking this as a positive sign.
Most of the early votes that have been cast so far have been mail-in votes.  But early in-person voting is smashing all previous records as well, and normally Democrats jump out to a lead in early in-person voting.
But this time around, it is Republicans that have taken the lead.  Not all states report the party affiliation of those that have voted early in-person, but for the states that do give us that information the totals are very interesting…
Democrats 3,115,299 votes (36.9 percent)
Republicans 3,511,359 votes (41.6 percent)
Minor 57,702 votes (0.7 percent)
No Party 1,764,745 votes (20.9 percent)
TOTAL 8,449,105 votes (100.0 percent)
Of course there is a really good reason why Democrats are trailing in that category.  In 2020, they are voting by mail in record numbers, and so not as many of them will be showing up in person to vote.
According to the latest numbers, more than 50 million mail-in ballots have been returned so far.  That is an absolutely astounding number, and it has already surpassed some of the projections that I saw for mail-in voting earlier in the campaign.
For the states that report the party affiliation of those that have voted by mail, here are the totals up to this point…
Democrats 14,234,861 votes (50.5 percent)
Republicans 7,286,457 votes (25.8 percent)
Minor 169,744 votes (0.6 percent)
No Party 6,523,650 votes (23.1 percent)
TOTAL 28,214,712 votes (100.0 percent)
Multiple national surveys have found that the number of Democrats planning to vote by mail is about twice as high as the number of Republicans that plan to vote by mail, so these numbers are right in line with what we would expect.
The big problem for Democrats is the fact that there are still 41 million mail-in ballots outstanding, and time is rapidly running out to get those ballots in on time.  The following comes from the Washington Post…
Tuesday marked the last day that postal and election administration experts said ballots could be mailed to ensure delivery in time for Election Day, based on national first-class mail service.

The passing of the informal deadline set off a flurry of advisories from election officials and posts on social media encouraging voters who had yet to postmark their ballots to instead drop them off at voting centers — or consider voting in person.
If you have not sent in your mail-in ballot yet, I would very strongly encourage you to vote on Election Day instead, because at this point many mail-in ballots are not likely to make it through the system in time to be counted.
The Postal Service is absolutely overwhelmed right now, and the percentage of mail that is being delivered on time is way down compared to last year…
In 17 postal districts representing 10 battleground states and 151 electoral votes, the average on-time delivery rate for first-class mail was 64.2 percent on Tuesday, 27.6 percent lower than the performance score for those districts at the beginning of the year.
And this is particularly true in some of the most important areas of our most critical swing states…
In the Philadelphia Metro postal district — which includes the city and suburbs crucial to Democratic nominee Joe Biden's hopes in the state — 43 percent of Tuesday's mail was delivered on time, the Postal Service reported to the District Court of the District of Columbia in filings related to litigation over the agency's service. That represented a steep drop from earlier in the week: 61.2 percent on Monday and 58.4 percent on Saturday.

In Detroit, 52.6 percent of Tuesday's mail was on time. In Northern Ohio, 56 percent; in Wisconsin, 60.7 percent; in South Florida, 62.9 percent.
In the end, Democrats may have really sabotaged themselves by pushing mail-in voting so hard.
They could potentially have millions of votes that are not counted because they were sent in too late, and that could be enough to cost them the election.
National surveys have shown that Trump voters overwhelmingly plan to vote in person on Election Day, and that should help Trump burst out to a significant lead initially.
The Biden campaign is counting on the mail-in ballots to swing the election their way once they are all eventually counted, but any ballots that do not get returned on time will not be counted at all.
Switching gears, we also know that young voters and minority voters are voting in higher numbers than we have seen in the past.
For example, just consider these numbers from the state of Florida…
Young voters in Florida have almost doubled their share of the votes cast so far compared to this point in 2016. Voters 65 or older made up 50% of the early vote at this time four years ago, but only make up 41% now.

Florida's early voting electorate is slightly more diverse compared to this point in 2016. Both Hispanic voters and Black voters have increased their shares of ballots already cast, with Hispanic voters accounting for about 16% of the early vote (up from 14% in 2016) and Black voters at 13% (up from 12% in 2016).
You would think that those numbers should be a positive sign for Democrats, but Trump is getting an unusually high level of support from Black men and Latino men.
In fact, one recent survey found that Joe Biden's lead among Latino men is just 8 points…
And the backbone of that support comes from men. A New York Times/Siena College poll found that former Vice President Joe Biden leads by 34 percentage points among Latina voters, but with Latino men his lead is 8 points.

"Hispanic men in particular are a swing vote," said Michelle Mayorga, a New Mexico-based pollster who worked on polls for Equis Research focused on Latino voters. "They are a vote that we have to go and get."
Anyone that believes that they know exactly what will happen on the night of the election and beyond is probably in for quite a surprise.
As I discussed yesterday, the national polls are all over the place.  The polls that the mainstream media depends upon tend to show Biden with a huge national lead, but independent polls show a much tighter race and they also often show Trump leading in the most critical swing states.
I think that both sides have reason to be very nervous, and I think that it is quite likely that it will take an extended period of time before we finally have a clear winner.
So far, all of the numbers seem to indicate that this will be a very close race, and the future of our country hangs in the balance.
***Michael's new book entitled "Lost Prophecies Of The Future Of America" is now available in paperback and for the Kindle on Amazon.***
About the Author: My name is Michael Snyder and my brand new book entitled "Lost Prophecies Of The Future Of America" is now available on Amazon.com.  In addition to my new book, I have written four others that are available on Amazon.com including The Beginning Of The End, Get Prepared Now, and Living A Life That Really Matters. (#CommissionsEarned)  By purchasing the books you help to support the work that my wife and I are doing, and by giving it to others you help to multiply the impact that we are having on people all over the globe.  I have published thousands of articles on The Economic Collapse Blog, End Of The American Dream and The Most Important News, and the articles that I publish on those sites are republished on dozens of other prominent websites all over the globe.  I always freely and happily allow others to republish my articles on their own websites, but I also ask that they include this "About the Author" section with each article.  The material contained in this article is for general information purposes only, and readers should consult licensed professionals before making any legal, business, financial or health decisions.  I encourage you to follow me on social media on Facebook and Twitter, and any way that you can share these articles with others is a great help.  During these very challenging times, people will need hope more than ever before, and it is our goal to share the gospel of Jesus Christ with as many people as we possibly can.