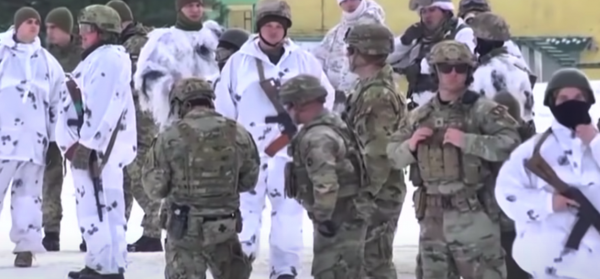 What is the Biden administration doing?  U.S. troops are not supposed to be in Ukraine, but for some reason they are there anyway.  When I first saw the video footage that I am about to share with you, I thought that there must be some mistake.  Sending U.S. troops into Ukraine after we publicly said that we would not is inevitably going to inflame tensions in the region even more.  But apparently some "genius" in the Biden administration thought that this would be a good idea.
Let's take a moment to review.  Earlier this month, the Biden administration announced that it would be sending 3,000 U.S. troops to NATO allies in central and eastern Europe.  The following comes from CNN…
President Joe Biden has formally approved the deployment of 3,000 US troops to Poland, Germany and Romania, the Pentagon announced Wednesday, in a move to bolster NATO countries in Eastern Europe with tens of thousands of Russian troops amassed along Ukraine's border.

The deployments to Eastern Europe, which were first reported by CNN, are a show of support to NATO allies feeling threatened by Russia's military moves near Ukraine and the threat of an invasion, US officials said.
But none of those troops were supposed to go to Ukraine.
In fact, CBS News and other media outlets specifically reported that the Biden administration had "ruled out" sending U.S. troops into Ukraine…
The U.S. has ruled out sending American combat troops to Ukraine as the country braces for a possible Russian invasion that President Joe Biden has warned could come any time.
Someone didn't get the memo, because apparently U.S. troops are in Ukraine right now.
The following is a clip from ABC News that shows members of the Florida National Guard "in western Ukraine" training members of the Ukrainian military how to properly use the weapons that Biden has been sending to them…
It would be bad enough if we had a few spec ops teams there covertly training the Ukrainians.
But in the video clip that you just saw, ordinary members of the Florida National Guard are openly training the Ukrainians with the cameras rolling.
Needless to say, the Russians are not going to be happy about this.
Just imagine how we would feel if the Russians had troops in Canada training the Canadians how to fight against us with weapons that they had provided.
While Trump was in the White House we didn't have ongoing problems with the Russians, but ever since Biden took over his team has been provoking the Russians over and over again.
And as we continue to provoke the Russians, Biden's national security adviser Jake Sullivan is warning us that a Russian invasion of Ukraine "could happen as soon as tomorrow"…
I believe that Jake Sullivan will go down as the worst national security adviser in U.S. history, and that is really saying something.
Sullivan absolutely hates the Russians, and he almost seems to relish the idea of some sort of a major confrontation with them.
Well, he better be careful what he is wishing for, because he just might get it.
***It is finally here! Michael's new book entitled "7 Year Apocalypse" is now available in paperback and for the Kindle on Amazon.***
About the Author: My name is Michael Snyder and my brand new book entitled "7 Year Apocalypse" is now available on Amazon.com.  During this season, I would like to encourage you to send digital copies of my new book to your family and friends as gifts.  That will help to support the work that I am doing, and it will help to multiply the impact of the book.  In addition to my new book I have written five other books that are available on Amazon.com including  "Lost Prophecies Of The Future Of America", "The Beginning Of The End", "Get Prepared Now", and "Living A Life That Really Matters". (#CommissionsEarned)  By purchasing the books you help to support the work that my wife and I are doing, and by giving it to others you help to multiply the impact that we are having on people all over the globe.  I have published thousands of articles on The Economic Collapse Blog, End Of The American Dream and The Most Important News, and the articles that I publish on those sites are republished on dozens of other prominent websites all over the globe.  I always freely and happily allow others to republish my articles on their own websites, but I also ask that they include this "About the Author" section with each article.  The material contained in this article is for general information purposes only, and readers should consult licensed professionals before making any legal, business, financial or health decisions.  I encourage you to follow me on social media on Facebook and Twitter, and any way that you can share these articles with others is a great help.  During these very challenging times, people will need hope more than ever before, and it is our goal to share the gospel of Jesus Christ with as many people as we possibly can.