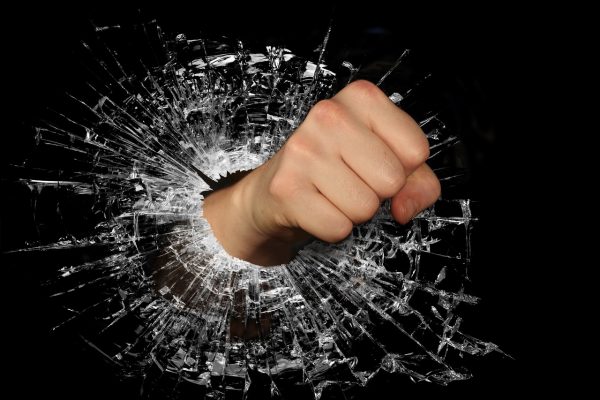 All of the anger that has been building up on the left is about to boil over onto the streets of America.  Actually, to be more accurate, it has already started.  Last weekend, the streets of Portland, Oregon were filled with violence as radical progressives and Trump supporters fought tooth and nail.  And as I wrote about yesterday, Michael Moore and other leftist leaders are calling on progressives to "rise up" and to "put their lives on the line" to defend this country against "fascists" like Donald Trump.  The Senate confirmation hearings for Donald Trump's nominee for the Supreme Court will be a flashpoint which will focus much of the energy on Washington D.C., but the truth is that we are going to see protests, violence and confrontations all over the nation during this "summer of rage".   Recent polls have shown that many Americans anticipate that violence is on the horizon, and that is precisely what they are going to get.
Of course Nebraska is one of the last places that you would think something would happen, but on Monday night we received a chilling reminder that it can happen anywhere.
A brick was thrown through a window at the Republican Party headquarters in Lincoln, and underneath the broken window a message was spray-painted.  The following comes from the Daily Caller…
Vandals threw a brick through the window of the Nebraska Republican Party's headquarters in Lincoln, Nebraska, on Monday night, the party said Tuesday.

Republican staffers found a spray-painted message beneath the broken window: "ABOLISH ICE."

Nebraska GOP executive director Kenny Zoeller confirmed to The Daily Caller News Foundation that they have filed a police report in relation to Monday night's vandalism.
Nebraska is one of the safest and most conservatives states in the entire country.
If political violence is going to happen there, then it literally can happen anywhere.
In Philadelphia, protesters tried to shut down the local ICE office, and that resulted in some very tense clashes with the police.
By the time it was all said and done, over two dozen protesters were arrested…
Chaos ends with more than two dozen arrests on the streets of Center City after some immigration policy protesters clashed with police.

Protesters have been outside the U.S. Immigration and Customs Enforcement office on 8th and Cherry Streets in Center City nonstop since Monday afternoon.
Of course Philadelphia is far from alone.  In recent days we have seen similar confrontations with police at ICE facilities in Louisville, Wichita and Portland.
Every ICE facility in the country and every single ICE employee is now a target.  Brave men and women that work incredibly hard and that don't get paid very much to do it are sacrificing so much to defend our country, and now they have to live with the constant threat of intimidation and violence from the radical left.
We live at a time when the normal rules have changed.
At this point, anyone that is associated with the federal government is potentially in danger, and that goes double for high profile members of the Trump administration.
When 33-year-old teacher Kristin Mink spotted EPA head Scott Pruitt at a Washington D.C. restaurant, she decided that she would follow the example of others and confront him…
When she approached him, she said she was nervous. "This is not my wheelhouse, confronting people in a restaurant," Mink explained.

Mink mentioned Pruitt's $50 a night sweetheart apartment deal and his plan to roll back vehicle emissions standards.

"This is my son, he loves animals, he loves clean air, he loves clean water," she said to Pruitt. "So I would urge you to resign before your scandals push you out," she told the EPA head.

Pruitt gawked at her throughout the encounter.
Pruitt was extremely fortunate that Mink did not intend any violence.
His next encounter with a radical leftist may not go as smoothly.
If I was a member of the Trump administration, I would eat in the office from now on, and I would avoid public places as much as possible.  We have seen several public confrontations already, and at some point somebody is really going to get hurt.
There are a lot of crazy people out there, and this summer Washington D.C. is going to be a giant magnet for them.  Just consider an incident that just happened on Pennsylvania Avenue…
Steven Carmona is accused of illegally parking his BMW along Pennsylvania Avenue, moving a bicycle rack-style security barrier erected for the rally and screaming at the officers "Where is the president?" according to a Secret Service affidavit obtained by the News4 I-Team.

The court filings say that after Secret Service officers tried to stop Carmona for illegal parking, Carmona moved the security barrier and then punched an officer in the jaw and the left eye. Two officers took Carmona to the ground and placed leg shackles on him because they said he was kicking at the officers, according to the affidavit.
Once Donald Trump selects a nominee for the Supreme Court, expect mayhem to ensue in Washington.  Michael Moore is calling for a million progressives to join him in D.C. this summer, and he may not be too far off the mark.
And they aren't going to just stand around and protest peacefully.  Just as we saw during the inauguration and all over the nation since then, the radical left is more than willing to get violent.  If hundreds of thousands of progressives really do descend on Washington this summer, it is inevitable that there will be violent clashes, riots and extreme chaos.  Several years ago, I wrote about this exact type of scenario in D.C. in my apocalyptic novel entitled "The Beginning Of The End", and now we may be getting ready to see it play out right in front of our eyes.
Hopefully July 4th will pass without any major incidents.  It would be nice if the left could at least take one day off from their "summer of rage" to enjoy a national holiday.  But Donald Trump is expected to announce his pick for the Supreme Court before the middle of the month, and that is when things are likely to really start heating up.
So I would urge you to buckle up, because it looks like it is going to be a bumpy ride for the foreseeable future.
Michael Snyder is a nationally syndicated writer, media personality and political activist. He is the author of four books including The Beginning Of The End and Living A Life That Really Matters.