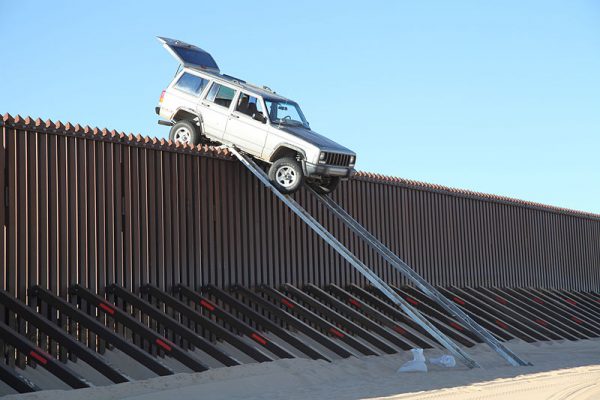 Did you know that Mexico is the second deadliest nation on the entire planet? The drug war down there continues to spiral completely out of control, and often the violence spills over to our own side of the border. Thanks to President Trump, security along the border is improving, but we still have a long, long way to go. Ultimately what we need is a physical barrier, because large numbers of illegal immigrants continue to pour through the soft spots in our border security. I know that a lot of liberals don't like the idea of a wall, but that is the only way that we are going to make sure that everyone comes into this country through the front door.
The United States is a nation of immigrants, and we will always need a certain level of immigration from other nations. But prior to the Trump administration, our approach to immigration policy was absolutely insane. We had made the legal immigration process an extremely costly and complicated nightmare that hardly anyone could understand or navigate, and yet we had kept the back door completely wide open for drug dealers, gang members, terrorists, sexual predators and anyone that just wanted to take advantage of the system.
We have got to make our legal system of immigration less costly and less complicated, and at the same time we need to slam the back door completely shut so that everyone is forced to come in to the U.S. through the front door.
To illustrate why this is such an incredibly important issue, I would like to share the story of Estefania Soto with you. Thanks to a drunk illegal immigrant, Soto lost her boyfriend and her baby recently in a horrific traffic accident…
Estefania Soto has spent her days in various hospital rooms since the crash on June 10. She and her boyfriend, 28-year-old Raul Diaz, Jr., were on a motorcycle on Farm to Market 973 near FM 969 in east Travis County when they were hit head-on by a truck.

The crash killed Diaz and resulted in the premature birth of their child. Soto, 26, was only six months pregnant. Their baby was delivered through a C-section after the crash and passed away shortly after.

Soto has had 15 surgeries over the past month including a leg amputation.
If Trump's wall had already been in place, 38-year-old Cesar Corona-Quiterio may have never had the chance to enter this country illegally and Estefania Soto may still be looking forward to a new life with her husband and her baby.
Another tragedy that could have potentially been averted by a wall on the southern border was the brutal rape of a 14-year-old girl at a high school in Rockville, Maryland. The following comes from Fox News…
Jose O. Montano, 17, from El Salvador, and Henry E. Sanchez-Milian, 18, from Guatemala, were charged with first-degree rape and two counts of first-degree sexual offense after they allegedly attacked the girl at 9 a.m. last Thursday.

"The victim was walking in a school hallway when she met two male students, identified as Montano and Sanchez. Montano asked the victim to walk with him and Sanchez. Montano asked the victim to engage in sexual intercourse. She refused," Montgomery County Police said in a statement.

"Montano asked the victim again and then forced her into a boy's bathroom and then into a stall. Montano and Sanchez both raped the victim inside the bathroom stall."
How would you feel if that was your own daughter?
I don't understand how people can be against the wall. We literally have a war zone on the other side of the border, and CNN has reported that the drug war down in Mexico claimed an astounding 23,000 lives last year…
It was the second deadliest conflict in the world last year, but it hardly registered in the international headlines.

As Syria, Iraq and Afghanistan dominated the news agenda, Mexico's drug wars claimed 23,000 lives during 2016 — second only to Syria, where 50,000 people died as a result of the civil war.
And the rising violence in Mexico and much of the rest of central America has been slowly spreading to communities all across the United States. For example, just check out what has been happening on Long Island…
With MS-13 blamed for a trail of 11 corpses of mostly young people found since the start of the school year in Brentwood and Central Islip, the nation's focus has turned on how the Central American street gang built such a presence here.

The bloodshed in the two blue-collar towns has gotten the attention of President Donald Trump, who says the killings are the result of lax immigration policies that let too many criminal 'scum' slip through.

Attorney General Jeff Sessions gave a speech Friday not far from a park where the bodies of four young men were found this month bearing MS-13's hallmarks: repeated slashes from a blade that left the victims nearly unrecognizable.
Are you starting to understand why I am so adamant about building Trump's wall?
We need to build it high, we need to build it strong, and we need armed guards patrolling every inch of it.
One of the fundamental duties of the federal government is national security, and for decades prior to the Trump administration we had leaders that absolutely refused to secure our borders.
Thankfully, now we have a president that is determined to do something about this national crisis, but we still have a Congress that is intent on blocking him every step of the way.
Every member of Congress that doesn't want Trump's wall needs to go, and they need to be replaced by new blood that is ready to do whatever is necessary in order to protect the American people.
Michael Snyder is a Republican candidate for Congress in Idaho's First Congressional District, and you can learn how you can get involved in the campaign on his official website. His new book entitled "Living A Life That Really Matters" is available in paperback and for the Kindle on Amazon.com.