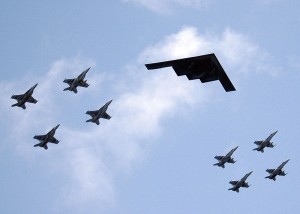 Over the past few days, there has been a tremendous wave of optimism that it may be possible for war with Syria to be averted.  Unfortunately, it appears that a diplomatic solution to the crisis in Syria is extremely unlikely.  Assad is certainly willing to give up his chemical weapons, but he wants the U.S. to accept a bunch of concessions that it will never agree to.  And it certainly sounds like the Obama administration has already decided that "diplomacy" is going to fail, and they continue to position military assets for the upcoming conflict with Syria.  Meanwhile, Saudi Arabia, Qatar and Turkey are all going to continue to heavily pressure the Obama administration.  They have invested a huge amount of time and resources into the conflict in Syria, and they desperately want the U.S. military to intervene.  Fortunately, overwhelming domestic and global opposition to an attack on Syria has slowed down the march toward war for the moment, but unfortunately that probably will not be enough to stop it completely.  The following are ten reasons why war is almost certainly coming…
#1 Assad wants a guarantee that he will not be attacked by the United States or by anyone else before he will give up his chemical weapons.
That is extremely unlikely to happen.
#2 Assad is not going to agree to any chemical weapons deal unless the U.S. stops giving weapons to al-Qaeda terrorists and other jihadist rebels that are fighting against the Syrian government.
That is extremely unlikely to happen.
In fact, according to the Washington Post, the U.S. has been ramping up the delivery of weapons to jihadist rebels in Syria…
The CIA has begun delivering weapons to rebels in Syria, ending months of delay in lethal aid that had been promised by the Obama administration, according to U.S. officials and Syrian figures. The shipments began streaming into the country over the past two weeks, along with separate deliveries by the State Department of vehicles and other gear — a flow of material that marks a major escalation of the U.S. role in Syria's civil war.
#3 Assad is suggesting that the Israelis should give up their weapons of mass destruction.
That is extremely unlikely to happen.
#4 The Syrian "rebels" desperately want the U.S. military to intervene in the war in Syria.  In fact, that was the entire reason for the false flag chemical weapon attack in the first place.
The "top rebel commander" is now declaring that the Free Syrian Army "categorically rejects the Russian initiative", and he is calling on the United States to strike the Assad regime immediately.
#5 Saudi Arabia desperately wants the U.S. military to intervene in Syria.  The Saudis have spent billions of dollars to support the rebels in Syria, and they have been lobbying very hard for an attack.
#6 Qatar desperately wants the U.S. military to intervene in Syria.  Qatar has also spent billions of dollars to support the rebels in Syria, and it has been reported that "Arab countries" have even offered to pay for all of the costs of a U.S. military operation that would remove Assad.
#7 Turkey has wanted a war which would remove Assad for a very long time.  And CNN is reporting that Turkey has moved troops to the border with Syria in anticipation of an upcoming attack.
#8 Many members of the U.S. Congress want this war.  Senators John McCain and Lindsey Graham are virtually foaming at the mouth, and Robert Menendez, the Chairman of the Senate Foreign Relations Committee, said that he "almost wanted to vomit" after reading Russian President Vladimir Putin's plea for peace in the New York Times.
#9 Obama does not want to look weak, and he seems absolutely obsessed with starting a war with Syria.  For the moment, he has been backed into a corner diplomatically by Russia, but the Obama administration is already laying the groundwork for making it look like "diplomacy has failed".  According to CNN, U.S. Secretary of State John Kerry is already talking about the "consequences" that will happen when the Syria deal falls apart…
Any agreement reached must be "comprehensive," "verifiable," "credible" and "able to be implemented in a timely fashion," Kerry said, adding that "there ought to be consequences if it doesn't take place."
#10 There have been reports that U.S. soldiers are now receiving orders to deploy to Syria.  For example, the following is from a recent article by Paul Joseph Watson…
Venture capitalist Dan Bubalo claims he was told by a source close to Ft. Hood that US troops have been ordered to deploy to Syria.

Writing for conservative columnist Mychal Massie's website, Bubalo cites a "close and verifiable source" who told him that a friend at Ft. Hood had received news that he was to be sent to Egypt for the next nine months.

"This particular soldier said that while he was not really thrilled about the assignment to Egypt, it was better than the soldiers that remained at the military base BECAUSE THEY HAD JUST RECEIVED THEIR DEPLOYMENT ORDERS TO GO TO SYRIA," writes Bubalo.
If you want to read the original report, you can find it right here.
For the moment, Obama and Kerry will dance around and make it look like they are considering peace.  They will try to get Congress to authorize a strike "if diplomacy fails".
But they already know that diplomacy is going to fail.  Once they are ready, Obama will declare that the conditions for war set forth in the congressional authorization have been fulfilled and then he will start raining cruise missiles down on Syria.
When that happens, will Obama have your support?  The video posted below is one of the funniest that I have seen in a long time…
And when Obama does strike Syria, he will officially be allying the United States with al-Qaeda and other radical jihadist groups.
Middle Eastern expert Jonathan Spyer has spent a lot of time on the ground among the Syrian rebels recently.  The following is what he has to say about who they are…
"Undoubtedly outside of Syria, and in the Syrian opposition structures, there are civilian political activists and leaders who are opposed to al-Qaida and opposed to Islamism," Spyer explained to TheDC in an email interview. "There are also civilian activists and structures within the country which are opposed to al-Qaida and Islamism. But when one looks at the armed rebel groups, one finds an obvious vast majority there who are adherents of Islamism of one kind or another — stretching from Muslim Brotherhood-type formations all the way across to groups openly aligned with al-Qaida central and with al-Zawahiri."

"The 'moderate' force which we are told about supposedly consists of those rebel brigades aligned with the Supreme Military Command, of Major-General Salim Edriss," he continued. "Most of the units aligned with the SMC actually come from a 20-unit strong bloc called the Syrian Islamic Liberation Front. This includes some powerful brigades, such as Liwa al-Islam in the Damascus area, Liwa al Farouq and Liwa al Tawhid. These and the overwhelming majority of the units aligned with the SMC are Islamist formations, who adhere to a Muslim Brotherhood-type outlook."
And as NBC News recently pointed out, a high percentage of these "rebels" have come in from outside Syria…
Abu Abdul Rahman, a 22-year-old from Tunisia, sat in a safe house earlier this week in Antakya — a southern Turkey town that's fast becoming a smugglers transit route. He was waiting for a smuggler to take him across the border to fight in Syria.

"Almighty Allah has made Jihad a duty on us. When our Muslim brethren are oppressed, it is a duty to support them wherever they are, because Muslims are not separated by countries," he said.

Abdul Rahman is one of thousands of al-Qaeda volunteers who are flocking to Syria to join what they see as a battle to defend Muslims no one is bothering to help.

"This was a dream for me, to wage jihad for Allah's sake, because this is one of the greatest deeds in Islam, to lift aggression off my brothers, to bleed for Allah and no other," he said.
Is this really who Obama intends for us to become "allies" with?
Is he insane?
In article after article, I have documented how Obama's Syrian rebels have been ruthlessly murdering Christians, using chemical weapons and dismembering little girls.
Today, I found an account from a Time Magazine reporter that chillingly describes the brutality of these fanatics…
I don't know how old the victim was but he was young. He was forced to his knees. The rebels around him read out his crimes from a sheet of paper. They stood around him. The young man was on his knees on the ground, his hands tied. He seemed frozen.

Two rebels whispered something into his ear and the young man replied in an innocent and sad manner, but I couldn't understand what he said because I don't speak Arabic.

At the moment of execution the rebels grasped his throat. The young man put up a struggle. Three or four rebels pinned him down. The man tried to protect his throat with his hands, which were still tied together. He tried to resist but they were stronger than he was and they cut his throat. They raised his head into the air. People waved their guns and cheered. Everyone was happy that the execution had gone ahead.
Should the U.S. military be used to help those jihadist thugs take control of Syria?
If Obama gets us into this war, it has the potential to spin totally out of control very rapidly.
Let us hope and pray that it does not happen.  Because if we do go to war in Syria, it could ultimately lead us down the road to World War III.