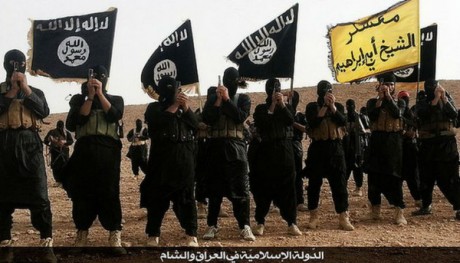 If we truly do want to get rid of ISIS, why aren't we doing anything about the Islamic governments that are funding them, aiding them and facilitating the sale of their oil?  As you will see below, ISIS fighters hop back and forth over the Turkish border with impunity, there are "direct dealings between Turkish officials and ranking ISIS members", and more than $800,000,000 worth of ISIS oil has been sold in Turkey.  If these things are true, action must be taken.  According to a recent Rasmussen Reports survey, 92 percent of Americans consider Islamic terrorism to be a serious threat to the United States, and a Washington Post-ABC News survey found that 83 percent of registered voters believe that a terror attack that causes a large amount of casualties inside the United States is likely in the near future.  The American people clearly want ISIS to be dealt with, so why isn't the Obama administration doing anything to go after the state sponsors of such terror?
At this point, most Americans have absolutely no idea what is taking place in Iraq and Syria, and the mainstream media is certainly not being straight with us.  That is why I want to share with you some key excerpts from an amazing article that was written by award-winning journalist and best-selling author Dr. Nafeez Ahmed.  According to his bio, he has "written for the Independent on Sunday, The Independent, The Scotsman, Sydney Morning Herald, The Age, Huffington Post, New Statesman, Prospect Magazine, Le Monde Diplomatique, among many others."  His recent article entitled "NATO is harbouring the Islamic State" is a must read.  In particular, what he has to say about the relationship between the Turkish government and ISIS is extremely eye opening…
A senior Western official familiar with a large cache of intelligence obtained this summer from a major raid on an ISIS safehouse told the Guardian that "direct dealings between Turkish officials and ranking ISIS members was now 'undeniable.'"

The same official confirmed that Turkey, a longstanding member of NATO, is not just supporting ISIS, but also other jihadist groups, including Ahrar al-Sham and Jabhat al-Nusra, al-Qaeda's affiliate in Syria. "The distinctions they draw [with other opposition groups] are thin indeed," said the official. "There is no doubt at all that they militarily cooperate with both."
But it isn't just that Turkey and ISIS have "direct dealings" with each other.  In his article, Ahmed goes on to explain that ISIS uses Turkish territory as a home base from which to conduct attacks, and ISIS trucks are able to travel back and forth across the border and throughout Turkey quite freely…
The former ISIS fighter told Newsweek that Turkey was allowing ISIS trucks from Raqqa to cross the "border, through Turkey and then back across the border to attack Syrian Kurds in the city of Serekaniye in northern Syria in February." ISIS militants would freely travel "through Turkey in a convoy of trucks," and stop "at safehouses along the way."

The former ISIS communication technician also admitted that he would routinely "connect ISIS field captains and commanders from Syria with people in Turkey on innumerable occasions," adding that "the people they talked to were Turkish officials… ISIS commanders told us to fear nothing at all because there was full cooperation with the Turks."
Unless the U.S. military and our intelligence agencies are completely blind, deaf and dumb, the Obama administration surely must know all of this already.
So why are they allowing it to happen?
In addition, in his article Ahmed also documented the fact that ISIS has been able to sell more than 800 million dollars worth of oil in Turkey…
Turkey has also played a key role in facilitating the life-blood of ISIS' expansion: black market oil sales. Senior political and intelligence sources in Turkey and Iraq confirm that Turkish authorities have actively facilitated ISIS oil sales through the country.

Last summer, Mehmet Ali Ediboglu, an MP from the main opposition, the Republican People's Party, estimated the quantity of ISIS oil sales in Turkey at about $800 million — that was over a year ago.
If ISIS had no place to sell their oil, they would be a far less formidable enemy.
And anyone that believes that the Obama administration does not know exactly where all of that oil is being sold is either completely clueless or is almost unbelievably naive.
Once we understand the role that the U.S. government played in the rise of ISIS, things begin to make more sense.  I encourage everyone to check out the excellent video by Ben Swann that I have posted below…
And I think that everything that I have shared above helps to explain why Barack Obama has been so soft on ISIS.  In fact, an article posted on the Washington Free Beacon that just came out says that Obama has been blocking 75 percent of all airstrikes against ISIS targets…
U.S. military pilots who have returned from the fight against the Islamic State in Iraq are confirming that they were blocked from dropping 75 percent of their ordnance on terror targets because they could not get clearance to launch a strike, according to a leading member of Congress.
Needless to say, this is more than just a little bit alarming, and many of our military leaders are absolutely disgusted by Obama's approach.  The following comes from Newsmax…
According to the House Foreign Affairs Committee Chairman Ed Royce, R-Calif., the policy is coming under attack by military leaders who believe it has enabled ISIS to gain strength within the region.

"You went 12 full months while ISIS was on the march without the U.S. using that air power and now as the pilots come back to talk to us they say three-quarters of our ordnance we can't drop, we can't get clearance even when we have a clear target in front of us," Royce said.

"I don't understand this strategy at all because this is what has allowed ISIS the advantage and ability to recruit."

While Jack Keane, a retired four-star U.S. general, agreed with Royce's evaluation of the policy, he noted that it's not only severely "constricting the U.S.," but he believes it has "been an absurdity from the beginning."
Could it be possible that Obama never intended to win the war against ISIS?
Could it be possible that Obama simply wanted to try to "contain" them and use them as a tool to help overthrow the Assad regime in Syria?
Could it be possible that he is purposely turning a blind eye to the assistance that the Turks, the Saudis and other Arab governments in the region are giving to ISIS?
If the answer to any of those questions is "yes", then the entire war against ISIS is a complete and total fraud, and Obama should be immediately impeached.
Things are not as they seem, and the American people are not being told the truth.
Please share this article with as many people as you can on Facebook, Twitter and through email.  Our government has actively betrayed us, and now Islamic terror is more of a threat to our way of life than ever before.