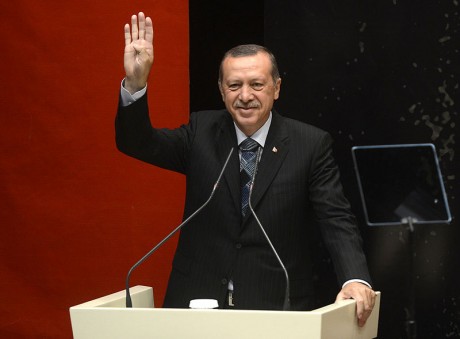 What just happened in Turkey?  I have been thinking about this for a number of hours now, and I have narrowed it down to two options.  Either this was the worst military coup in my entire lifetime, or it was staged.  I will explain how I came to this conclusion below, but in any event the end result of this "coup" is that President Erdogan is even more popular and has consolidated power to an extent that is absolutely breathtaking.  He already was essentially a dictator, but now this "coup" has sealed Turkey's fate and has pushed them even farther down the path toward becoming a radical Islamic state.
If you are going to conduct a military coup, the very first thing that should be on your list is to decapitate the current leadership structure.  But even though hundreds were killed and approximately 1,400 people were injured during the short-lived conflict, not a single high ranking official was killed or captured.
I don't know if I have ever heard of a coup where that didn't happen.  How do you not get a single high ranking official?  Either the planners of this coup were completely incompetent, or it was fake.  And yes, it is entirely possible that only a small portion of the military was involved and this effort represented the best that they could do to try to rescue Turkey from the grip of a ruthless dictator.  Maybe they were hoping that once they lit a spark the public would rally to their cause.
But I don't know if I am buying that explanation.  There are just way too many inconsistencies.
For instance, according to Reuters F-16s that were controlled by the opposition could have fired on Erdogan's plane and taken him out, but they didn't…
"At least two F-16s harassed Erdogan's plane while it was in the air and en route to Istanbul. They locked their radars on his plane and on two other F-16s protecting him," a former military officer with knowledge of the events told Reuters.

"Why they didn't fire is a mystery," he said.
To me, that simply defies a normal explanation.
In addition, soldiers that took part in the "coup" said "that they thought that they were taking part in military exercises"…
Soldiers arrested during a failed coup attempt in Turkey told interrogators that they thought that they were taking part in military exercises.

A group of 678 troops and 10 officers, headed by a colonel, was detained by authorities at Ataturk International Airport overnight.

During the interrogations, some of the soldiers claimed that, initially, they had no idea that they were taking part in an attempt to topple the government, thinking that it was just a military drill.

"Only when people began to climb on the tanks, we understood everything," the soldiers said, according to Hurriyet newspaper.
If this is true, then the soldiers were just as surprised as everyone else.
To me, this whole thing stinks.  Either it was the worst military coup that I have ever seen in my lifetime, or it was a giant theater production.
In any event, President Erdogan is taking full advantage of it.  His popularity in Turkey is now off the charts, and he is going to have power to do virtually anything he wants at this point…
Still, the coup appears to have boosted Erdogan's popularity. Clapping, singing and dancing, thousands of government backers celebrated the defeat of the coup in public squares in Ankara and Istanbul into the wee hours Sunday, bolstering support for the man who's led Turkey for over 13 years.

Erdogan's survival has turned him into a "sort of a mythical figure" and could further erode democracy in Turkey, said Soner Cagaptay, director of the Turkish research program at The Washington Institute.
In public remarks, Erdogan described the coup as "a gift from God", and he has spoken of the need to "cleanse" the government and the military.  So far since the end of the "coup", approximately 6,000 officials have already been rounded up…
Turkey widened a crackdown on suspected supporters of a failed military coup on Sunday, taking the number of people rounded up in the armed forces and judiciary to 6,000, and the government said it was in control of the country and economy.

Supporters of President Tayyip Erdogan gathered in front of his Istanbul home to call for the plotters to face the death penalty, which Turkey outlawed in 2004 as part of its efforts to join the European Union.

"We cannot ignore this demand," Erdogan told the chanting crowd. "In democracies, whatever the people say has to happen."
This number includes at least 2,745 judges.  I don't even know that it is possible to put together a list of specific judges that you want to target that is that long in just a couple of days.  Obviously this was a list that someone had developed before the "coup" ever took place, and now this "coup" has handed Erdogan the perfect opportunity to round them all up.
And you may have heard tales of what goes on in Turkish prisons.  The Turks are known for being absolutely brutal, and many of those that have been rounded up are already paying a tremendous price…
Pictures on social media showed detained soldiers stripped from the waist up, some wearing only their underpants, handcuffed and lying packed together on the floor of a sports hall where they were being held in Ankara.

One video on Twitter showed detained generals with bruises and bandages.
As for Erdogan, this is just par for the course.  Those that follow Turkey closely know that he has already been acting like a modern day version of Adolf Hitler for years.  The following comes from Ralph Peters…
Key opposition figures have been driven into exile or banned.  Opposition parties have been suppressed.  Recent elections have not been held so much as staged.  And Erdogan has torn the fresh scab from the Kurdish wound, fostering civil war in Turkey's southeast for his own political advantage.

Erdogan has packed Turkey's courts with Islamists.  He appointed pliant, pro-Islamist generals and admirals, while staging show trials of those of whom he wished to rid the country.  He has de facto, if not yet de jure, curtailed women's freedoms.  He dissolved the wall between mosque and state (Friday night, he used mosques' loudspeakers to call his supporters into the streets).  Not least, he had long allowed foreign fighters to transit Turkey to join ISIS and has aggressively backed other extremists whom he believed he could manage.
At this point, there is essentially nothing standing in the way of Turkey becoming a radical Islamic dictatorship.  Anyone that dares to be critical of Erdogan is dealt with ruthlessly.  In fact, 1,845 "journalists, writers and critics" have been arrested for "insulting the president" since 2014 alone.
Yes, that is actually a crime in Turkey.
Erdogan envisions himself as the one that will recapture the glory of the old Ottoman Empire, and to show how great he is, he had the largest presidential palace in the entire world built for himself.  If you can believe it, it is actually 30 times larger than the White House…
The £400 million palace of Turkey's President Erdogan is the biggest in the world. It is also a monstrosity. Thirty times the size of the White House, all the seats of government of Turkey's Nato allies could be contained inside its vast marble halls and endless corridors.
Just who in the world does this guy think that he is, and what does he have planned next?
Unfortunately for the people of Turkey, they are not going to get rid of this dictator any time soon, and he is going to take them much farther down the road toward becoming a truly radical Islamic state.