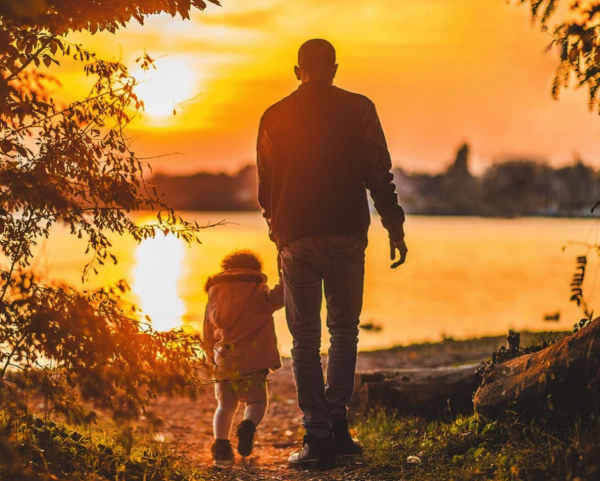 A nation that does not have strong family units will not prosper.  I am writing this piece on Father's Day, and at this point it has become exceedingly clear that there is a major fatherhood crisis in the United States.  Yes, there have always been lots of good fathers out there, and on this day we honor them.  And if you are currently a father and you are working hard to raise your children the right way, I salute you.  Unfortunately, there are way too many men out there that are making babies but have no intention of being real fathers.  According to the official CDC website, unmarried women now account for a whopping 40.5 percent of all births in the United States.  Back in 1964, that number was below 10 percent.
Sadly, millions of young women end up raising their children all by themselves.  As a result, nearly one-fourth of all U.S. children are growing up in a home without a father…
There is little doubt that America is experiencing an unprecedented fatherless crisis. Approximately 80% of single-parent homes are led by single mothers; therefore, leading to nearly 25% of our youth growing up without a father in the home.
Of course having a father present in the home is no guarantee that everything will work out just fine.  Without a doubt, there are a lot of bad fathers out there.
But study after study has shown shown that children that grow up in a home without a father are much less likely to do well as adults.  Here are just a couple of key numbers…
This staggering statistic has not only destroyed the nuclear family but has devastated communities across the nation. For example, 85% of children and teens with behavioral disorders come from fatherless homes, and over 70% of all adolescent patients in drug and alcohol treatment centers originate from homes without fathers.
Studies have also shown that children that grow up in a home without a father are much more likely to fall into a life of crime.  As I discussed last week, crime rates continue to absolutely explode all over the nation.  And earlier today I came across a story about one crew that has somehow managed to steal 37 ATM machines so far…
The NYPD is on the hunt for five men behind dozens of robberies of ATMs in stores across Brooklyn and Queens. Between Dec. 2, 2021 and June 2, 2022, the group stole 37 ATMs and two vehicles totaling more than $60,000, according to cops.

The robbers have broken through the front doors of the establishments to carry out their heists. They've targeted grocery stores, check cashing stores, delis, a Dunkin' Donuts, a department store, smoke shop, laundromat, nail salon, barber shop, diner and restaurant.
I can't imagine that it is easy to haul an entire ATM machine away.
And to get away with it 37 times in a row is quite a streak.
They might want to stop while they are ahead.
But this is a perfect example of what is happening to our nation.  There is chaos everywhere around us, and it is only getting worse with each passing year.
If we ever want to turn things around, we need to greatly strengthen our families, and that starts with the father.
Unfortunately, there is a relentless war being waged against the traditional family structure by the left.  In fact, countless teachers in our public schools openly undermine family values in their classrooms, and many of them totally get away with it.
3rd grade teacher shows inclusive books she reads to 8-year-old students including books on kids becoming transgender and non-binary pic.twitter.com/IZydScsnj5

— Libs of TikTok (@libsoftiktok) June 17, 2022
And we have gotten to a point where countless hordes of our young people actually believe that having children is a curse.
On Saturday, a group of particularly brainwashed young women showed up to protest right in front of Amy Coney Barrett's home in Virginia…
Pro-choice protesters congregated outside Supreme Court Justice Amy Coney Barrett's Virginia home on Saturday, dressed in clothing appearing to be soaked with blood and holding baby doll toys.

"Abortion on demand and without apology," signs held by members of the group Rise Up 4 Abortion Rights read on Saturday as they stood outside Barrett's home in Falls Church.
I was horrified when I first saw this.
How far gone do you have to be to want to be involved in a stunt like this?
We aren't incubators! Youth procession delivered baby dolls to Amy Coney Barrett. We aren't protesting to change the minds of women-hating fascists.We're calling on the pro-choice majority, on YOU, to get in the streets to STOP #SCOTUS from overturning Roehttps://t.co/Y0oCPlHcsr pic.twitter.com/nkHT7iamHO

— Rise Up 4 Abortion Rights (@riseup4abortion) June 18, 2022
Our culture is rotting right in front of our eyes, and more Americans than ever are completely rejecting the values that this country was founded upon.
And we are seeing this reflected in the results of survey after survey.  For example, Gallup just discovered that the percentage of Americans that believe in God has fallen to an all-time low…
The vast majority of U.S. adults believe in God, but the 81% who do so is down six percentage points from 2017 and is the lowest in Gallup's trend. Between 1944 and 2011, more than 90% of Americans believed in God.

Gallup's May 2-22 Values and Beliefs poll finds 17% of Americans saying they do not believe in God.
Sadly, just because someone says that they "believe in God" does not mean that they are on the right track.
Just look at the people that are running our nation.  Joe Biden goes to church all the time, but he is probably the worst president that we have ever had.
And Kamala Harris claims to be a "practicing Baptist", but she sees absolutely nothing wrong with abortion…
Harris, a practicing Baptist from a multi-faith family background, told reporters on Friday that she had 'convened faith leaders' to discuss the abortion issue from a religious perspective.

'For those of us of faith, I think that we agree, many of us, that there's nothing about this issue that will require anyone to abandon their faith, or change their faith,' she said, referring to abortion.
If we stay on the path that we are currently on, there is no future for our nation.
We need to turn back to the values that this nation was founded upon, and we need to greatly strengthen our families.
Unfortunately, right now there are no signs that we plan to turn away from our wicked ways.
Instead, we continue to run toward evil as rapidly as we can, and that will only result in a tremendous amount of pain.
***It is finally here! Michael's new book entitled "7 Year Apocalypse" is now available in paperback and for the Kindle on Amazon.***
About the Author: My name is Michael and my brand new book entitled "7 Year Apocalypse" is now available on Amazon.com.  In addition to my new book I have written five other books that are available on Amazon.com including  "Lost Prophecies Of The Future Of America", "The Beginning Of The End", "Get Prepared Now", and "Living A Life That Really Matters". (#CommissionsEarned)  When you purchase any of these books you help to support the work that I am doing, and one way that you can really help is by sending digital copies as gifts through Amazon to family and friends.  Time is short, and I need help getting these warnings into the hands of as many people as possible.  I have published thousands of articles on The Economic Collapse Blog, End Of The American Dream and The Most Important News, and the articles that I publish on those sites are republished on dozens of other prominent websites all over the globe.  I always freely and happily allow others to republish my articles on their own websites, but I also ask that they include this "About the Author" section with each article.  The material contained in this article is for general information purposes only, and readers should consult licensed professionals before making any legal, business, financial or health decisions.  I encourage you to follow me on social media on Facebook and Twitter, and any way that you can share these articles with others is a great help.  These are such troubled times, and people need hope.  John 3:16 tells us about the hope that God has given us through Jesus Christ: "For God so loved the world, that he gave his only begotten Son, that whosoever believeth in him should not perish, but have everlasting life."  If you have not already done so, I strongly urge you to ask Jesus to be your Lord and Savior today.