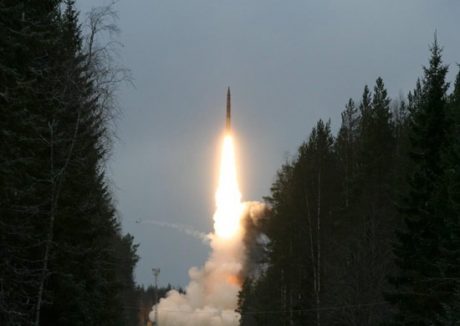 In Russia there is talk that war with the United States is inevitable, and they are feverishly preparing to win such a war when it happens. Thanks to tensions over Ukraine, Syria and the price of oil, U.S. relations with Russia are the worst that they have been since at least the end of the Cold War. In fact, one false move could result in U.S. and Russian forces shooting at each other in Syria as you will see below. The Russians have worked incredibly hard to upgrade and modernize their military in recent years, but meanwhile the U.S. military is being transformed into a radically politically-correct social experiment by the Obama administration. Most Americans simply assume that we will never fight a war with Russia, and that if for some reason we did that we would win easily. Unfortunately, things have changed dramatically over the past decade, and the truth is that the Russians now have the upper hand.
Most Americans are accustomed to thinking that we have such an overwhelming strategic nuclear arsenal that nobody would ever dare mess with us. At one time that was true, but now it isn't. In fact, the size of the U.S. strategic nuclear arsenal has been reduced by more than 95 percent since the end of the Cold War, and now the Russians actually have more deployed nuclear warheads than we do. The following comes from the Daily Beast…
While the U.S. military has been steadily cutting the number of nukes it loads on submarines and bombers and in missile silos, Russian forces have recently been adding more.

Seemingly more worrying for the United States, Russia's 1,796 deployed warheads exceed—by a whopping 246 weapons—the cap of 1,550 deployed nuclear weapons that Moscow and Washington agreed to as part of the 2011 New Strategic Arms Reduction Treaty.

The United States, meanwhile, is already well below the New START cap. America's missile submarines, nuclear-capable heavy bombers, and land-based intercontinental ballistic missiles are armed with just 1,367 warheads, the State Department says.
But it isn't just the number of warheads that we need to be concerned about. The Russians have developed a brand new intercontinental ballistic missile known as "the Sarmat" that is far more advanced than anything the U.S. currently has deployed…
The Sarmat will weigh at least 100-tons and carry a 10-ton payload. That means the missile could carry as many as 15 independently targeted thermo-nuclear warheads. It has a range of at least 6,000 miles. Once it is operational, it will be the largest ICBM ever built.

Like other modern Russian ICBMs such as the Yars, Topol-M and the Bulava, the Sarmat is being designed specifically to overcome ballistic missile defenses using a combination of decoys, a host of countermeasures and sheer speed. It might also be equipped with maneuvering warheads—which would make it much more difficult to intercept.
We have no way to stop the Sarmat, so once it is launched we are defenseless against it.
And each missile carries 15 independently targeted warheads, and so that means that for each missile that goes up, 15 warheads come down. Every one of those warheads can be directed to a different city, and so one Sarmat missile could essentially destroy an area approximately the size of Texas.
Meanwhile, the U.S. military continues to use hopelessly outdated technology. 60 Minutes has shown that many of our nuclear silos are still using rotary phones and the kind of 8-inch floppy disks that you can hold in your hand and actually flop around. And the Obama administration plans to keep Minuteman intercontinental ballistic missiles that were originally deployed in the 1960s and 1970s in service until 2030.
Of even greater concern than the Sarmat intercontinental ballistic missile are the "black hole submarines" that Russia has developed. These stealth submarines are so quiet and so invisible that they can come right up to our coastlines without us even knowing that they are there.
So someday a fleet of Russian submarines may suddenly surface just off both coasts, launch a barrage of nuclear missiles at us, and we would only have moments to try to decide what to do before our cities, our nuclear forces and our leadership started getting hit by nukes.
And guess what? The Russians have now developed even newer submarines that are even quieter and stealthier than the subs that the U.S. Navy referred to as "black holes"…
"The stealth capabilities of Russia's new Lada-class diesel-electric submarines far exceed those of their predecessors, Admiraty Shipyard's CEO Alexander Buzakov told the Russian press.

"According to Buzakov, the new vessels are even stealthier than Russian Kilo-class submarines, thought to be one of the quietest diesel-electric submarine classes in the world and dubbed "black holes" for their ability to "disappear" from sonars.

"The new submarines are able to maintain such a low profile thanks to a clever implementation of a next-generation anti-reflective acoustic coating and a new improved hydro-acoustic system, Buzakov said.
In a surprise attack scenario, the U.S. may be able to get some missiles off at the Russians, but the Russians also have the most advanced anti-ballistic missile systems in the entire world. In fact, it is believed that the S-500 system will be able to intercept any of our missiles before they even get to Russia. The following info about the S-500 comes from military-today.com…
The S-500 is not an upgrade of the S-400, but a new design. It uses a lot of new technology and is superior to the S-400. It was designed to intercept ballistic missiles. It is planned to have a range of 500-600 km and hit targets at altitudes as high as 40 km. Some sources claim that this system is capable of tracking 5-20 ballistic targets and intercepting up to 5-10 ballistic targets simultaneously. It can defeat ballistic missiles traveling at 5-7 kilometers per second. It has been reported that this air defense system can also target low orbital satellites. It is planned that the S-500 will shield Moscow and the regions around it. It will replace the current A-135 anti-ballistic missile system. The S-500 missiles will be used only against the most important targets, such as intercontinental ballistic missiles, AWACS and jamming aircraft.
And you may have heard that the Russians have been deploying S-300 and S-400 missile systems to Syria. After hearing reports that the Obama administration may conduct direct strikes against Syrian military positions, the Russians responded by reminding the U.S. that the S-300 and S-400 systems will be used against any targets that attack areas controlled by the Syrian government. The following comes from RT…
Russia's Defense Ministry has cautioned the US-led coalition of carrying out airstrikes on Syrian army positions, adding in Syria there are numerous S-300 and S-400 air defense systems up and running.

Russia currently has S-400 and S-300 air-defense systems deployed to protect its troops stationed at the Tartus naval supply base and the Khmeimim airbase. The radius of the weapons reach may be "a surprise" to all unidentified flying objects, Russian Defense Ministry spokesperson General Igor Konashenkov said.

According to the Russian Defense Ministry, any airstrike or missile hitting targets in territory controlled by the Syrian government would put Russian personnel in danger.
And the official Russian embassy account on Twitter has issued an ominous warning as well…
All jokes aside, #Russia will take every defensive measure necessary to protect its personnel stationed in #Syria from terrorist threat.
—
All jokes aside, #Russia will take every defensive measure necessary to protect its personnel stationed in #Syria from terrorist threat. pic.twitter.com/6vc4X9lGyT

— Russian Embassy, USA (@RusEmbUSA) October 5, 2016
—
So what would happen if U.S. military aircraft started getting shot down by the Russians in Syria?
I don't know the answer to that question, and let's hope that we don't find out.
Another thing that has raised a lot of eyebrows is a massive "civil defense drill" in Russia that just concluded that involved 40 million people. Many believe that the primary purpose of this drill was to prepare the population for a nuclear war. The following comes from a major British news source…
The huge four-day "civil defence" drill has set alarm bells ringing in Washington and London, with tensions already high over disagreements in Syria.

Following a breakdown in communication between the USA and Russia, the Kremlin has now organised the huge emergency practice drill – either as a show of force or something more sinister.

The drill will prepare Russian citizens for "large natural and man-made disasters", according to the country's Ministery for Civil Defence, Emergencies and Elimination of Consequences of Natural Disaster.

The ministry revealed 40 million civilians, 200,000 emergency rescuers and 50,000 units of equipment are involved in the war game, which is running from October 4 to October 7.
Most Americans don't realize this, but there are hundreds and hundreds of nuclear bomb shelters in Moscow alone. If a nuclear war were to start, Russian citizens are going to have somewhere to go.
Meanwhile, here in the United States no provision has been made for the general population. When the missiles start falling the only thing that will be left for us to do will be to kiss ourselves goodbye.
It seems like our relationship with Russia gets worse with each passing week. This week, the Obama administration officially accused the Russians of hacking into the DNC and interfering in our elections…
After months of speculation whether the US would officially accuse Russia of being responsible for various intrusions and hacks, primarily involving the Democratic party, moments ago we finally got the long-anticipated confirmation when the US named Russia as the actor behind the hacking attempts on political organizations and, more importantly, state election systems and accused Putin of carrying out a wide-ranging campaign to interfere with the 2016 elections, including by hacking the computers of the Democratic National Committee and other political officials.

In a statement, the US "intelligence community" said that it is "confident" that the Russian government "directed the recent compromises of emails from US persons and institutions, including from US political organisations", the Department of Homeland Security and Director of National Intelligence on Election Security said in a joint statement.

The US added that "these thefts and disclosures are intended to interfere with the US election process".
Over in Russia, they are very upset with us as well.
The Russians believe that the U.S. was responsible for the overthrow of the democratically-elected government in Ukraine, they believe that the U.S. helped start the civil war in Syria while Hillary Clinton was Secretary of State (and this is true), and they believe that the U.S. pushed the price of oil way down in order to hurt the Russian economy.
And it isn't just the Russian leadership that is very angry with the United States. According to Gallup, American leadership has a 1 percent approval rating in Russia at this point.
If you listen to Russian media, there is constant talk of war. The Russians consider the U.S. to be the great force for evil in the world, and they consider themselves to be the great force for good in the world. And there seems to be this overwhelming belief that an ultimate confrontation between good and evil is inevitable. Just consider the following excerpt from an article authored by leading Russian thinker Alexander Dugin entitled "Third World War Has Never Been So Close"…
The globalist US leadership obviously cannot rule the whole world and, what's more, the threat posed by Trump puts their control over America itself into question. Now, while the puppet Barack Obama is still in office and the globalist candidate Hillary Clinton is falling apart in front of American voters' very eyes, is the last chance to start a war. This would allow them to postpone elections or force Trump, if he were to win, to begin his presidency in catastrophic conditions. Thus, the US neoconservatives and globalists need war. And fast, before it's too late. If Trump gets into the White House when there will be peace, then there will be no such war, at least for the foreseeable future. And this would spell the end of the omnipotence of the maniacal globalist elites.

Thus, everything at this point is very, very serious. NATO's ideologues and the US globalists falling into the abyss need war right now – before the American elections. War against us. Not so much for victory, but for the process itself. This is the only way for them to prolong their dominance and divert the attention of Americans and the whole world from their endless series of failures and crimes. The globalists' game has been revealed. Soon enough, they'll have to step down from power and appear before court. Only war can save their situation.

But what about us? We don't need war. Not now, now tomorrow, never. Never in history have we needed war. But we have constantly fought and, in fact, we have almost never lost. The cost entailed terrible losses and colossal efforts, but we won. And we will always win. If this were not so, then today we wouldn't have such an enormous country free from foreign control.
Sadly, most ordinary Americans aren't paying attention to any of this.
Most ordinary Americans still think that the Russians are "our friends" and that there is not even the slightest possibility that we could go to war with them.
Let us certainly hope that war with Russia does not happen any time soon, because there is a very good chance that we would not wind up on the winning side.
*About the author: Michael Snyder is the founder and publisher of The Economic Collapse Blog and End Of The American Dream. Michael's controversial new book about Bible prophecy entitled "The Rapture Verdict" is available in paperback and for the Kindle on Amazon.com.*