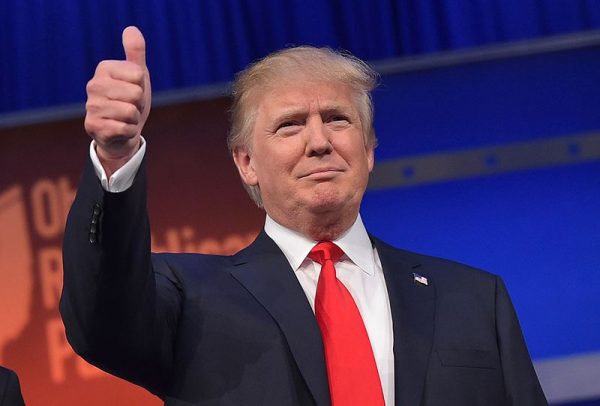 Can you name Donald Trump's best friend in Congress? I was thinking about this question the other day, and I couldn't come up with a single name. Since nobody else seems very eager to take on that mantle, I will be more than happy to claim it. If I get elected to Congress, I will call for the witch hunts against Trump and his administration to be immediately shut down, I will publicly defend the president every chance that I get, and I will do all that I can to advance the Make America Great Again agenda. I believe in the values and the principles that Trump campaigned on, and there is a reason why they resonated so strongly with the American people. Trump openly defied the globalists in both major political parties, and even though all of the "experts" said that he didn't have a prayer of winning, he was able to pull off the biggest miracle in American political history. Now we need to get Trump some friends in Congress, and if you would like to help me become Donald Trump's best friend in Congress you can contribute to the campaign right here…
https://secure.anedot.com/michaelsnyderforcongress/donate
If you would like to send a check instead, just make it out to "Michael Snyder For Congress" and send it to the following address…
Michael Snyder
PO Box 1136
Bonners Ferry, Idaho 83805
Have you ever been around an organization or a business that is growing too fast? That is the biggest problem facing our campaign at the moment. Over the past 10 days we have had some of the most influential people in Idaho politics get behind our campaign. We have created a massive amount of buzz throughout the entire district, we have more social media followers than all of the other candidates combined on every major platform, and we are beating the other candidates in the race to the punch in just about every area that you can possibly imagine.
Just about everything that needs to happen in order for me to win this race is happening. But the problem is that this campaign is becoming so big so quickly that we are outstripping our limited resources. I have been so busy traveling, interviewing and working the phones that I haven't spent enough time fundraising. As a result, we are running low on "fuel" at the exact time when we have an opportunity to really start soaring.
Our first FEC quarterly deadline is coming up at the end of this month, and we really need your help. The only way we have been able to come so far in such a short period of time is because of the generous donations of hundreds of donors, and now I am hoping that you will help us go to the next level. The donation limit for an individual for each campaign cycle is $2700, and if you think that you may want to become a "max donor" I would love to chat with you. Please feel free to reach out to me at my campaign email address…
michael @ michaelsnyderforcongress.com
All across the country we need to be supporting pro-Trump conservatives for Congress. So many are looking ahead to the November 2018 midterm elections, but the truth is that the real battles will be next spring. If pro-Trump candidates don't win in the primaries, we won't even have pro-Trump options to vote for the following November.
In the vast majority of cases, pro-Trump candidates will be attempting to unseat anti-Trump establishment Republican incumbents in the primaries.
But in my case, there is no incumbent.
There is no incumbent in Idaho's first congressional district because Raul Labrador has decided to run for governor.
So the race is totally wide open, and we have a golden opportunity to fill this seat with a very strong pro-Trump conservative. These sorts of opportunities don't come along every day, and I can't do it without you. But if every one of my readers were to donate just $20 today, I could stop fundraising tomorrow because we would have more than enough funding to win.
Since I am running on a pro-Trump, anti-establishment platform, the wealthy donors and the big organizations aren't going to get behind me. So we are "crowdfunding" our campaign, and it is going to take a grassroots effort.
If we do nothing, we are just going to get more of the same. According to Real Clear Politics, Congress has an average approval rating of just 15.5 percent at the moment. I don't know about you, but I am more than ready to start "flushing the toilet". We are trying to recruit pro-Trump people to run for offices all over the nation, and as they step forward it is absolutely imperative that we support them.
This truly is a movement, and if I end up in Washington I plan to quickly become one of the leaders of the "pro-Trump wing" of the Republicans in Congress. My hope is to do all that I can to help pro-Trump candidates win races all over the nation, and as that happens I believe that we can start pointing this nation in a more positive direction.
As you can see from my campaign platform, I truly believe in the Make America Great Again agenda. If you supported Trump, I would like to ask for your support as well. Doors continue to open one after another here in Idaho, and if you all will get us the "fuel" that we need, I have no doubt that we will win this race.
We are stretching every single dollar as far as we possibly can, and we will continue to do so. Thanks to you all, campaign materials are being deployed, events are being set up and our extremely strong conservative message is getting out to people all over the district. But in order to keep moving the ball forward, we need your help to put more "fuel" in the tank. If you would like to donate online, you can do so right here…
https://secure.anedot.com/michaelsnyderforcongress/donate
Or if you would like to send a check by mail, make it out to "Michael Snyder For Congress" and send it to the following address…
Michael Snyder
PO Box 1136
Bonners Ferry, Idaho 83805
As this campaign continues to gain momentum, there will be resistance from Antifa, Indivisible and other radical leftist groups up here in Idaho.
But I don't care. I am proud to be an extremely strong conservative, and I am proud to want to be Donald Trump's best friend in Congress.
That is my stand, and I'm not moving.
Michael Snyder