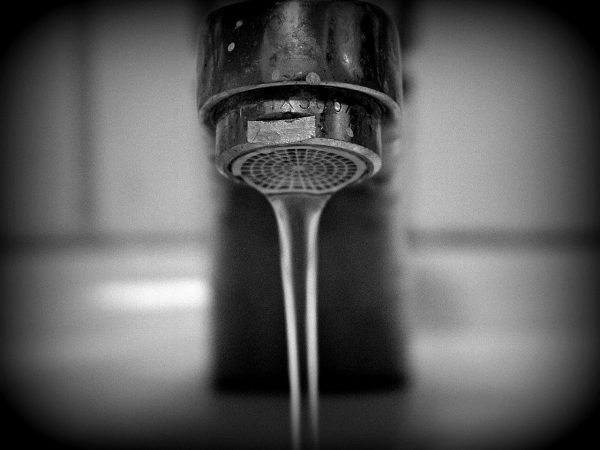 What would you do if the water coming out of your faucets tasted like dirt?  I know how crazy that sounds, but this is actually happening in the capital city of California right now.  Conditions are incredibly dry because of the endless megadrought in the region, and water levels have dropped to very low levels.  As a result, there is a much higher concentration of something called "geosmin" in the water than usual.  For those that are not familiar with "geosmin", it is one of the organic compounds that makes soil smell the way that it does.  So at this moment, millions of California residents have water coming out of their taps that smells and tastes like dirt.
The only thing that is going to fix this on a permanent basis is if the drought finally ends.  Unfortunately, at this point the entire state is experiencing at least some level of drought…
All of California is in some level of drought, according to the US Drought Monitor, and at increased risk of wildfires. About 33 percent of the state is in "exceptional drought," the most severe classification.

Water emergencies are expected in exceptional drought, along with severe and widespread crop and pasture loss. That's exactly what millions of Californians are experiencing.
So it appears that the water in the Sacramento area is going to continue to taste like dirt for the foreseeable future.  And that is really bad news, because the water has become so disgusting that even CNN is reporting on it…
Something is off about Sacramento's water. It smells and tastes a little "earthy," residents are saying — an effect of compounding climate change crises: extreme heat, little to no precipitation and a historic drought that has gripped the region for the better part of a decade.

Up and down the state of California, rivers, streams and reservoirs are drying up. In Sacramento, that has led to an increase in the concentration of geosmin in its drinking water, one of two organic compounds that give soil its characteristic smell.
Needless to say, city officials are well aware of the problem.
But since they apparently can't do anything about it they are just telling people to add some lemon to the water to make it taste more palatable…
"We realize that it's unpleasant," Carlos Eliason, the city's utilities spokesperson, told CNN. "The earthy taste that some of our customers are experiencing is harmless and can be neutralized by adding some lemon or putting it in the refrigerator."
Can you believe that?
We are supposed to have the largest economy on the entire planet, and California is supposed to be our most prosperous state, but officials can't even stop the water from tasting like dirt.
Meanwhile, California officials are bracing for an absolutely epic wildfire season.  On Tuesday, it was being reported that a dangerous new wildfire in northern California had "exploded in size"…
The Lava Fire exploded in size Monday afternoon into the overnight hours Tuesday and has grown to 13,330 acres.

Strong, erratic winds and dry conditions continue to hamper firefighting efforts, according to the Shasta-Trinity National Forest.
We are being told that this could be one of the worst years for wildfires ever.
But of course just about every year in the past decade has turned out to be one of the worst years for wildfires ever.
For the U.S. as a whole, there were 24,056 wildfires up to this point in 2020, and up to this point in 2021 there have been 30,414 wildfires so far.
Now we will be moving into the heart of fire season, and conditions are far, far drier at this stage than they were one year ago at this time.
The "heat dome" which has been absolutely baking the Northwest in recent days is certainly not helping matters.  New all-time record highs have been established in city after city, and that includes both Portland and Seattle…
Seattle set a record of 104 degrees Sunday and broke that Monday with 107 degrees, the World Meteorological Organization said. Portland broke the record twice: 108 on Saturday and 112 on Sunday. Many other records tumbled Monday.
Conditions are going to remain very hot and very dry in the Northwest for many days to come.
So it does not appear that any immediate relief is in sight.
Further south, the hot, dry conditions are playing havoc with agricultural production throughout California.  The New York Times says that "vast stretches of land are fallow because there's no water", and the long-term outlook for agriculture in the state is extremely bleak…
By 2040, the San Joaquin Valley is projected to lose at least 535,000 acres of agricultural production. That's more than a tenth of the area farmed.

And if the drought perseveres and no new water can be found, nearly double that amount of land is projected to go idle, with potentially dire consequences for the nation's food supply. California's $50 billion agricultural sector supplies two-thirds of the country's fruits and nuts and more than a third of America's vegetables — the tomatoes, pistachios, grapes and strawberries that line grocery store shelves from coast to coast.
"Dire consequences for the nation's food supply"?
I don't like the sound of that at all.
Unfortunately, this is the future that we are facing.  Dust Bowl conditions are returning, and agricultural production in California is going to be lower than usual for the foreseeable future.
It is almost as if the entire state is under some sort of a curse.  In recent years, the state has been hit by disaster after disaster, and now experts are warning that this endless megadrought is likely to continue to grip the state for many years to come.
So those that currently reside in Sacramento might as well become accustomed to water that tastes like dirt, because a "return to normal" does not appear to be in the cards.
***Michael's new book entitled "Lost Prophecies Of The Future Of America" is now available in paperback and for the Kindle on Amazon.***
About the Author: My name is Michael Snyder and my brand new book entitled "Lost Prophecies Of The Future Of America" is now available on Amazon.com.  In addition to my new book, I have written four others that are available on Amazon.com including The Beginning Of The End, Get Prepared Now, and Living A Life That Really Matters. (#CommissionsEarned)  By purchasing the books you help to support the work that my wife and I are doing, and by giving it to others you help to multiply the impact that we are having on people all over the globe.  I have published thousands of articles on The Economic Collapse Blog, End Of The American Dream and The Most Important News, and the articles that I publish on those sites are republished on dozens of other prominent websites all over the globe.  I always freely and happily allow others to republish my articles on their own websites, but I also ask that they include this "About the Author" section with each article.  The material contained in this article is for general information purposes only, and readers should consult licensed professionals before making any legal, business, financial or health decisions.  I encourage you to follow me on social media on Facebook, Twitter and Parler, and any way that you can share these articles with others is a great help.  During these very challenging times, people will need hope more than ever before, and it is our goal to share the gospel of Jesus Christ with as many people as we possibly can.