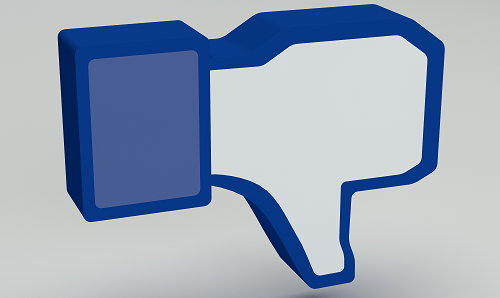 The amount of website traffic that Facebook receives in the United States has "fallen by about half" since 2016, and it is anticipated that this decline in traffic will not end any time soon. Coincidentally (or perhaps not), 2016 also happened to be the year when the censorship of conservatives on Facebook really became noticeable. The events of this week made headlines all over the globe, but the truth is that Facebook has been an egregious censor of conservative viewpoints for a very long time, and it appears that it is really taking a toll on the company. In business, one of the golden rules is to never make your customers angry, but Facebook has chosen to make conservatives very angry over and over again. It was inevitable that many of them would begin to leave, and that is perhaps part of the reason why monthly page visits are down by about four billion over the past two years…
Four billion. That, according to a new study shared with CNBC by market research firm SimilarWeb, is how many monthly page visits Facebook has shed in a slow-drip but nevertheless huge decline over the last two years.

Facebook's traffic hasn't just fallen by about half since 2016, according to the study. Among the consequences of such a precipitous drop is the opening it's given to YouTube, which the study's data shows is about to overtake Facebook to become the second biggest site, traffic-wise, in the U.S. Which would give Google ownership of the top two spots, pushing Facebook down to number three.
I knew that Facebook had been losing traffic, but I didn't know that it had been that dramatic.
According to CNBC, the number of monthly page visits that Facebook has been receiving in the United States has plummeted from 8.5 billion two years ago to 4.7 billion today…
The five websites receiving the most traffic in the U.S. in the last several years have been Google, Facebook, YouTube, Yahoo and Amazon, in that order. However, Facebook has seen a severe decline in monthly page visits, from 8.5 billion to 4.7 billion in the last two years, according to the study. Although Facebook's app traffic has grown, it is not enough to make up for that loss, the study said.
Growth in other regions of the world has also helped cushion the blow for Facebook, but needless to say they are in for a very troubled future if this trend continues.
Thanks to Facebook's woes, YouTube could soon become the number two website in the U.S. after Google, and that would give Google even more power over the online world.
At this point, Google already accounts for more than a third of all time spent online…
Between the ubiquitous search engine and offshoots such as YouTube and Waze, a new report says Google accounted for over 34% of time spent online in June, according to Axios.
So why has Facebook traffic cratered so dramatically?
Well, it is quite true that Facebook has been hit with a lot of scandals lately…
Facebook has faced a number of issues in the past few months, including one of the biggest share price drops in Wall Street History, shareholders attempting to oust CEO Mark Zuckerberg as chairman of the board, more questions surrounding election interference, and finally the banning of Infowars and Alex Jones from its platform has led to the social media Masters of the Universe facing criticism from multiple groups.
But scandals are just temporary. In a previous article, I pointed out that a much bigger problem for Facebook is the fact that young people are abandoning the platform in enormous numbers…
Teenagers have abandoned Facebook in favour of other social media platforms such as Snapchat and Instagram, according to a study from the Pew Research Center.

Just 51% of US individuals aged 13 to 17 say they use Facebook – a dramatic plunge from the 71% who said they used the social network in Pew's previous study in 2015, when it was the dominant online platform.
If I was working at Facebook, I would definitely be extremely alarmed by those numbers.
But many believe that the biggest problem of all for Facebook is the fact that they have alienated a substantial portion of the population.
Sure, conservatives are not a majority in America today. But even if you deeply anger only 20 or 30 percent of your customers, that can still be absolutely disastrous for your business.
Now that Facebook has made it abundantly clear that they are going to be hostile to conservatives, millions of them are going to leave, and they are never going to come back.
Personally, I barely spend any time on Facebook at this point. I post my articles and try to respond to messages when I have time, but other than that I don't hang out on the site. It has been a good way to reach people with my articles, but with Facebook traffic declining so substantially, the truth is that the site just doesn't have the reach that it once did.
Over time, Facebook is destined for the same fate as MySpace. Bigger and better competitors will come along, and a steady stream of people will continue to leave as Facebook continues to alienate those that were once so loyal to them.
Unfortunately, it doesn't appear that the trend toward more censorship of the Internet will end any time soon. It has been reported that Democrats are floating a bill that would essentially be a government takeover of the Internet, and the events of this past week have encouraged the left to call for even more censorship of conservatives.
We always knew that the golden era of the Internet wouldn't last forever. It has empowered us to communicate with one another on a scale never seen before in human history, but now the elite are determined to get control of it.
We must never let up in the fight for Internet freedom, because ultimately it is the freedom of all of humanity that is at stake.
Michael Snyder is a nationally syndicated writer, media personality and political activist. He is publisher of The Most Important News and the author of four books including The Beginning Of The End and Living A Life That Really Matters.