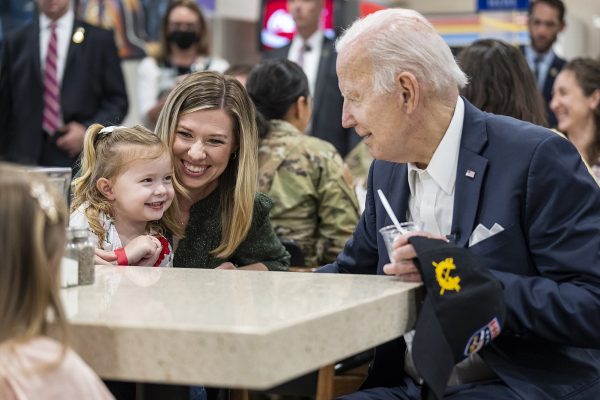 Now that Roe v. Wade has been overturned, Democrats in Congress are demanding the Biden administration to take action.  Needless to say, many Democrats have already soured on Biden at this point, and another major disappointment could give those that want someone else to be the Democratic nominee in 2024 a tremendous amount of momentum.  If Biden wants to run again, he needs the Democratic Party to get behind him.  And what Democrats want right now more than anything else is for Biden to "get aggressive"…
When it comes to protecting abortion rights, Democrats want Joe Biden to get aggressive. And fast.

Frustration is building among liberals over what some see as a slow executive response from the president, despite weeks to prepare following POLITICO's publication of a draft majority opinion forecasting the Supreme Court's overturning of Roe v. Wade. White House officials contend that things are more complicated than they seem, but that's doing little to turn down the temperature in the party.
A group of 25 senators recently sent a letter to Biden urging him to use federal lands to provide abortion in states where access to abortion will be outlawed or restricted.
For the moment, the Biden administration is saying that it will not pursue such an idea…
The White House signaled Monday that it is not pursuing a Senate Democratic proposal that says the Biden administration could offer abortion services on federal lands after the Supreme Court overturned Roe v. Wade last week.

Just days after the court ruled to strike down the landmark 1973 decision that guaranteed abortion rights nationwide, a White House official said that the Democratic proposal was "well-intentioned" but that it "could put women and providers at risk."
One of the big problems with trying to provide abortion on federal lands is the fact that facilities would have to be constructed.
And that could take a lot of time.
On the other hand, there are U.S. military bases in all 50 states, and many of them currently have buildings that are not being used.
In addition, a lot of them actually have hospitals that have extra space.
So it wouldn't take that much to get abortion clinics up and running on many of these bases.
Needless to say, doing such a thing would be a complete and utter abomination, and it would go against everything that our military once stood for.
And states that are attempting to outlaw or restrict abortion would be absolutely seething with anger if Biden did such a thing.
But we have seen Biden step way over the line during the pandemic, and I could easily see it happen again.
Of course such a move would instantly be challenged in court, and one legal expert is not sure which way such a case would go…
"It is possible that clinics can operate on federal lands without having to follow state law. That has to be explored," David Cohen, a professor at Drexel University's Kline School of Law who focuses on constitutional law and gender, told The 19th. "It's not a slam-dunk legal argument, but these are the kinds of things that need to be tried."
Alternatively, the Biden administration could wait for Congress to "make it legal".
According to a law professor at the University of Notre Dame named Gerard V. Bradley, Congress does possess such power under our system…
"It is fanciful to think that Planned Parenthood, for example, could operate an abortion clinic free of local state regulations just because Uncle Sam is its landlord," he told CNA. "But the more basic idea behind that particular thought is not at all fanciful. It is that federal law in our constitutional system is 'supreme' over incompatible state laws."

He outlined the role of federal law in this situation.

"No state law banning abortion in the wake of a Supreme Court ruling overturning Roe could override a federal law which specifically permitted abortions," he said. "It is surely within the power of the federal government to say, for instance, that in federal prisons and on military bases there shall be access to lawful abortion notwithstanding any state law which prohibits it."
The votes are already there for such a law in the House, but the big problem would be the Senate.
The Democrats could overcome that by getting rid of the filibuster once and for all, or they could recruit 10 moderate Republicans to vote their way.
There are several Republicans in the Senate that are pro-choice, but finding 10 Republicans that would be willing to vote for such a bill would be a stretch.
In any event, if the Biden administration ended up being successful in offering abortions on our federal lands or on our military bases, that would likely fuel secession talk all over the nation.
Even before Roe v. Wade was overturned, Republicans in Texas decided that it was time to bring the secession movement back to the front burner…
Saying the U.S. government has impaired Texas' right of self-government, the platform calls for rejecting any legislation that conflicts with the state's rights — and it suggests leaving the union might be the answer.

"Texas retains the right to secede from the United States, and the Texas Legislature should be called upon to pass a referendum consistent thereto," the platform stated.

Deeper in the document, the GOP delegates urge state lawmakers to put a referendum on the agenda for the 2023 election, "for the people of Texas to determine whether or not the State of Texas should reassert its status as an independent nation."
It would be a great tragedy to see the United States break up, and so let us hope that it never comes to that.
But Joe Biden has already shown a willingness to cross lines that can never be uncrossed.
Even if Biden doesn't use federal lands or military bases for abortion, it is clear that he is going to have to do something big to appease his fellow Democrats.
It will be very interesting to see how this plays out, because whatever Biden chooses to do could end up tearing this country apart.
***It is finally here! Michael's new book entitled "7 Year Apocalypse" is now available in paperback and for the Kindle on Amazon.***
About the Author: My name is Michael and my brand new book entitled "7 Year Apocalypse" is now available on Amazon.com.  In addition to my new book I have written five other books that are available on Amazon.com including  "Lost Prophecies Of The Future Of America", "The Beginning Of The End", "Get Prepared Now", and "Living A Life That Really Matters". (#CommissionsEarned)  When you purchase any of these books you help to support the work that I am doing, and one way that you can really help is by sending digital copies as gifts through Amazon to family and friends.  Time is short, and I need help getting these warnings into the hands of as many people as possible.  I have published thousands of articles on The Economic Collapse Blog, End Of The American Dream and The Most Important News, and the articles that I publish on those sites are republished on dozens of other prominent websites all over the globe.  I always freely and happily allow others to republish my articles on their own websites, but I also ask that they include this "About the Author" section with each article.  The material contained in this article is for general information purposes only, and readers should consult licensed professionals before making any legal, business, financial or health decisions.  I encourage you to follow me on social media on Facebook and Twitter, and any way that you can share these articles with others is a great help.  These are such troubled times, and people need hope.  John 3:16 tells us about the hope that God has given us through Jesus Christ: "For God so loved the world, that he gave his only begotten Son, that whosoever believeth in him should not perish, but have everlasting life."  If you have not already done so, I strongly urge you to ask Jesus to be your Lord and Savior today.