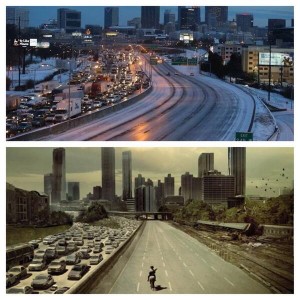 This week, three inches of snow "paralyzed" the ninth-largest city in the United States, and the highways of Atlanta "resembled a scene in a post-apocalyptic world" according to national news reports.  Hundreds of cars were abandoned on the side of the road, people were spending the night in churches and grocery stores, and many walked for hours in a desperate attempt to get home or find needed provisions.  So if three inches of snow can cause this much chaos in one of our major cities, what will a full-blown economic collapse look like?  Most Americans have no idea how fragile our way of life is.  In the event of a major natural disaster, a massive EMP blast or a complete economic meltdown, our lives would change very rapidly, and most people are totally unprepared for that.
In Atlanta, a relatively minor snowfall has resulted in the deaths of 5 people, more than 100 injuries, and some commuters reported being stuck in traffic for up to 18 hours.  According to USA Today, highways around Atlanta resembled "a post-apocalyptic world" at the height of the storm…
The usually bustling roadways in the Atlanta metropolitan area resembled a scene in a post-apocalyptic world during and after Tuesday's snow and ice storm.

Cars abandoned at odd angles on side streets, thoroughfares and major interstates. People in this car-dependent city walked for miles, hunched over and huddled from the cold. Many had no coats, hats or gloves.

"It was a like a scene from The Walking Dead," said Maura Neill, 38, referring to the television series about a post-apocalyptic world overtaken by zombies.
Once our normal routines are disrupted, it is amazing how rapidly people start thinking about supplies of food and water.  Just check out this report from CNN…
"I'm eight months' pregnant and have my 3-year-old with me," Atlanta-area resident Katie Norman Horne said on SnowedOutAtlanta, a Facebook page set up to help stranded motorists.

"We've been in the car for over 12 hours. We are fine on gas but is anyone near on the road and might happen to have any food or some water?"

In Atlanta, 940 accidents were confirmed, with more than 100 of them involving injuries, the Georgia public safety commissioner said.

In Alabama, at least five people died Tuesday in weather-related traffic accidents. The governor deployed 350 National Guard troops to help motorists.
And because thousands upon thousands of commuters simply could not get home, many of them started seeking shelter wherever they could find it…
Students camped out with teachers in school gyms or on buses and commuters abandoned cars along the highway to seek shelter in churches, fire stations — even grocery stores — after a rare snowstorm left thousands of unaccustomed Southerners frozen in their tracks.
You can see some incredible pictures from the "snowpocalypse" in Atlanta right here.
Remember, this was just a temporary "emergency" caused by just three inches of snow that everyone knew would soon pass.
So how will people respond when a real crisis strikes that is not temporary?
We live at a time when we tend to think that we are invulnerable because of our technology.
But that simply is not true.
For example, just because this winter was a bit colder than expected, it has created a shortage of propane heating fuel in more than 30 states…
The governor of Iowa, Terry Branstad, has called on President Barack Obama to act as bitter winter weather caused a shortage of propane heating fuel and a massive spike in prices in some of the coldest regions of the US.

Propane is used by more than 12m households across the country, according industry statistics, and its shortage has led to a state of emergency being declared in more than 30 states. Prices are up more than 17% from a year ago, according to the US Energy Information Administration.

Ahead of the president's State of the Union speech, Branstad has written to Obama expressing his concern about a crisis now sweeping the midwest: "Prices in some midwest locations have now exceeded $5 per gallon. Such prices are unsustainable for families, farmers and businesses," he wrote.
So what would happen if a real crisis happened?
For instance, what would happen if something caused the trucks in America to stop running?
What would life look like?
Well, according to a report put out by the American Trucker Associations entitled "When Trucks Stop, America Stops", life would get "apocalyptic" quite rapidly…
A Timeline Showing the Deterioration of Major Industries Following a Truck Stoppage

The first 24 hours

• Delivery of medical supplies to the affected area will cease.
• Hospitals will run out of basic supplies such as syringes and catheters within hours. Radiopharmaceuticals will deteriorate and become unusable.
• Service stations will begin to run out of fuel.
• Manufacturers using just-in-time manufacturing will develop component shortages.
• U.S. mail and other package delivery will cease.

Within one day

• Food shortages will begin to develop.
• Automobile fuel availability and delivery will dwindle, leading to skyrocketing prices and long lines at the gas pumps.
• Without manufacturing components and trucks for product delivery,
assembly lines will shut down, putting thousands out of work.

Within two to three days

• Food shortages will escalate, especially in the face of hoarding and consumer panic.
• Supplies of essentials—such as bottled water, powdered milk, and
canned meat—at major retailers will disappear.
• ATMs will run out of cash and banks will be unable to process
transactions.
• Service stations will completely run out of fuel for autos and trucks.
• Garbage will start piling up in urban and suburban areas.
• Container ships will sit idle in ports and rail transport will be disrupted, eventually coming to a standstill.

Within a week

• Automobile travel will cease due to the lack of fuel. Without autos and busses, many people will not be able to get to work, shop for groceries, or access medical care.
• Hospitals will begin to exhaust oxygen supplies.

Within two weeks

• The nation's clean water supply will begin to run dry.

Within four weeks

• The nation will exhaust its clean water supply and water will be safe for drinking only after boiling. As a result gastrointestinal illnesses will increase, further taxing an already weakened health care system.

This timeline presents only the primary effects of a freeze on truck travel. Secondary effects must be considered as well, such as inability to maintain telecommunications service, reduced law enforcement, increased crime, increased illness and injury, higher death rates, and likely, civil unrest.
Sadly, most Americans have made absolutely no preparations for a major crisis of that magnitude.
They just have complete and total faith that the system will always be able to take care of them.
Someday when we do experience a great national crisis, those people will be totally blindsided by it.