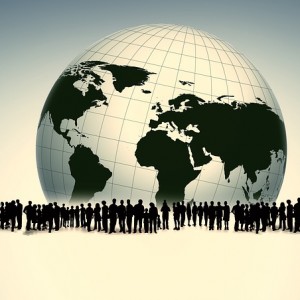 Would you like to have a digital identity card that is automatically issued to you at birth?  In one European nation, residents use such a card when they go to the hospital, when they do their banking, when they go shopping and even when they vote.  This card has become so popular that this particular European country actually plans to start issuing them to millions of non-citizens all over the planet who request them.  Never heard about this?  Neither had I before this week.  The Economist, a well-known mouthpiece for the global elite, is calling for the entire planet to adopt this "national identification system" that the little nation of Estonia has adopted.  The Economist is touting all of the "benefits" of a "national identification card", but are there dangers as well?  Could adopting such a system potentially open the door for greater government tyranny than we have ever known before?
The Economist article about this national identification scheme went largely unnoticed because it had a very boring title: "Estonia takes the plunge".  But the content of the article is absolutely startling.  The Economist article calls the Estonian national identification system a "cyberdream" and makes it sound like it will solve all of our problems…
There is one place where this cyberdream is already reality. Secure, authenticated identity is the birthright of every Estonian: before a newborn even arrives home, the hospital will have issued a digital birth certificate and his health insurance will have been started automatically. All residents of the small Baltic state aged 15 or over have electronic ID cards, which are used in health care, electronic banking and shopping, to sign contracts and encrypt e-mail, as tram tickets, and much more besides—even to vote.
If this was just limited to Estonia, it would be disturbing enough.  But according to the Economist, the Estonian government plans to start issuing these cards to millions of "satellite Estonians" all over the world…
That has left a gap in the global market—one that Estonia hopes to fill. Starting later this year, it will issue ID cards to non-resident "satellite Estonians", thereby creating a global, government-standard digital identity. Applicants will pay a small fee, probably around €30-50 ($41-68), and provide the same biometric data and documents as Estonian residents. If all is in order, a card will be issued, or its virtual equivalent on a smartphone (held on a special secure module in the SIM card).

Some good ideas never take off because too few people embrace them. And with just 1.3m residents, Estonia is a tiddler—even with the 10m satellite Estonians the government hopes to add over the next decade. What may provide the necessary scale is a European Union rule soon to come into force that will require member states to accept each others' digital IDs. That means non-resident holders of Estonian IDs, wherever they are, will be able not only to send each other encrypted e-mail and to prove their identity to web-service providers who accept government-issued identities, but also to do business with governments anywhere in the EU.
The Economist hopes that Estonia will become a model that the rest of the world will follow.
But do we really want government to have that much control over our lives?
If we need this "digital identity card" to go shopping, do banking or get health care, it would also give the government the power to revoke those "privileges" in a heartbeat.
Already there are countless examples of how governments around the world are using information databases in abusive ways.  For instance, one new lawsuit in the U.S. alleges that average citizens have been put in a 'terror database' for doing such things as buying computers and waiting for family members at train stations.
Do we really want to go even further down this road?
And of course "identity cards" can be lost, stolen and forged.  The next logical step would be to permanently implant our identity cards.
To many older Americans, such a notion sounds ludicrous, but many younger Americans are so eager to adopt this kind of technology that they are actually doing it to themselves.  Just check out the following excerpt from a recent NBC News article about "biohackers"…
In tattoo parlors and basements around the world, people are turning themselves into cyborgs by embedding magnets and computer chips directly into their bodies.

They call themselves biohackers, cyborgs and grinders. With each piece of technology they put beneath their skin, they are exploring the boundaries — and the implications — of fusing man and machine.

Welcome to the world of biohacking.

It's a niche community at the literal bleeding edge of body modification, and it attracts fervent fans from a variety of schools of thought. Some simply enjoy experimenting with new tech. Others use the magnets and chips for utilitarian purposes.
Does that sound creepy to you?
It should.
But it isn't just people on the fringes of society that are interested in these kinds of technologies.
For example, electronics giant LG says that it wants to put an electronic tracking device on your child…
Various tech companies have introduced wearable devices over the last few years that track your steps or heartbeat and even deliver your e-mails to your wrist.

Is electronically tracking your kid the next frontier?

LG announced a new device Wednesday morning, the KizON wristband, designed to let parents keep track of their child's whereabouts. The KizON uses GPS, WiFi and mobile Internet signals to identify the user's location in real time and sends the information to an Android app.
And billionaire Bill Gates is helping to develop an implant that "acts as a contraceptive for 16 years"…
Helped along by one of the world's most notable billionaires, a U.S. firm is developing a tiny implant that acts as a contraceptive for 16 years — and can be turned on or off using a remote control.

The birth control microchip, funded by the Bill and Melinda Gates Foundation, would hold nearly two decades worth of a hormone commonly used in contraceptives and dispense 30 micrograms a day, according to a report from the MIT Technology Review.

The new birth control, which is set to begin preclinical testing next year with hopes of putting it on shelves in 2018, can be implanted in the buttocks, upper arm or abdomen.
Whether you are ready or not, these technologies are coming.
For now, they are voluntary.
But eventually a day may come when you will be required to have an "identity chip" in order to buy, sell, conduct banking, have a job or go to the hospital.
When that day arrives, what will you do?