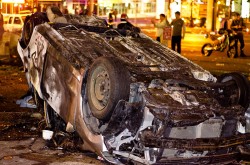 Flash mobs used to be so much fun.  A group of people would arrange to meet in a public place at a particular time and would perform a song or a dance number or some other form of entertainment very suddenly and without warning.  Well, the term "flash mob" is rapidly coming to mean something else now.  All over the country, young people are using social media and other forms of communication to coordinate shocking large scale crimes.  At first there were just a few isolated "mob robberies" around the country, but now we have a full-fledged flash mob epidemic on our hands.  Sometimes these flash mobs are involved in "mass shoplifting" events, and in other cases flash mobs are just committing random acts of violence.  But it is a very disturbing sign for our nation that all over the country we have large groups of young people that are banding together to commit very serious crimes.  This is something that is really unprecedented in modern U.S. history, and it is yet another indication that our society is starting to fall apart.
So exactly what do these flash mobs look like?
The following is video of a flash mob conducting a "mob robbery" in a 7-11 in Montgomery County, Maryland on August 13th, 2011….
Authorities keep telling us that they have everything under control, but these kinds of incidents continue to become more frequent.
Other examples of this flash mob phenomenon have been captured on video in Stockton, California, in Washington D.C. and in Las Vegas.
But flash mobs are not just engaged in shoplifting.  Recently, we have seen quite a few incidents where flash mobs have been involved in mass violence.
Back on July 4th, approximately 1,000 young people violently disrupted an Independence Day celebration in the Cleveland suburb of Shaker Heights.  Reportedly, the young people used social media websites to mobilize for the event.
Even more disturbing is what happened recently at the Wisconsin state fair.  The following is how one local ABC News affiliate described the "flash mob" attacks that took place….
Milwaukee police said that around 11:10 p.m., squads were sent to the area for reports of battery, fighting and property damage being caused by an unruly crowd of "hundreds" of people. One officer described it as a "mob beating."

Police said the group of young people attacked fair goers who were leaving the fair grounds. Police said that some victims were attacked while walking. They said others were pulled out of cars and off of motorcycles before being beaten.
Could you imagine taking your family to the state fair only to be pulled out of your car and beaten up by a horde of violent youths?
Yes, this is now happening in the heartland of America.
But the biggest problems with flash mobs have been in highly concentrated urban areas.  In America today there are millions of young men and women that don't have jobs and that don't have any hope and they are starting to take out their frustrations on innocent people.
So far this year, the worst flash mob violence has been in Chicago.  In a recent article, Janet Tavakoli attempted to describe the horrifying violence that has been unleashed in the city by these flash mobs….
This year, all hell has broken loose in downtown Chicago. Years of under-hiring have resulted in a police force that is unprepared for wildings and gang violence. Moreover, concealed carry in Chicago is illegal, unless one follows the Constitution.

Tourists and residents have been attacked by mobs of youths on buses, on beaches, on bicycle paths, near the shops of the Magnificent Mile, and outside their homes. Mobs of shoplifters plagued "Mug Mile" stores.
Even in some of the "best areas" of Chicago, people are being pulled off of bikes and pulled out of cars.  Innocent people that are just minding their own business are being brutally attacked.
The following is one eyewitness account of a flash mob attack in Chicago that Tavakoli included in her recent article….
At about 11pm last Friday night, June 3rd, I heard shouting, screaming, horns blaring and tires screeching from my apartment…When I looked out my window to the street below I saw a crowd of about 20 young people…directly across the street from the entrance to my building. They were leaning on parked cars and clogging the street. They were screaming at people walking and driving by. I watched them stop vehicles, including taxi cabs, and pull people from the vehicles…It was a frightening scene and I was sure someone was going to be hurt.
The violence in Chicago has become so extreme that even The Wall Street Journal is reporting on it.  The following is how a recent article in the Journal described one eyewitness account….
In another incident last Saturday evening, Krzysztof Wilkowski, after shopping on Michigan Avenue, was sitting on his scooter a couple of blocks away checking his phone for a restaurant when he got whacked in the face with a baseball.

At first, he said, he thought it was a prank, but then he looked up and saw 15 to 20 young men approaching. "My first reaction was, 'I'm about to get robbed, what do I do?' " Mr. Wilkowski recalled in an interview.

The 34-year-old insurance company employee from a Chicago suburb grabbed the keys from his ignition and held tight to his phone. A few of the attackers dragged him off his scooter and pulled him onto Chicago Avenue where they punched him, hit him with his helmet and tried to grab his phone.
What would you do if you had 15 or 20 young men approaching you?
Don't think that it can't happen to you.
The truth is that we can no longer trust that our fellow citizens are going to behave with common decency.
Our society is crumbling, and fewer people than ever seem to have any sense of morality.
All over the nation we are seeing some really bizarre crimes right now.  This isn't just happening in the big cities.  Just check out some of the recent crimes that have been committed all around the nation….
*In Louisiana recently, a 30-year-old man decapitated his 7-year-old son with a meat cleaver and left his head on the side of the road.  What made this crime even more shocking is the fact that the son was suffering from cerebral palsy and was confined to a wheelchair.  Reportedly the man had gotten "tired of taking care" of the young child.  The following is an excerpt from a Daily Mail report about this horrible crime….
A father has admitted to chopping his son's head off with a meat cleaver and leaving it in the roadside outside his home so that the child's mother would see it.
*In Georgia on Monday, a 14-year-old teen stabbed his grandmother and his great-grandmother with a sword.  The 77-year-old great grandmother is dead, but it looks like the grandmother is going to be okay.
*A 21-year-old man in the Chicago area is accused of killing his father with a weed trimmer while his father was sleeping in bed.
*A 19-year-old man from Galveston, Texas who claims to be a vampire recently stormed into a young woman's apartment and started biting her on the neck.  Reportedly he was "growling and hissing" while attacking her.
*Recently a 17-year-old Florida teen killed his parents with a hammer, hid their bodies in the master bedroom, and then invited dozens of people over for a massive house party.
The hearts of Americans are growing cold.  We have become so desensitized to violence that reports like these barely even affect us anymore.
The United States is becoming a very cruel place.  As the economy continues to crumble and as people become even more desperate, the flash mob attacks are going to become more frequent and the bizarre crimes are going to become even more horrible.
We are now starting to reap what we have been sowing for the last several decades.  We have thrown away the principles that made this country great, and we have taught our young people that morality really doesn't matter.  Now we will pay the price.
So what do all of you think about the flash mob epidemic that we are now witnessing?  Please feel free to leave a comment with your thoughts below….