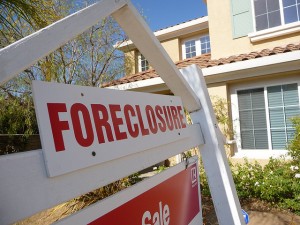 In an absolutely stunning development, Bank of America, JPMorgan Chase and GMAC Mortgage have all suspended foreclosures in many U.S. states due to serious concerns about foreclosure procedures.  There has been an absolutely massive tsunami of foreclosures in recent years and it turns out that mortgage company officials dealing with foreclosure paperwork have not always taken the time to process each foreclosure properly.  Things have gotten so bad that a number of U.S. states have actually opened up official investigations that are looking into some of these foreclosure practices.  But what did everyone expect?  There has been such a dramatic surge in foreclosures over the past several years that it was almost inevitable that shortcuts would start to be taken.  Back in 2005, there were only about 100,000 home repossessions in the United States.  Last year there were about 1 million home repossessions in the U.S. and RealtyTrac is projecting that there will be a record 1.2 million home repossessions this year.  Needless to say, this has created a paperwork headache for mortgage companies of unprecedented magnitude.
This crisis exploded toward the end of this past week and is starting to make headlines from coast to coast.  As mentioned above, some of the largest mortgage companies in the U.S. have taken the extreme step of actually suspending foreclosures until this mess can be sorted out.  The following are summaries of what is happening with some of the lenders at the center of this storm….   
Bank Of America
On Friday, Bank of America announced that it has suspended foreclosures in 23 states in order to assess whether it has been conducting them properly. 
This announcement comes on the heels of a report that one Bank of America official actually confessed during a Massachusetts bankruptcy case that she signed up to 8,000 foreclosure documents a month and typically did not read them "because of the volume".
JPMorgan Chase
JPMorgan Chase has announced that they have suspended foreclosures in 23 states as well. Approximately 56,000 foreclosure proceedings are affected by this decision.
On Friday, California Attorney General Jerry Brown ordered JPMorgan to suspend foreclosures in that state until JPMorgan proves that their foreclosure procedures comply with the law.
In addition, Connecticut Attorney General Richard Blumenthal has announced that he has begun an investigation of his own into JPMorgan's foreclosure practices.  Blumenthal is calling on Connecticut courts to freeze JPMorgan foreclosures for 60 days while the investigation develops.
GMAC Mortgage
Last month, GMAC Mortgage also suspended foreclosures in 23 U.S. states.  Company officials have acknowledged that thousands of affidavits supporting foreclosure proceedings have been signed without being read beforehand. 
GMAC made headlines across the nation recently when a Maine state court judge reprimanded GMAC for their foreclosure procedures.  In particular, the Maine state court judge ruled that an affidavit from GMAC to support a foreclosure in one case "was submitted in bad faith."  The judge in that case stated that GMAC's "high-volume and careless approach" to affidavit signing was very disturbing.
All of these developments threaten to turn the home foreclosure mess in the United States into an absolute quagmire.
Now some title insurance companies are wondering if they should continue to write policies for homes foreclosed by these mortgage lenders.
In fact, one of the biggest title insurance companies in the United States, Old Republic National Title Insurance, has already announced that it will no longer write new policies for homes foreclosed upon by JPMorgan Chase and GMAC Mortgage.
If more title insurance companies follow suit, the implications could be staggering.
For example, there may come a point where many home buyers may not be able to purchase homes that have been foreclosed upon if they are not able to obtain insurance that the home that they are buying has a clear title.
All of this is yet another indication that the U.S. real estate market is going to be a complete and total mess for years to come.
According to Bloomberg, housing prices in the United States are likely to decline for another three years as 12 million more homes get put on the market.
Meanwhile, banks have really tightened their lending standards and median household income is falling in almost every single major U.S. city, so there are not a lot of buyers out there to soak up all of these homes.
For much more on why the U.S. housing market is likely to get even worse, please see our previous article entitled "15 Bone Chilling Signs That Part Two Of The Double Dip Housing Crash Has Begun".
So what do you think?  Do you think that there is much hope for the U.S. housing market?  Feel free to leave a comment with your opinion below….