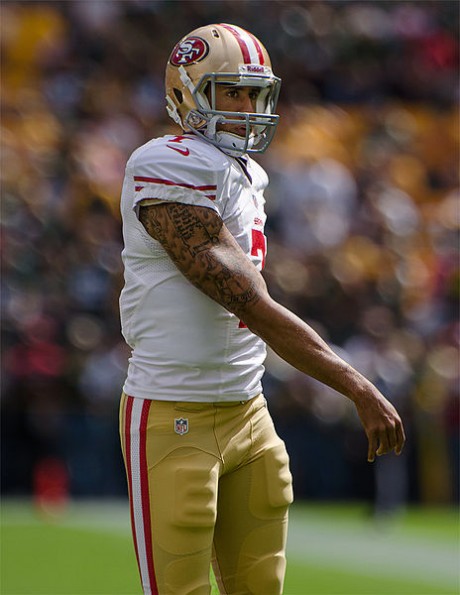 Thanks to Colin Kaepernick, the playing of the national anthem before a sporting event is never going to be the same again. At first there was a vicious backlash against Kaepernick for refusing to stand for the national anthem, but now large segments of the population are enthusiastically embracing him and his cause. This week, Kaepernick's jersey became the top selling jersey in the entire NFL. If it wasn't for this controversy that would be very odd, because Kaepernick has played very, very poorly over the past couple of years.
But it isn't just Kaepernick's jersey sales that show how public opinion has shifted. One survey discovered that Democrats overall are in favor of Kaepernick's protest by a 54 percent to 34 percent margin. That same survey found that Americans under the age of 30 support him by a 50 percent to 39 percent margin.
Overall, the general public disapproves of him choosing not to stand for the national anthem by a 57 percent to 32 percent margin, and you can include me in those that wish that he would not choose to use the national anthem to make a political statement.
But this just shows how divided America is these days. We can't even agree on the national anthem. Millions of us are angry, frustrated, bitter and confused. All of these emotions have exploded in places such as Dallas, Baton Rouge, Milwaukee, Baltimore and Ferguson, but instead of coming together to work on solutions I only see division getting even worse.
Sadly, some other sports stars have been watching Kaepernick's stand and have decided to join him in his protest. One of them is Seattle Seahawks cornerback Jeremy Lane. During the national anthem, he chose to sit on the bench during a recent preseason game in Oakland, and he intends to continue to do this as we head into the regular season.
Elsewhere, soccer star Megan Rapinoe said that she intended to make an "intentional" statement when she knelt while the national anthem was being played prior to a game between the Seattle Reign and the Chicago Red Stars…
"It was very intentional," Rapinoe told American Soccer Now after Seattle's 2-2 tie in the National Women's Soccer League game. "It was a little nod to Kaepernick and everything that he's standing for right now. I think it's actually pretty disgusting the way he was treated and the way that a lot of the media has covered it and made it about something that it absolutely isn't. We need to have a more thoughtful, two-sided conversation about racial issues in this country.

"Being a gay American, I know what it means to look at the flag and not have it protect all of your liberties. It was something small that I could do and something that I plan to keep doing in the future and hopefully spark some meaningful conversation around it. It's important to have white people stand in support of people of color on this. We don't need to be the leading voice, of course, but standing in support of them is something that's really powerful."
So you can probably guess what is going to happen next.
All over America, young athletes are going to start refusing to stand for the national anthem. They will think that they are being idealistic, but the truth is that this will just cause a huge mess. This will create huge controversies at colleges and in local communities all over the country, and it is not going to do anything productive to help us solve our very, very serious problems.
Incredibly, there is even an entire church in Baltimore that plans to participate in Kaepernick's protest…
Pastor Jamal Bryant is going above and beyond to show his support for NFL quarterback Colin Kaepernick by not only wearing his jersey during a sermon on Sunday, but also by encouraging his entire congregation to remain seated during the national anthem.

Bryant, the pastor of Empowerment Temple AME Church in Baltimore, Maryland, said yesterday that he approves of the San Francisco 49ers' backup quarterback's protest after he announced two weeks ago that he plans to sit during every performance of "The Star Spangled Banner" at NFL games to represent "people that are being oppressed."

On Sunday, Bryant shared a photo of himself wearing Kaepernick's jersey on Instagram before revaling that he and his congregation would be joining the professional athlete's protest by sitting down while the national anthem was played during the service.
Why do we have to make the national anthem a political issue?
It is very easy to see how this could become extremely divisive. Standing for the national anthem could soon come to mean that you are on one side of the fence, and refusing to stand for the anthem could soon come to represent that you are on the other side of the fence.
But why can't we just come together and learn to love one another?
Unfortunately, Barack Obama is adding fuel to the fire by encouraging Kaepernick's protest. The following is what he told reporters during a press conference in China…
"[H]e's following his constitutional right to make a statement," Obama said at a press conference in Hangzhou, China, responding to a question about the quarterback. "I think there's a long history of sports figures doing so."

The president added, "I don't doubt his sincerity. I think he cares about some real, legitimate issues that have to be talked about. And if nothing else, he's generated some conversation around some topics that need to be talked about it."
Look, I am all in favor of protesting. In fact, my writing is considered to be very anti-establishment. I criticize Democrats, I criticize Republicans and I point out evil and corruption wherever I find it in society.
But the national anthem is supposed to be one of the few things that we have left that we can all agree on.
One angle of this story that is not getting much attention from the mainstream media is the fact that Kaepernick only began publicly expressing these kinds of views after he started dating a radical Islamic activist and became a Muslim himself. At one time Kaepernick was known as a "Christian quarterback", but those days are long gone. This is something that I discussed in the most recent episode of our television show…
Would those supporting Kaepernick's "protest" be so enthusiastic if they knew that his anti-American feelings were being fueled by a version of radical Islam that is antithetical to everything that America is supposed to stand for?
In the end, we have far, far bigger problems than what Colin Kaepernick chooses to do during the national anthem, and hopefully this controversy will blow over soon. But meanwhile America is becoming increasingly divided, and this is yet another symptom of a very deep societal sickness.
*About the author: Michael Snyder is the founder and publisher of The Economic Collapse Blog and End Of The American Dream. Michael's controversial new book about Bible prophecy entitled "The Rapture Verdict" is available in paperback and for the Kindle on Amazon.com.*