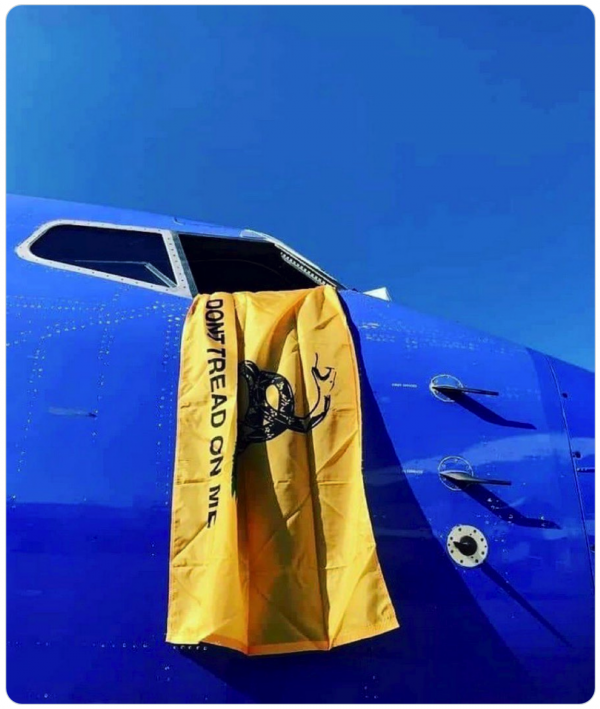 In very large numbers, Americans all over the country have chosen to quietly taking a stand at this critical moment in our history.  Rather than comply with tyrannical unconstitutional mandates, they are peacefully showing the entire nation what is going to happen when they are all forced out of their jobs in the not too distant future.  For example, the brave men and women that work for Southwest Airlines that have chosen to call in "sick" in recent days should be greatly applauded.  They have been willing to put their careers on the line to fight for all of our freedoms.  Of course Southwest Airlines is still trying to blame "bad weather" and "air traffic control issues" for the hundreds of canceled flights…
Southwest Airlines canceled more than 350 flights Monday following a weekend of major disruptions that it blamed on bad weather and air traffic control issues. The pilots union accused the company of a botched response to what it said would have been a minor challenge for other airlines.

The third straight day of canceled and delayed flights left passengers stranded and steaming from California to the East Coast.
But everyone knows what is really going on.
Southwest employees are protesting the company's vaccine mandate on a very large scale, and they have made this fact very obvious.
This photo was just sent to me of a grounded Southwest plane flying a Gadsden flag out of the cockpit. The Hero Pilots at Southwest and other Airlines deserve our support. True patriots worthy of the American Freedom Fighter tradition.
Don't Tread On Me.
God Bless Them 🇺🇸✈️🙏🏻 pic.twitter.com/tAo9pT4Q60

— Benny (@bennyjohnson) October 11, 2021
Of course the union can't officially acknowledge the "sickout" either, because officially acknowledging it would make it "an illegal job action"…
Essentially, the union cannot organize or even acknowledge the sickout, because doing so would make it an illegal job action. Years ago, Southwest and its pilots had a rough negotiation, and the union would not even let the pilots internally discuss the possibility of working-to-rule (which would have slowed Southwest to a crawl).

But at the moment the pilots don't even have to talk to each other about what they're doing. The anger internally – not just among pilots but other Southwest workers – is enormous. The tough prior negotiations notwithstanding, Southwest has a history of decent labor relations, and workers believe the company should stand up for them against the mandate. Telling pilots in particular to comply or face termination has backfired.
The head of Southwest says that he is personally against mandates, but he insists that his hand was forced by the Biden administration.
But that is not true at all.
At this point, Biden's "mandate" is simply a press release that is not legally enforceable…
Some critics of Biden's federal mandate point out it exists only in the form of a press release. They note that more than one month after the president announced private companies employing 100 or more people must ensure their employees are vaccinated, no such mandate has been sent to the White House's Office of Information and Regulatory Affairs yet for approval.
This is why none of the court challenges have moved forward yet.  Since nothing official has been issued at this juncture, there is nothing to challenge in court.
But in anticipation of Biden's coming mandate, companies all over America are issuing ultimatums to their workers, and this is resulting in record numbers of people leaving their jobs…
Workers left their jobs at a record pace in August, with bar and restaurant employees as well as retail staff quitting in droves, the Labor Department reported Tuesday.

Quits hit a new series high going back to December 2000, as 4.3 million workers left their jobs. The quits rate rose to 2.9%, an increase of 242,000 from the previous month, which saw a rate of 2.7%, according to the department's Job Openings and Labor Turnover Survey. The rate, which is measured against total employment, is the highest in a data series that goes back to December 2000.
In the months ahead, we could see millions upon millions more Americans forced out of jobs that they love.
So what will our country look like after that happens?
Well, we are already being warned that when you dial 911 there may not be anyone to respond to your call…
The pandemic-induced shortage of emergency medical technicians and paramedics nationwide is so dire that ambulance service providers warn of sharp cuts to services and longer waits for 911 calls — even when it's a matter of life or death.

Companies have had to close, consolidate or come up with new strategies to answer calls, said American Ambulance Association President Shawn Baird, who added that there is simply not enough EMS personnel to cover calls in many parts of the country, especially during the pandemic.
Out on the west coast, it is being reported that the Seattle Police Department could lose up to 40 percent of their officers due to an upcoming mandate…
At least 292 employees within the Seattle Police Department have yet to submit proof of vaccination as the Oct. 6 deadline set by interm chief Adrian Diaz in an email came and went.

However, a spokesperson with the department told FOX 13 News political reporter Brandi Kruse that in addition to those 292, 111 of those people have requested vaccine exemptions.

That brings the total to 403 employees whose vaccination status is unknown, which equates to about 39% of the SPD workforce.
Other police departments around the country are facing similar catastrophic losses.
So once we get into 2022 and beyond, if someone robs your home or stabs you on the street, you might be on your own.
Perhaps most frightening of all, hundreds of thousands of U.S. troops could soon be forced out of the military…
Hundreds of thousands of U.S. troops have yet to be fully vaccinated against COVID-19 as the first deadline for inoculations approaches for several branches of the military.

Active-duty members of the Navy and Marine Corps have until Nov. 28 to show proof of full vaccination against COVID-19. Deadlines differ between military branches, and, as The Washington Post reported, vaccination rates also differ.
If hundreds of thousands of highly qualified military personnel are suddenly purged from our armed forces, who will fight the next war if one suddenly erupts?
Perhaps the Biden administration can get this guy to do it.
These mandates are so bad for our country.  We are already facing the worst worker shortage in the history of our country, and the mandates threaten to make it much, much worse in the months ahead.
So I greatly applaud those that are brave enough to take a stand and try to stop them while there is still time.
If you are in a position to do so, I would encourage you to join them.  We are witnessing an all-out assault on many of our most important liberties and freedoms, and if people choose to lay down and do nothing they will soon be completely gone.
***It is finally here! Michael's new book entitled "7 Year Apocalypse" is now available in paperback and for the Kindle on Amazon.***
About the Author: My name is Michael Snyder and my brand new book entitled "7 Year Apocalypse" is now available on Amazon.com.  In addition to my new book I have written five others that are available on Amazon.com including  "Lost Prophecies Of The Future Of America", "The Beginning Of The End", "Get Prepared Now", and "Living A Life That Really Matters". (#CommissionsEarned)  By purchasing the books you help to support the work that my wife and I are doing, and by giving it to others you help to multiply the impact that we are having on people all over the globe.  I have published thousands of articles on The Economic Collapse Blog, End Of The American Dream and The Most Important News, and the articles that I publish on those sites are republished on dozens of other prominent websites all over the globe.  I always freely and happily allow others to republish my articles on their own websites, but I also ask that they include this "About the Author" section with each article.  The material contained in this article is for general information purposes only, and readers should consult licensed professionals before making any legal, business, financial or health decisions.  I encourage you to follow me on social media on Facebook and Twitter, and any way that you can share these articles with others is a great help.  During these very challenging times, people will need hope more than ever before, and it is our goal to share the gospel of Jesus Christ with as many people as we possibly can.