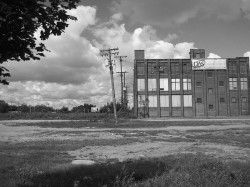 Red alert! Over 40 billion dollars of America's national wealth is being shipped out of the country every single month.  Our economy is being gutted and we are bleeding wealth and we are bleeding jobs.  This is a distress call.  Is anyone listening?  Thousands of our factories and millions of our jobs are being shipped overseas.  Over the past decade over 6 trillion dollars have been transferred into the hands of foreigners.  Our national government is so broke that they constantly have to go and beg those foreigners to lend us back some of that money in order to finance our exploding debt. The number of good jobs continues to decline and there are millions upon millions of my countrymen that are unemployed.  Can anybody help us? Mayday! Mayday! Mayday!
Sadly, the vast majority of Americans really are dead asleep on this issue.  They just continue to run out to the big retail stores and fill their carts with products made in China and yet they seem completely bewildered by the fact that the number of good jobs continues to decline.
Over the past decade, the number of middle class jobs has fallen by about ten percent.  There is a reason for this.  America is becoming poorer.  The economic pie is shrinking.  When we ship 40 to 50 billion dollars into the hands of foreigners every single month, that means that there is a lot less wealth for all of us to divide up.
Every single month, the U.S. ships in massive amounts of foreign oil and massive amounts of cheap plastic trinkets from places such as China which we greedily consume.  In return, we send them a giant pile of money.
This happens month after month after month.  You see, we always need more of their oil and more of their plastic trinkets.  They are more than happy to keep getting richer and richer.
Meanwhile, thousands of our factories and millions of our jobs continue to be sent overseas where labor is far cheaper.  Thanks to globalization, American workers much now directly compete for jobs with workers that are willing to work for less than a dollar an hour on the other side of the globe.
The dismantling of our economy is happening right in front of our eyes and most of our politicians are not doing a thing to stop it.
The following are 28 statistics about the gutting of the U.S. economy that will blow your mind….
#1 According to the U.S. Department of Commerce, the U.S. trade deficit for the month of March was $48.2 billion.  That was up from $45.4 billion in February.
#2 The United States has had a negative trade balance every single year since 1976.
#3 Between December 2000 and December 2010, the U.S. ran a total trade deficit of 6.1 trillion dollars.
#4 The U.S. trade deficit with China in March was $18.1 billion.  This is money that is not going to support U.S. businesses and U.S. workers.  If that money was actually going to our businesses and to our workers it would increase tax revenues.
#5 Since China entered the WTO in 2001, the U.S. trade deficit with China has grown by an average of 18% per year.
#6 During 2010, we spent $365 billion on goods and services from China while they only spent $92 billion on goods and services from us.
#7 Since 2005, Americans have gobbled up Chinese products and services totaling $1.1 trillion, but the Chinese have only spent $272 billion on American goods and services.
#8 The U.S. trade deficit with China in 2010 was 27 times larger than it was back in 1990.
#9 According to a recent report from the Economic Policy Institute, between 2001 and 2008 the United States lost 2.4 million jobs due to the growing trade deficit with China.  Every single state in America experienced a net job loss due to our trade deficit with China during that time period.
#10 The United States has lost an average of 50,000 manufacturing jobs per month since China joined the World Trade Organization in 2001.
#11 The United States has lost a staggering 32 percent of its manufacturing jobs since the year 2000.
#12 Between December 2000 and December 2010, 38 percent of the manufacturing jobs in Ohio were lost, 42 percent of the manufacturing jobs in North Carolina were lost and 48 percent of the manufacturing jobs in Michigan were lost.
#13 Back in 1970, 25 percent of all jobs in the United States were manufacturing jobs. Today, only 9 percent of the jobs in the United States are manufacturing jobs.
#14 China produced 19.8 percent of all the goods consumed in the world last year.  The United States only produced 19.4 percent.
#15 According to the IMF, China is going to have the largest economy in the world by 2016.
#16 Nobel economist Robert W. Fogel of the University of Chicago is projecting that the Chinese economy will be three times larger than the U.S. economy by the year 2040 if current trends continue.
#17 Back in 1998, the United States had 25 percent of the world's high tech export market and China had just 10 percent. Ten years later, the United States had less than 15 percent and China's share had soared to 20 percent.
#18 Manufacturing employment in the U.S. computer industry was actually lower in 2010 than it was in 1975.
#19 In 2002, the United States had a trade deficit in "advanced technology products" of $16 billion with the rest of the world.  In 2010, that number skyrocketed to $82 billion.
#20 Last year, China produced 11 times as much steel as the United States did.
#21 Do you remember when the United States was the dominant manufacturer of automobiles and trucks on the globe?  Well, in 2010 the U.S. ran a trade deficit in automobiles, trucks and parts of $110 billion.
#22 In 2010, South Korea exported 12 times as many automobiles, trucks and parts to us as we exported to them.
#23 According to one recent study, China could become the global leader in patent filings by next year.
#24 China is now the number one supplier of components that are critical to the operation of U.S. defense systems.
#25 In 2010, the number one U.S. export to China was "scrap and trash".
#26 Thanks to our exploding trade deficit with China, the Chinese have accumulated nearly 3 trillion dollars in foreign currency reserves.  That is the largest stockpile of foreign currency reserves on the entire globe.
#27 The amount of the trade deficit that can be attributed to foreign oil is at the highest level that we have seen since 2008.
#28 It is being projected that for the first time ever, the OPEC nations are going to bring in over a trillion dollars from exporting oil this year.  Their biggest customer is the United States.
Our dependence on foreign oil is literally bleeding us dry.  Once we have burned up all of that foreign oil in our cars we are left with nothing.  But the people we bought all that oil from are still sitting on all that cash.
As we ship our wealth, our factories and our jobs out of the country, America is getting poorer.
That means that individual Americans are getting poorer.
According to one estimate, between 1999 and 2009 real median household income in the United States declined by 5.0%.
Today, over 44 million Americans are on food stamps and over 47 million Americans are living in poverty.  This is not an accident and it didn't happen overnight.  Our economic policies are absolutely killing us.
This economic downturn has hit men particularly hard.  As thousands of manufacturing facilities have shut down, millions of blue collar workers have been dumped out on the street.  Most blue collar workers are men.
Since January 2008, male employment has declined by 4,932,000 jobs.
Ouch.
During 2010, only 66.8% of American men had jobs, which was a new all-time record low.
There are a lot of blue collar workers that are sitting at home on their couches today that are still trying to figure out what in the world happened to their good jobs.
There are now more than 6 million Americans that the government says have given up looking for work completely.  Most of them are men.
Sadly, in our society today most of the people that pursue higher education are women.  Today, 61% of all college degrees are earned by women.
Not that a college education is a ticket to success in today's world. According to the Economic Policy Institute, the unemployment rate for college graduates younger than 25 years old was 9.3 percent in 2010.
In fact, the majority of all of our college graduates end up running home to Mom and Dad after they graduate.
According to a poll conducted by Twentysomething Inc., 85 percent of U.S. college graduates will move back home with their parents (at least initially) after graduation.  That is up from 67 percent back in 2006.
The truth is that there are not nearly enough jobs for everyone and that is a huge problem.
We have become a nation that consumes far more wealth than it produces.  That is a recipe for disaster any way that you cut it.
Until we have some fundamental changes to our trade policy, these long-term trends are just going to continue.  We are going to continue to bleed wealth, bleed factories and bleed jobs.
Tax revenues go down when factories shut down and when American workers are sitting at home on their couches.  This is a huge factor in why our federal, state and local governments are drowning in debt.  We have got to have more wealth creation inside this country or else we are going to continue to see our government debt problems get even worse.
If you walk into just about any major retail store today, what do you find?
You find loads and loads of products that have been made somewhere else.
I hope that you are enjoying "the low, low prices" because they come at a very high cost.
We once had the greatest economic machine in the history of the world but now it is being gutted like a fish.
If we continue on the road that we are on, the entire country is eventually going to become just like Detroit.
Is that what you want?