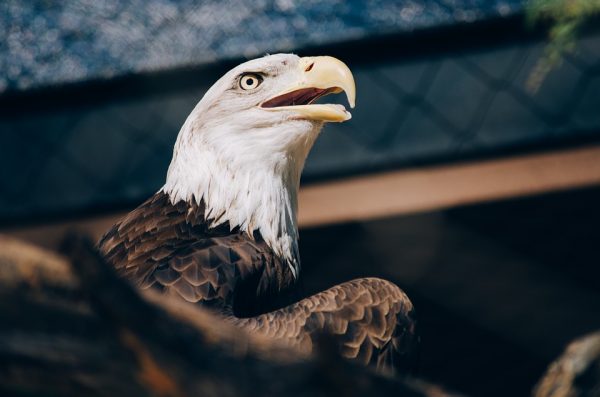 I don't know if you believe in signs, but I do. So when I heard that a very badly injured bald eagle had been found wandering the streets of Washington D.C. right before the 4th of July, that definitely got my attention. Today, bald eagles are actually quite rare. There are only about 5,000 nesting pairs in the lower 48 states, and it is especially uncommon to spot one in one of our major cities. When I was first told that a bald eagle has been rescued on the streets of our nation's capital right before the most patriotic day of the year, I was immediately skeptical. But this is actually a true story. The following was reported by NPR…
Just in time for the Fourth of July, animal rescue workers came to the aid of the national bird — a wounded bald eagle — on the streets of Washington, D.C. on Saturday.

The eagle was unable to fly, seemed lethargic and had labored breathing, the Humane Rescue Alliance posted to Facebook. The cause of the eagle's injury is unclear.

Matt Williams is with the group and wrote NPR in an email that the bird's condition appears to be stable and its prognosis "guarded," meaning it may recover but with lasting complications.
All the way back in 1782 the bald eagle was chosen to be the symbol of our nation. I have even incorporated it into my campaign logo. Other than the American flag, there is probably no other symbol that is more associated with our nation. And it was chosen as our national bird for very specific reasons…
The bald eagle was chosen June 20, 1782 as the emblem of the United States of America, because of its long life, great strength and majestic looks, and also because it was then believed to exist only on this continent.

On the backs of our gold coins, the silver dollar, the half dollar and the quarter, we see an eagle with outspread wings.

On the Great Seal of the United States and in many places which are exponents of our nation's authority we see the same emblem.

The eagle represents freedom. Living as he does on the tops of lofty mountains, amid the solitary grandeur of Nature, he has unlimited freedom, whether with strong pinions he sweeps into the valleys below, or upward into the boundless spaces beyond.
So if this injured bald eagle that was rescued in Washington D.C. is a sign, what could it mean?
Well, clearly the bald eagle would represent our nation. And the fact that it is injured would make a lot of sense, because today our Republic is hanging by a thread.
It is probably also not a "coincidence" that this bald eagle was found wandering the streets of our capital city. If there is one city that defines who we are as a people, it is Washington. Could it be possible that God sent this injured bald eagle to Washington as a warning?
If so, what kind of warning would it be?
In the quote above, it was noted that the bald eagle represents freedom. And it was rescued on the eve of the holiday that is specifically set aside to celebrate our liberty and freedom.
But if it is unable to fly, an eagle's freedom is greatly limited, and that is so true in our nation today.
Instead of protecting our liberties and freedoms as our founders intended, our federal government has become very fond of taking our liberties and freedoms away. Every time a new law is passed or a new government agency is established, our liberties and freedoms are restricted in some way. Today, there are hundreds of thousands of laws on the federal level, and when you throw in state and local governments all over the nation the grand total is in the millions.
We have lived with a big, oppressive government for so long that many of us cannot even imagine living any other way.
But there is a better way, and our founders risked everything to establish such a system. They envisioned a nation that would have a very, very limited central government and where liberty and freedom would be maximized.
Yes, liberty and freedom can be messy. But if you don't like liberty and freedom, there are lots of other places in the world where the government forces a great deal of uniformity on everyone. We are going down that path as a country right now, and if you want to see where that ultimately leads just go to North Korea.
If you take the time to stop and reflect on these things, it is truly frightening how tightly regulated our society has become. Virtually every single product in your home was configured according to very strict regulations set by the government. If you want to set up a business or hire employees, there are a whole host of rules and regulations that you are going to have to follow. Many structure their entire lives to minimize their income tax burdens, and today the income tax code is more than two million words long. And every single phone call that you make and every single email that you send are being intercepted by the government and stored in massive data centers like the one out in Utah.
I could go on and on for hours, but I think that you get the point.
Our liberties and freedoms are continually being eroded, and if we don't start swinging the pendulum back in the other direction eventually we are going to end up in the kind of dystopian nightmare that George Orwell portrayed in his novel 1984.
I don't want my 2-year-old daughter to grow up in such a world, and so if I am successful in my run for Congress I plan to be a wrecking ball in Washington. I plan to tear down and destroy as much of the system as I can, because I want to restore as much liberty and freedom to the American people as possible. But I can't do this alone, and so I am asking you to prayerfully consider helping me. So far the outpouring of love and support has been very encouraging, and I am so thankful to be connecting with so many other freedom-loving Americans.
Like many of you, for years I was discouraged that things never seemed to change no matter which political party was in power.
But the election of Donald Trump shattered that paradigm.
He was not afraid to take on the entire system, and he showed us that anything is possible.
Like that injured bald eagle on the streets of D.C., I believe that there is still time to rescue this nation.
But we have got to act quickly, because our nation is in extremely bad shape and it is rapidly steamrolling toward disaster.