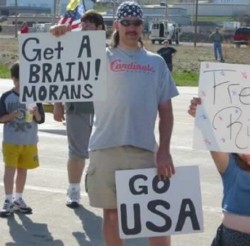 If our founding fathers could see us today, what would they think?  Unfortunately, they would probably come to the exact same conclusion that so many of us have come to – the U.S. government is absolutely brimming with idiots, incompetents and incredibly corrupt politicians.  Today it is very rare to come across a politician that still has any integrity left.  Washington D.C. has become such a cesspool that it seems to corrupt even most of the politicians that originally go there with good intentions.  We have created the most complicated government in the history of the world and we have hundreds of thousands of pages of laws, and yet nothing seems to work right.  Our economy is dying, our relationships with the rest of the world are a mess and we have accumulated the largest debt in the history of mankind.  Meanwhile, our politicians openly hand out our money to their friends and to those that have donated money to their campaigns and they waste our money on some of the stupidest things imaginable.  Have we now gotten to the point where our system of government has become so corrupted that it is almost impossible to repair it?
There days is seems as though almost everything our government tries to do is cursed.  Nothing ever seems to turn out the way that it is supposed to.  The more our politicians promise to get spending under control, the more money they seem to waste.  It is almost as if there is a "drought of common sense" in Washington D.C. right now.  Not only can't our politicians fix our problems – everything that they do only seems to make our problems even worse.
So would it really be so bad if there was a government shutdown for a while?  At least then our politicians would not be able to do any more damage.
New stories of political corruption seem to come out almost daily now.  So many members of Congress are entangled in controversy that it is hard to keep up with it all.  And yet they seem to have no problems with passing endless amounts of onerous new laws that make life even more difficult for all the rest of us.
We have become a society with millions of laws but that is becoming more lawless by the day.  Federal money is flying around everywhere and yet our politicians can't seem to find anywhere to cut spending.  Incompetence rules in Washington D.C. and yet the American voters seem to keep wanting to reward it.
What in the world is going on out there?
The following are 25 examples that show that the U.S. government is absolutely brimming with idiots, incompetents and incredibly corrupt politicians….
#1 As 2010 came to an end, 96 departing members of the U.S. House of Representatives (most of them Democrats) awarded millions of dollars in extra pay to their staffers and aides as they closed down their offices.  Keep in mind that this was U.S. taxpayer money that was being spent.  The Wall Street Journal described what happened this way….
The 96 lawmakers paid their employees $6.7 million, or 31%, more in the fourth quarter of 2010 than they did, on average, in the first three quarters of the year.
#2 If the new health care law is so great, then why is the Obama administration allowing so many organization to opt out of it?  According to the Department of Health and Human Services, more than 1,000 organizations have received Obamacare waivers so far.
#3 Florida Atlantic University in Boca Raton, Florida used $15,551 in federal stimulus money to pay two researchers to study how alcohol affects a mouse's motor functions.
#4 A perfect example that shows just how clueless our leaders are about the deindustrialization of America occurred recently when U.S. Senator John McCain claimed that iPods and iPhones are made in the United States.
#5 Barack Obama recently challenged a group of business and labor leaders to come up with some great ideas for creating more jobs inside the United States on the exact same day that he was pushing hard for Congress to approve the new free trade agreement with South Korea which will send even more of our factories and jobs overseas.
#6 Syracuse professor of psychology Michael Carey received $219,000 in federal stimulus money for a study that examines the sex patterns of college women.
#7 The National Institutes of Health spent approximately $442,340 to study the behavior of male prostitutes in Vietnam.
#8 Our federal tax code has become so riddled with loopholes that many of the largest corporations in the U.S. have figured out how to pay their top executives millions upon millions of dollars in bonuses and still not pay a single dime in income taxes to the U.S. government.
#9 Back in 1913, the federal tax code was a whopping 400 pages long.  If you lived back then, would you have had enough time to read the whole thing?  Perhaps.  Well, today the federal tax code is approximately 70,000 pages long.  Do you think that anyone has ever actually read that thing from beginning to end?
#10 This year, it is estimated that U.S. taxpayers will spend somewhere around 7.6 billion hours preparing their taxes.
#11 1.15 million dollars in federal stimulus funds were allocated for the installation of a new guard rail around the non-existent Optima Lake in Oklahoma.
#12 For the month of February alone, the U.S. government ran a deficit of 223 billion dollars, which was a new all-time record for a single month.
#13 Researchers at the State University of New York at Buffalo received $389,000 in federal stimulus funds to study 100 residents of Buffalo, New York and record how much malt liquor they drink and how much pot they smoke each day.
#14 A total of $3 million has been granted to researchers at the University of California at Irvine so that they can "research" video games such as World of Warcraft.
#15 One dinner cruise company in Chicago, Illinois received nearly $1 million in stimulus funds to combat terrorism.
#16 During Barack Obama's first two years in office, the U.S. government added more to the U.S. national debt than the first 100 U.S. Congresses combined.
#17 Landon Cox, a Duke University assistant professor of computer science, was awarded $498,000 in federal stimulus money to study Facebook.
#18 The entire U.S. government might shut down because Barack Obama and the Republicans are squabbling over 61 billion dollars in spending cuts that would barely even make a dent in the gigantic budget deficit that we are facing this year.
#19 Federal Reserve Chairman Ben Bernanke has a track record of incompetence that is so monumental that it is really difficult to even find words to accurately describe it.  Unfortunately, Barack Obama is so incompetent that he actually renominated the guy and our Senators are so incompetent that they actually confirmed him again.
#20 Barack Obama and the Federal Reserve keep trying to convince us all that we are in an economic recovery and yet the number of Americans on food stamps has surpassed the 44 million mark for the first time ever.
#21 The Conservation Commission of Monkton, Vermont recently received $150,000 from the federal government to construct a "critter crossing".  Thanks to U.S. government money, the lives of "thousands" of migrating salamanders are now being saved.
#22 Approximately $1 million of U.S. taxpayer money has been used to create poetry for the Little Rock, New Orleans, Milwaukee and Chicago zoos.  The goal of the "poetry" is to help raise awareness on environmental issues.
#23 The "entitlement mindset" that permeates not only the U.S. government but also much of the voting public was clearly displayed recently when a union protester in Wisconsin asked a Tea Party activist the following question: "Why do you have a right to your money?"  Of course with politicians such as Howard Dean publicly declaring that it is the "job of the government" to redistribute wealth this is the kind of nonsense that you are going to get.
#24 The budget that the Obama administration has submitted for fiscal 2012 assumes that the U.S. government will bring in about 2.1 trillion dollars in income this year (mostly by taxing all of us), and by 2021 Obama's budget assumes that the U.S. government will be able to increase that figure to 4.9 trillion dollars.  Can anyone figure out how in the world the U.S. government is going to get over twice as much tax money out of all of us ten years from now?
#25 Barack Obama, the man with "the most important job in the world", sure does seem to have a lot of free time on his hands.  He recently played his 60th round of golf since becoming president.  Obama has also become the first U.S. president to ever produce his own beer.  Obama certainly does seem to be enjoying the high life right now.  During his first two years in office, Obama enjoyed a total of 10 separate vacations that stretched over a total of 90 vacation days.  Wouldn't it be great if we all were given that much vacation time?