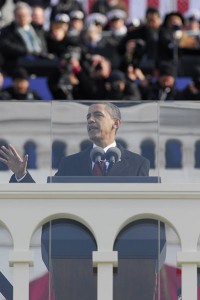 Has the economy improved since Barack Obama became the president of the United States?  Of course not.  Despite what you may be hearing in the mainstream media, the truth is that when you compare the U.S. economy on the day that Barack Obama was inaugurated to the U.S. economy today, there is really no comparison.  The unemployment crisis is worse than it was then, home values have fallen, the cost of health insurance is up, the cost of gas is way up, the number of Americans living in poverty has soared and the size of our national debt has absolutely exploded.  Anyone that believes that things are better than they were when Barack Obama was elected is simply being delusional.  Yes, things have stabilized somewhat and our economy is not in free fall mode at this point.  But don't be fooled.  This bubble of false hope will be short-lived.  The problems we are seeing develop in Europe will erupt into another full-fledged global financial crisis and economic conditions in the United States will get even worse.  When that happens, what possible " economic solutions" will Barack Obama have for us?  We never even came close to recovering from the last great financial crisis, and now something potentially even worse is staring us in the face.  This is not a great time to have a total lack of leadership in Washington.
The following are 18 statistics that prove that the economy has not improved since Barack Obama became the president of the United States….
#1 Today there are 88 million working age Americans that are not employed and that are not looking for employment.  That is an all-time record high.
#2 When Barack Obama was elected, the percentage of unemployed Americans that had been out of work for more than 52 weeks was less than 15%.  Today, it is above 30%.
#3 There are 1.2 million fewer jobs in America today than there were when Barack Obama was inaugurated.
#4 When Barack Obama first took office, the number of "long-term unemployed workers" in the United States was approximately 2.6 million.  Today, that number is sitting at 5.6 million.
#5 The average duration of unemployment in the United States is hovering close to an all-time record high.
#6 During the Obama administration, worker health insurance costs have risen by 23 percent.
#7 Since Barack Obama has been president, the average price of a gallon of gasoline in the United States has increased by 90 percent.
#8 Since Barack Obama has been president, home values in the United States have declined by another 13 percent.
#9 Under Barack Obama, new home sales in the U.S. set a brand new all-time record low in 2009, they set a brand new all-time record low again in 2010, and they set a brand new all-time record low once again during 2011.
#10 Since Barack Obama took office, the number of Americans living in poverty has risen by more than 6 million.
#11 Since Barack Obama entered the White House, the number of Americans on food stamps has increased from 32 million to 46 million.
#12 The amount of money that the federal government gives directly to Americans has increased by 32 percent since Barack Obama entered the White House.
#13 According to the U.S. Census Bureau, the percentage of Americans living in "extreme poverty" is now sitting at an all-time high.
#14 When Barack Obama first took office, an ounce of gold was going for about $850.  Today an ounce of gold costs more than $1700 an ounce.
#15 Since Barack Obama became president, the size of the U.S. national debt has increased by 44 percent.
#16 During Barack Obama's first two years in office, the U.S. government added more to the U.S. national debt than the first 100 U.S. Congresses combined.
#17 During the Obama administration, the U.S. government has accumulated more debt than it did from the time that George Washington took office to the time that Bill Clinton took office.
#18 The U.S. national debt has been increasing by an average of more than 4 billion dollars per day since the beginning of the Obama administration.
Oh, but Barack Obama is promising that things will be much better very soon.  Barack Obama is pledging that 2 million more jobs will be added to the economy in 2012.
Do you believe him?
Congress certainly seems to think that things will be getting better.  Congress has reduced the maximum amount of time that the unemployed can receive unemployment benefits to 73 weeks.  That change will go into effect later this year.
But there are still millions of very talented Americans that cannot find work after years of looking.
So what are they supposed to do?
A recent Business Insider article featured the story of Helen Hatat, a woman from southern California that has been unemployed since 2009….
She lost her job in public relationships in 2009 after more than 20 years of working in the entertainment industry, the Southern California resident said.

"When you don't have a job, you don't find a job, and when you don't have a job, you don't find a home," she said.

At first she tried moving into a homeless shelter, but left because they treated her "like garbage." Eventually she found a friend she could stay with, but this arrangement won't last forever.

"I've found you lose most of your friends, you know. If you have money people love you. If you don't have any money people hate you. They treat you like you are contagious."
As government finances get tight, things are going to get really tough for women like her.
When evaluating the health of the American economy, the key is not to focus on the short-term economic numbers.  Sometimes they go up and sometimes they do down.
Instead, the key is to look at the long-term balance sheet numbers.  When you do that, it quickly becomes apparent how appalling our economic decline has been.
The size of federal government debt is exploding, state and local governments all over the country are drowning in debt, our collective national wealth is decreasing and our ability to produce new wealth is also being reduced as our economic infrastructure is systematically gutted.
Of course all of the blame should not go to Obama.  The truth is that the Federal Reserve has much more power over the economy than Obama does.  But the American people are constantly told that the Federal Reserve is "not political" and that we should not criticize the Fed.
So it is kind of ridiculous that presidents are judged by the performance of the economy.  Yes, Bush, Clinton, Bush and Obama have all greatly contributed to the mess that we are in, but they are not solely responsible for it.
In the end, however, the outcome of the next presidential election will probably be very heavily influenced by how the U.S. economy performs during the rest of 2012.
Sadly, as our economy declines it is bringing out the worst in many Americans.  For example, "sugar daddy" websites are absolutely exploding in popularity.  Young women that are hungry for cash are selling their "services" to sick older men who are willing to finance the lifestyles of these desperate young women in exchange for "companionship".
The following comes from a recent article in The Independent….
In America's booming online dating market, few sectors are hotter than so-called "sugar daddy" sites, which help rich men to make "arrangements" with attractive and financially needy younger women. Between them, these specialist sites now account for 10 percent of the entire industry. That's no small beans, given that in the US the online dating business now generates profits estimated at $700m ($442m) per year and, according to the polling firm GlobeSpan, has helped just over one in five Americans to find their life partner.
As the economy gets even worse, millions upon millions of Americans are going to become extremely desperate and will do things for money that they never dreamed that they would do.
That is a very frightening thing.
America is changing, and not for the better.
You better get ready for what is ahead, because Barack Obama is not going to save you.