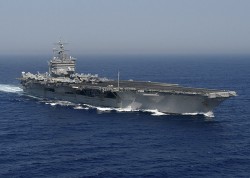 Over the past couple of days, top government officials from both the United States and the EU have been openly discussing the possibility of military intervention in Libya. In fact, it has seemed like there has been a full court press in the mainstream media to sway public opinion toward supporting a potential invasion.  We are being told that we simply cannot stand by as Libyan civilians die.  We are being told that this would be a "humanitarian" mission.  We are being told that this would not be like Iraq or Afghanistan.  Even now, the U.S. military is moving the USS Enterprise and other warships closer to Libya in case they are "needed".  Other nations are also sending warships into the Mediterranean and are preparing for military action.  It really does appear that authorities in the United States and Europe really are serious about potentially going into Libya.  But is there really any way that the United States can really justify getting involved in another war in the Middle East?  Will the American people ever be convinced that an invasion of Libya by the U.S. military is a good idea?
Fortunately, so far it appears that the mainstream media propaganda is not working.  A recent Rasmussen poll found that a whopping 67 percent of Americans do not want the U.S. to get more involved in the unrest going on in Arab countries and only 17 percent of Americans do want the U.S. to get more directly involved.
But that doesn't mean that top politicians in the U.S. and in Europe are not going to continue to try to change our minds.
British Prime Minister David Cameron sure sounds like he is ready to go to war….
"If Col Gaddafi uses military force against his own people, the world cannot stand by."
On Monday, Hillary Clinton made it clear that the U.S. government considers military action to be very much "on the table"….
"Nothing is off the table so long as the Libyan Government continues to threaten and kill Libyans."
It is almost as if they want us to believe that their hands are being forced.
Of course nobody in the mainstream media seems to be bringing up the fact that the United States has stood idly by and watched millions and millions of Africans be slaughtered in bloody civil wars and genocides over the past couple of decades.
For decades the U.S. has looked upon the suffering of millions of Africans with indifference but now they are trying to convince us that it is a "moral imperative" that we intervene in the civil war in Libya.
It is funny how things can change when oil is at stake.  Libya is the biggest producer of oil in Africa and that makes it a very important nation to the global elite.
Fortunately, it appears that the American people are starting to get sick and tired of sending our young men and women off to the Middle East to fight these endless wars.
American blood should never be spent cheaply.  Each American life is precious, and our military men and women should never be sacrificed unless there is a darn good reason for it.
Well, right now the global elite are working overtime to try to create some "good reasons" for going into Libya.
The following are 14 potential justifications for an invasion of Libya by the U.S. military that are currently being floated in the mainstream media….
#1 "We Can't Stand Aside And Watch Gaddafi Kill His Own People"
#2 "It Would Just Be A Humanitarian Mission"
#3 "Libya Is Torturing Prisoners"
#4 "The Libyan Rebels Will Not Be Able To Take Down Gaddhafi With Our Help"

#5 "U.S. Interests Are Being Threatened"
#6 "Gaddafi Is Crazy"
#7 "Gaddafi Has Weapons Of Mass Destruction"
#8 "Gaddafi Will Use Chemical Weapons If We Don't Stop Him"

#9 "Gaddafi Has "1,000 Metric Tons Of Uranium Yellowcake"
#10 "European Energy Companies Are Deeply Invested In Libyan Oil And Gas Fields"
#11 "Millions of Dollars Worth Of Infrastructure Will Be Destroyed If We Don't Intervene"
#12 "The Crisis In Libya Is Bad For The Global Economy"

#13 "Someone Has To Protect The Oil"

#14 "We Have Got To Go Into Libya To Keep Al-Qaeda From Getting A Foothold"
Al-Qaeda?
Really?
Yes, they are being trotted out once again as a reason for us to invade someone.
A recent article in Time Magazine made the following claim….
"U.S. counterterrorism officials have noted the disproportionate number of Libyans turning up in the ranks of al-Qaeda both in northern Africa and in Iraq."
You can always count on Time Magazine for some good government propaganda.
Hopefully the American people will not fall for this nonsense.
But it looks like it is not just going to be the U.S. military that is going to be involved.  This is already being framed as a "NATO operation", and we are being told that a direct invasion will probably not happen immediately.
Rather, we are told that a "no fly zone" would likely be set up first and special forces troops may be sent in to help "advise" the rebel forces.
Well, the truth is that the moment that we shoot down one Libyan plane or we insert one U.S. solider into the country we are at war.
In fact, the Pakistan Observer is reporting that hundreds of "defense advisers" from the United States, the U.K. and France have already landed in Libya and are helping to train rebel forces.
Let us hope that the Pakistan Observer report and other similar reports in the international media are not true.
The American people are sick and tired of using the U.S. military as the police of the world.  The Libyan civil war belongs to the Libyan people and it should stay that way.
No mater how it is justified, if the U.S. military does go into Libya the Libyan people and most of the rest of the world are going to deeply resent it.
So what do you think?  Do you believe that it would be a good idea or a bad idea for the U.S. to get involved in the civil war in Libya?  Please feel free to leave a comment with your opinion below….