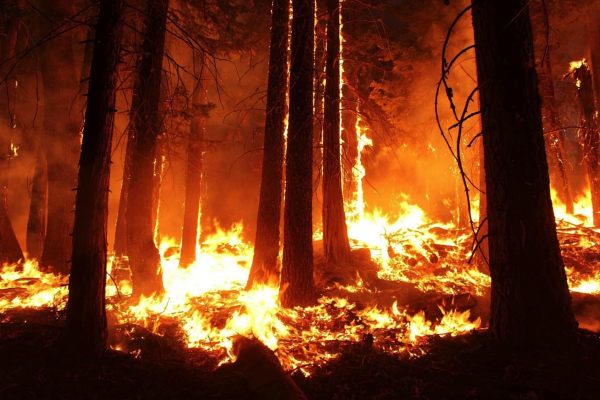 At this hour, a thick blanket of smoke from the horrific wildfires in California, Oregon and Washington is covering much of the western portion of the country.  U.S. Senator Jeff Merkley of Oregon has used the word "apocalyptic" to describe the utter devastation that has been caused by these fires, and that is not an exaggeration whatsoever.  There are some small towns that have literally been wiped off the face of the map during the past week, and some of them may never be rebuilt.  This has already been a wildfire season like no other along the west coast, and we are just now entering the heart of the 2020 fire season.  It is very difficult to imagine another couple months of this, but that is potentially what we are facing.
By the time that it is over, nobody living on the west coast will ever forget the chaos that this wildfire season has caused.  Some of the largest fires have been burning for weeks, and all of the smoke is having a dramatic impact on large cities such as San Francisco…
The cityscape resembles the surface of a distant planet, populated by a masked alien culture. The air, choked with blown ash, is difficult to breathe.

There is the Golden Gate Bridge, looming in the distance through a drift-smoke haze, and the Salesforce Tower, which against the blood-orange sky appears as a colossal spaceship in a doomsday film.

San Francisco, and much of California, has never been like this.
Yes, every year there are wildfires, but what we are watching this year is on an entirely different level.  The following are 11 facts that prove the apocalyptic wildfires in California, Oregon and Washington and unlike anything we have seen before…
#1 According to the National Interagency Fire Center, more than 30,000 firefighters are currently contending with 94 large fires that have burned more than 4.6 million acres in 12 western states.
#2 40 of those large fires have prompted evacuation orders, and many have been forced to flee "with just the clothes on their backs" because the fires have moved so rapidly.
#3 The August Complex Fire has already officially become the largest wildfire in the history of the state of California, and at this hour it continues to rage out of control.
#4 Five of the ten largest wildfires in California history have happened in 2020.
#5 In Oregon, 40,000 people have already been evacuated, and hundreds of thousands more have been told to prepare to potentially evacuate.
#6 On Saturday, the air quality index reading in Salem, Oregon was 512.  That measurement was "off the charts", because the scale only goes up to 500.
#7 Prior to 2020, we had only witnessed a few "fire tornadoes" in all of U.S. history, but now they are occurring "every week or two".
#8 According to the Washington Post, some wildfire plumes have risen "up to 10 miles high", and that is definitely extremely unusual.
#9 About a week after a fire tornado hit the Huntington Lake area, some fires are still burning root systems underground "at more than 1,500 degrees"…
A week later, Donnelly said Saturday that the Creek Fire continues to burn in the area, with some fires occurring underground and attacking the root system of trees at more than 1,500 degrees.

"Fire inspectors from the office of the State Fire Marshall stated that fire behavior in the Kennolyn area is the worst they had witnessed in their career," Donnelly wrote in a post that was shared on social media, timestamped as 11 a.m. Saturday. "Unfortunately, it will be some time before it is safe to enter the burned areas."
#10 Even though we still have quite a bit of time to go, this has already been the worst wildfire season in California's history and the second worst wildfire season in Washington's history.
#11 Sadly, the fire season still has another four months remaining, and there are at least seven weeks left in "prime fire season".
Of course the list above simply cannot express the incredible amount of pain and suffering that these fires have caused for so many people.
When a reporter followed Betty Stevens of Phoenix, Oregon back to the spot where her home once stood, what they discovered was too horrible for words…
Betty Stevens stumbled down the street that had until a few hours ago seemed so familiar, her feet crunching through ash and debris as she entered the smoking remains of her neighborhood. There were melted street signs. Trees burned down to stumps. Power lines across the road. And everywhere she turned, choking, acrid smoke.

Sobbing behind the face mask she normally wears for her job as a hospital respiratory therapist helping coronavirus patients, Stevens, 31, video recorded herself earlier this week as she stumbled through the neighborhood, raw emotion in her voice, sometimes unable to form words, moaning in obvious pain.
Could you imagine losing your home and everything inside of it?
Over the next several weeks, fires will continue to sweep across our western states and many more homes and buildings will likely be lost.
For many, it will be the final straw.  As I have discussed previously, large numbers of people have already moved away from the west coast, and there are others that are seriously considering doing so…
Monica Gupta Mehta and her husband, an entrepreneur, have been through tech busts and booms, earthquakes, wildfire seasons and power outages. But it was not until the skies darkened and cast an unsettling orange light on their Palo Alto home earlier this week that they ever considered moving their family of five somewhere else.

"For the first time in 20-something years, the thought crossed our minds: Do we really want to live here?" said Mehta, who is starting an education tech company.
As a very small child, I spent several years on the west coast, and I will always have a great fondness for how it was in the old days.  But if you have read my new book, you already know how I feel about the west coast's future.
There are very few areas on the entire globe that have been blessed with more natural beauty than the west coast of the United States.  Unfortunately, natural beauty is not everything.
Here in 2020, it has just been one thing after another, and the west coast has been hit harder than just about anywhere else.
Many are hoping that better times are ahead in 2021, but I definitely would not be counting on that.
***Michael's new book entitled "Lost Prophecies Of The Future Of America" is now available in paperback and for the Kindle on Amazon.com.***
About the Author: My name is Michael Snyder and my brand new book entitled "Lost Prophecies Of The Future Of America" is now available on Amazon.com.  By purchasing the book you help to support the work that my wife and I are doing, and by giving it to others you help to multiply the impact that we are having on people all over the globe.  I have published thousands of articles on The Economic Collapse Blog, End Of The American Dream and The Most Important News, and the articles that I publish on those sites are republished on dozens of other prominent websites all over the globe.  I always freely and happily allow others to republish my articles on their own websites, but I also ask that they include this "About the Author" section with each article.  In addition to my new book, I have written four others that are available on Amazon.com including The Beginning Of The End, Get Prepared Now, and Living A Life That Really Matters. (#CommissionsEarned)  The material contained in this article is for general information purposes only, and readers should consult licensed professionals before making any legal, business, financial or health decisions.  I encourage you to follow me on social media on Facebook and Twitter, and any way that you can share these articles with others is a great help.  During these very challenging times, people will need hope more than ever before, and it is our goal to share the gospel of Jesus Christ with as many people as we possibly can.