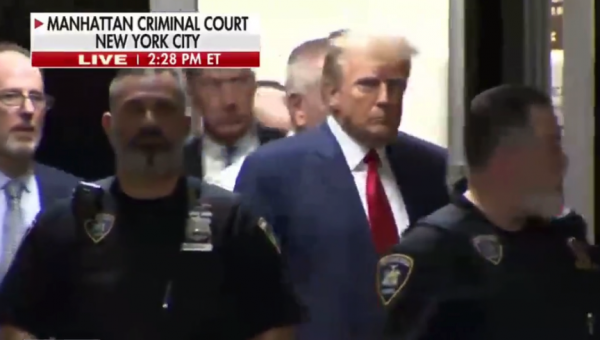 In the old days, the "crazy people" were on the outer fringes of society, but now the "crazy people" are literally running our entire country.  I understand that it can be incredibly frustrating for those of us that deeply love America to watch our country be transformed into a laughingstock.  We were once a beacon of hope for the entire globe, but now we are a punch line.  But the truth is that nobody should be laughing, because what is being done to the United States is a tragedy of epic proportions.  I know that watching the news can be absolutely overwhelming at times, but there is something that I want you to remember when it seems like the world has gone completely mad, and I am going to share that with you at the end of this article.
On Tuesday, the entire nation was focused on the unprecedented events that were unfolding in New York City…
Former President Donald Trump pleaded not guilty in a New York City court Tuesday after being charged with 34 felony counts of falsifying business records in the first degree.

The charges, which are related to hush-money payments made during the 2016 presidential campaign, came out of Manhattan District Attorney Alvin Bragg's years-long investigation.

Bragg alleged that Trump "repeatedly and fraudulently falsified New York business records to conceal criminal conduct that hid damaging information from the voting public during the 2016 presidential election."
They are really going down this road.
They are actually going to try to put Trump in prison for a long time for not properly accounting for hush money payments that he made to a couple of women that he slept with.
Okay, so where are the charges against Bill Clinton?
He slept with a very long line of women, and he did some very bad things to cover up those affairs.
And what about all of the other heinous crimes that the Clintons have committed?
Of course the Bush family, the Obamas and the Bidens have also done things that are far, far worse than what Trump is being accused of doing.
No matter what you think of Trump, we should all be able to agree that the law should be applied equally to everyone.
But that isn't going to happen.
I don't think that I will ever forget watching Trump enter the courthouse on Tuesday…
BREAKING FOOTAGE: Trump enters courtroom pic.twitter.com/RJFDYTsRp0

— Insider Paper (@TheInsiderPaper) April 4, 2023
When asked about why he is doing this, Alvin Bragg stated that it is important not to "normalize serious criminal conduct"…
Bragg is using his powers to pursue a political prosecution while letting violent criminals off the hook.

It seems the only "serious criminal conduct" Bragg believes in prosecuting is the "crime" of being a Republican.https://t.co/rMI4zw442m

— GOP (@GOP) April 4, 2023
But of course Bragg has repeatedly released extremely violent criminals back into the streets where they have committed even more crimes…
New Yorkers who survived the city during the pandemic remember the long months when Bragg's office became a revolving door for career criminals who hit up the streets in broad daylight and had many residents fearing the subways.

While Bragg's office was preparing to indict Trump, he let violent reoffenders continue to wreak havoc.

In August, Mayor Eric Adams revealed that the same 10 criminals made up nearly 500 crimes and that 60 percent of them were still roaming the streets at that time.
New York City is absolutely teeming with rapists and murderers, and crime rates have gone through the roof on Bragg's watch.
But he is completely obsessed with taking down Donald Trump, and the mainstream media is willingly going along with the whole charade.
That is why I was so glad to see Prime Time Alex Stein publicly confronting some members of the mainstream media earlier this week…
The mainstream media is the enemy of the people…especially @CNN

— Alex Stein #99 (@alexstein99) April 3, 2023
Alex Stein is truly one of a kind.
And he makes a really great point.  Why isn't the mainstream media talking about the real crimes that our politicians are committing?
And why isn't the mainstream media more focused on the historic crime wave that we are witnessing all over America right now?
At this point, criminals all across the country are becoming extremely brazen…
— Clown World ™ 🤡 (@ClownWorld_) April 4, 2023
I was absolutely stunned when I first watched that.
Here is another example of how brazen our criminals have become…
🚨WILD MOMENTS as a woman carjacks an elderly woman and goes on a rampage trying to get away in #AgouraHills. pic.twitter.com/Kg4VlWL6Ww

— Traffic News Los Angeles | TNLA (@TrafficNewsLA) March 31, 2023
What was that woman thinking?
Unfortunately, the truth is that we are starting to see a lot more incidents like this because our whole country is going downhill very rapidly.
Just look at our schools.  In one middle school in Georgia, students were literally allowed to fight one another as the teacher watched…
A Clayton County middle school teacher is coming under fire after videos surfaced that appeared to show her allowing students to fight one another as she watched.@wsbtv pic.twitter.com/MLBXIH5NxS

— Larry Spruill Jr (@LarrySReports) March 25, 2023
And our largest corporations are now paying radical activists lots of money to promote their products…
Dylan Mulvaney has become the new brand ambassador for Bud Light. 🍺

The beer brand even made a special edition Dylan Mulvaney Can 🥤celebrating his 365 days of girlhood.

(This is not April Fools, it's actually real)

🍺🍻🍺😒🍻🍺🍻 #dylanmulvaney #trans #transgender pic.twitter.com/xuu87WxrvZ

— Oli London (@OliLondonTV) April 1, 2023
Are you kidding me?
At the rate we are going, eventually our entire society will be run by people like this…
— Clown World ™ 🤡 (@ClownWorld_) April 4, 2023
I know that everything that I have shared up to this point can be extremely maddening.
But please don't despair.
Even in the midst of all the chaos and all the darkness, there is one thing that you must remember.
God is still in control, and you can trust Him…
Don't put your trust in Washington. Don't put your trust in any nation or institution. Put your trust in God alone. 🙏 pic.twitter.com/Gv7AzO2146

— Charlie Kirk (@charliekirk11) April 2, 2023
You could have been born at any time in all of human history, but you were put here for a reason.
Your life has a purpose, and you have a job to do.
It is when times are the darkest that the greatest light is needed, and so don't be afraid to shine for all the world to see.
Michael's new book entitled "End Times" is now available in paperback and for the Kindle on Amazon.com, and you can check out his new Substack newsletter right here.
About the Author: My name is Michael and my brand new book entitled "End Times" is now available on Amazon.com.  In addition to my new book I have written six other books that are available on Amazon.com including "7 Year Apocalypse", "Lost Prophecies Of The Future Of America", "The Beginning Of The End", and "Living A Life That Really Matters". (#CommissionsEarned)  When you purchase any of these books you help to support the work that I am doing, and one way that you can really help is by sending copies as gifts to family and friends.  Time is short, and I need help getting these warnings into the hands of as many people as possible.  I have also started a brand new Substack newsletter, and I encourage you to subscribe so that you won't miss any of the latest updates.  I have published thousands of articles on The Economic Collapse Blog, End Of The American Dream and The Most Important News, and the articles that I publish on those sites are republished on dozens of other prominent websites all over the globe.  I always freely and happily allow others to republish my articles on their own websites, but I also ask that they include this "About the Author" section with each article.  The material contained in this article is for general information purposes only, and readers should consult licensed professionals before making any legal, business, financial or health decisions.  I encourage you to follow me on social media on Facebook and Twitter, and any way that you can share these articles with others is definitely a great help.  These are such troubled times, and people need hope.  John 3:16 tells us about the hope that God has given us through Jesus Christ: "For God so loved the world, that he gave his only begotten Son, that whosoever believeth in him should not perish, but have everlasting life."  If you have not already done so, I strongly urge you to invite Jesus Christ to be your Lord and Savior today.