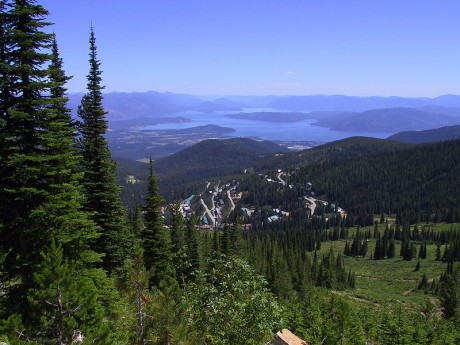 Michael Snyder from The Economic Collapse Blog, Benjamin Baruch, Nathan Leal and Lyn Leahz are organizing a National Call to Prayer and Repentance on the weekend of September 18 – 20. The main event is going to be held in Sandpoint, Idaho, but for those that cannot physically attend, it will be livestreamed over the Internet. To access the livestream, just go to Lyn Leahz's YouTube channel during the weekend of the event…
https://www.youtube.com/user/LynLeahz/
***LOCATION CHANGE*** Due to the absolutely overwhelming response, we have booked a much larger facility for the conference.  It will now be held at the Sandpoint Events Center right in the heart of Sandpoint, Idaho.  You can see photos of the facility here…
http://www.sandpointeventscenter.com/
It is very easy to find and there is plenty of parking.  Here is the physical address…
102 Euclid Ave # 306, Sandpoint, ID 83864
And here is the location on Google Maps…
https://www.google.com/maps/place/Sandpoint+Business+%26+Events/@48.272701,-116.5545721,15z/data=!4m2!3m1!1s0x0:0x953a57e49f85a10f
We have got some amazing speakers lined up, and we are still working on a few more potential surprises.  So far, these are the speakers that we have confirmed…
Michael Snyder: http://theeconomiccollapseblog.com/
Benjamin Baruch: http://www.benjaminbaruch.net/
Nathan Leal: http://www.watchmanscry.com/
The Best Western is right on the beach and is in easy walking distance to the Sandpoint Events Center.  It is a little pricey, but it is very nice.  You can find details here…
https://www.google.com/maps/place/Best+Western+Edgewater+Resort/@48.2749751,-116.5443017,15z/data=!4m2!3m1!1s0x0:0x6f0223c79c0ca69
The Days Inn is a much cheaper option, and you can find details about the Days Inn here…
https://www.google.com/maps/place/Days+Inn+Sandpoint/@48.300613,-116.5440337,15z/data=!4m2!3m1!1s0x0:0x2793df381b6727bc
In addition, there are many other great hotels in Sandpoint, but be sure to book early because they fill up fast…
https://www.google.com/#q=sandpoint+hotels
If you have any questions about any of this, please feel free to reach out to me.  So far, we have people coming in from six different states and even a few people from Canada.  We are also planning to livestream the event for those around the nation that cannot attend in person.
God is moving in an incredible way.
I can't wait to see what happens next.
***UPDATE*** In addition to Michael Snyder and Benjamin Baruch, we have confirmed that Nathan Leal will also be coming to speak at the conference. Coming along with him will be "Watchman's Cry" – a full praise and worship band. So we are going to have an amazing atmosphere of prayer, praise and worship to go along with some anointed teaching. We are also working on a few other potential surprises. Trust me – you do NOT want to miss this! ***END OF UPDATE***
Believers from all over the northwest will be gathering in Sandpoint, Idaho from September 18th to September 20th for a weekend of fellowship, corporate prayer and repentance. This conference is being organized by Michael Snyder of the Economic Collapse Blog and author Benjamin Baruch. But it is going to be much different from conferences that you may have attended in the past. Normally, a Christian conference means that a couple of guys are going to get up and talk and everyone else is going to sit there and watch them the whole time. Of course that is not how the body of Messiah is supposed to work. Christianity is not supposed to be a spectator sport. So if you come to Sandpoint for the conference, we want you to be ready to participate. Many believers will also be fasting in preparation for and during the days of the conference, so if you are able, join us in sanctifying a fast and gathering together in a Solemn Assembly.
In Joel 1:14-15 it says the following…
Sanctify ye a fast, call a solemn assembly, gather the elders and all the inhabitants of the land into the house of the LORD your God, and cry unto the LORD, Alas for the day! For the day of the LORD is at hand, and as a destruction from the Almighty shall it come.
A great shaking is coming to America, and so we're going to get together to pray. We are calling this a "solemn assembly", and a great deal of time is going to be spent praying, repenting and seeking God. We believe that we are approaching one of the most critical times that our nation has ever faced, and so we are issuing a call to prayer. No matter what church or denomination you may belong to, we encourage you to come and be a part of this. Believers from a wide variety of backgrounds are going to lift up their voices in prayer and repent for the sins of our community, the sins of our nation and the sins of the church. It will be a time when the Remnant can connect with one another, pray with one another and minister to one another.
The following is a tentative schedule that we have set for the weekend…
6PM Friday – a time of prayer and fellowship in an atmosphere of praise and worship as people begin to arrive for the 7 PM meeting
7 PM Friday to 10 PM Friday – praise and worship, corporate prayer, small group prayer, speakers, etc.
9 AM Saturday to Noon Saturday – praise and worship, corporate prayer, small group prayer, speakers, etc.
1 PM Saturday to 5 PM Saturday – the heart of the conference – small groups gather for fellowship, prayer sessions and prayer walks throughout beautiful Sandpoint, Idaho
6 PM Saturday to 9 PM Saturday – testimonies from the afternoon, praise and worship, corporate prayer, small group prayer, speakers, etc.
10 AM Sunday – praise, prayer and rejoicing in the Lord on the shores of Lake Ponderay at the Best Western hotel in Sandpoint
Did you notice the emphasis on prayer?
If you decide to come, be ready to participate. This is not a weekend for those that just want to sit back and be entertained. We are all part of the body of Messiah, and we all have gifts and abilities to share. Someone may be at this conference that needs to pray specifically with you or hear a word of encouragement specifically from you.
And even if you don't feel comfortable praying out loud in front of others, that is okay. Please come and participate by joining your heart with the prayers of others. Participation does not just mean being the person that is saying something. When a group of believers come together in agreement, the results can be extremely powerful.
There is no charge for attending this conference. Yes, you read that correctly. We want everyone to be able to come – including those that are on a very tight budget.
If you plan on coming to the conference, please contact me at theeconomiccollapseblog @ hotmail.com so that we can get an idea of how many people to expect. Or if you just have questions about the conference, please feel free to drop me a line.
This is going to be a great time for the Remnant to come together and get to know one another on a deeper level. We already know of groups of people that are going to be coming to the conference from three different states. Yes, things in this world are getting darker and America is about to face some incredibly challenging times. But we are not supposed to live in fear. Instead, let us get excited about the amazing things that God is going to do even in the midst of all the chaos.
Please share this page with as many people as you can. Everyone is invited to come. It is time for the body of Messiah in America to wake up. Our Lord and Savior is returning for His bride, and He deserves the very best. He deserves a bride that is radically and passionately in love with Him. He deserves a bride that is absolutely on fire for Him.
Needless to say, we have a lot of work to do before we are ready.
So we are issuing a call to the Remnant. It is time to arise and to be the people that God created you to be. You have been given specific gifts and abilities for such a time as this. It is time for the fire of revival to sweep this land. It is time for us to cry out for an outpouring of the Holy Spirit like we have never seen before.
Please come and join us in Sandpoint for one great weekend in September.
Personally, I can't wait to see what happens.
For much more on the conference check out this YouTube video: https://www.youtube.com/embed/k95WsdAvzxQ
And you can find a message by Benjamin Baruch that will help get you prepared for this conference right here: https://www.spreaker.com/user/theportal/search-the-scriptures-090515-psalm-78