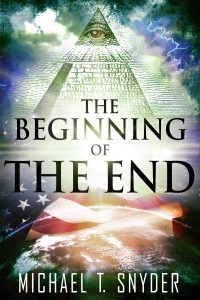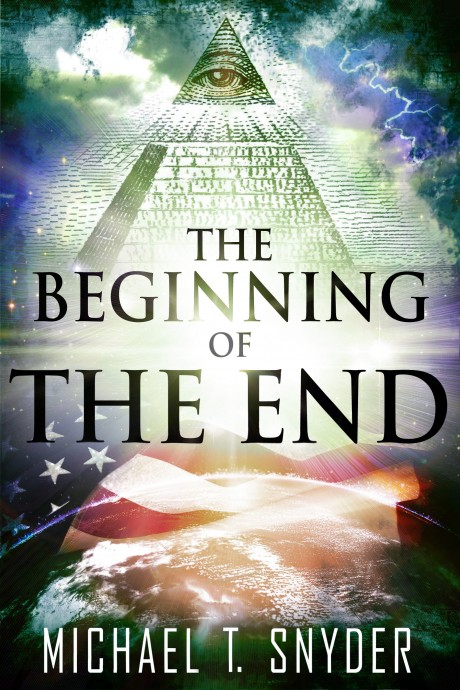 My new novel is finally out! It is entitled "The Beginning Of The End" and it is now available in both paperback format and Kindle format on Amazon.com. It is a book about the future of America that is going to shake a lot of people up. I didn't just write this book to entertain people (although hopefully you will find it extremely entertaining). My goal is for this book to be used as a tool that you can share with your family and friends to help them to wake up.
The paperback version is 442 pages, so it is very long. If you don't want a big, heavy version of the book, you might want to try the Kindle version.
Fortunately, you don't even need a Kindle to read the Kindle edition book. A free Amazon Cloud Reader can be found here: https://read.amazon.com/
I have started to use the Cloud Reader and I like it very much. Using the top menu, you can set the font as large as you would like (to make for easier reading) and you can bookmark the place where you left off.
In addition, there are a whole bunch of other free Kindle apps for smartphones, tablets and desktop computers that you can find here: http://www.amazon.com/gp/feature.html/ref=sv_kstore_1?ie=UTF8&docId=1000493771
So no matter what kind of device you use to access the Internet, you will be able to read my novel online right on your computer. If you are not familiar with eBooks and you are having some problems, just email me at TheEconomicCollapseBlog @ hotmail.com and I will help you out with this.
Another great thing about the Kindle format is that it makes it very easy to give books as a gift. When you go to the Kindle version of my book on Amazon, you will notice that there is a big button on the right hand side that says "Give as a Gift". All you need is the email address of the person that you want to give it to, and you can send them the Kindle version of the book.
That way you don't have to order a paperback copy, wait for it to come in, pack it up, go to the post office, pay for shipping and wait for it to get to the person that you are giving it to.
One of my goals in writing this book is for it be used as a tool to wake people up. If you enjoy the book, I hope that you will consider sending it out as a gift to your family and friends. That would help support my work and would hopefully help wake them up at the same time.
Over the past few years, a lot of people have told me that I should write a book. But I didn't just want to rehash the information on my websites. I wanted to do something truly original but that would also have a real impact.
Eventually, I decided to write a novel. Let's face it – people love stories. Just think about some of the largest cultural phenomenons in recent years – Twilight, Harry Potter, The Hunger Games, 50 Shades Of Gray, The Harbinger etc, etc.
People love to be entertained. So in this novel, I have tried to craft an extremely entertaining story, but I am also communicating a tremendous amount of truth at the same time.
Many people have asked me what I think America is going to look like in the years ahead. Well, in this novel I try to paint a picture of what is ahead for this country. It contains much of the material that I would put into a non-fiction book about the coming economic collapse, but the nuggets of truth are integrated throughout the story. Many in our entertainment-addicted society would never visit a website such as this or sit down and talk to you about the problems that are facing our country, but they will read a good novel.
And it is a really long book. As I mentioned, it is 442 pages long. I have spent much of the past year working on it. I knew that people were going to be spending their hard-earned money on it, so I wanted it to be some of my best work.
If you enjoy reading my articles, then I think that you are really going to enjoy this novel. And if you do find that you enjoy it, please help me spread the word about this book. Once again, I don't just want to entertain people. I really do hope to wake some people up with this book.
So what is the novel about?
The following description of the book is from the back cover…
The Beginning of the End is the first novel by Michael T. Snyder, the publisher of The Economic Collapse Blog. If you want to know what things in America are going to look like in a few years, you need to read this book. The Beginning of the End is a mystery/thriller set in the United States in the near future. It is a time of unprecedented economic collapse, deep political corruption, accelerating social decay, out of control rioting in the cities and great natural disasters. In the midst of all of this chaos, a former CIA agent, a respected financial reporter and a blogger that takes his prepping to extremes all find themselves dropped into the middle of an ancient conflict between two shadowy international organizations. The three of them are absolutely horrified to discover that one of those shadowy international organizations is planning to hit New York City with the largest terror attack in U.S. history. The goal is to throw the entire country into chaos, but who will get the blame? A series of incredibly shocking twists and turns ultimately culminates in a wild cross country chase that leads up to a surprising ending that most readers will not see coming.
A great storm is coming to America, and time is quickly running out. The Beginning of the End is a great book to give to anyone that is still not prepared for what is ahead. It is a wildly entertaining, fast-paced page-turner that is packed with an abundance of twists and turns that many readers will find difficult to put down, but it is also designed to communicate a tremendous amount of truth at the same time. This book is not just intended to entertain people – the explosive truths contained in this novel could literally change the world. If you have always felt a desire to be a part of something bigger than yourself, or if you are just a fan of great apocalyptic fiction, then you definitely should read The Beginning of the End. We are moving into the most unstable time in all of human history, and cataclysmic changes are coming. This is one book that will help you get prepared for what is ahead.
About the author: Michael T. Snyder is a graduate of the University of Florida law school and he worked as an attorney in the heart of Washington D.C. for a number of years. Today, Michael is best known for his work as the publisher of The Economic Collapse Blog (http://theeconomiccollapseblog.com/). Michael and his wife, Meranda, believe that a great awakening is coming and they are working hard to help bring renewal to America.
I would love to hear feedback from all of you about the book. If you would like to tell me what you thought about the novel, please email me at TheEconomicCollapseBlog @ hotmail.com
You can find the paperback version of the book right here, and the Kindle version right here. Thank you for supporting my work, and I hope that you really enjoy the story that I have created.
Michael T. Snyder