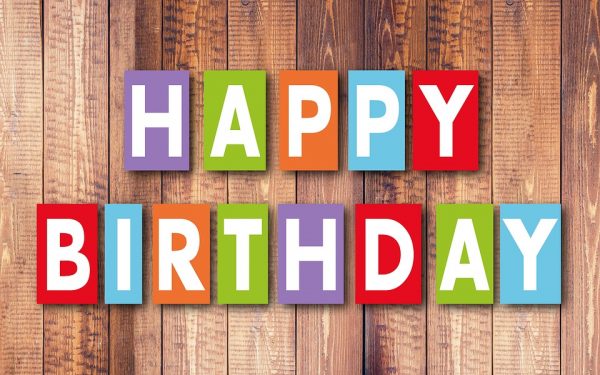 On January 7th, I will be 48 years old.  Each passing year seems to go by faster than the previous one, and I am still trying to figure out what happened to 2017.  No matter how hard we may try, we cannot stop the inexorable march of time, but we can choose what we are going to do with the time that we have been given.  Somebody once told me that life is like a coin – you can spend it any way that you want, but you can only spend it once.  In 2018, I am determined to spend my time on things that really matter.
&nbsp
Throughout my life, I have never really had huge birthday celebrations.  Even when I was a very young child, everyone is kind of "celebrated out" by the time early January rolls around.  If you have a birthday that comes very early in the year, then you probably know what I am talking about.  I never had the elaborate birthday parties that other children did, but that was okay.
This year, there will probably be more attention on my birthday than usual because I am running for Congress.  But what I want is not a fancy cake or some expensive presents.  Rather, what I would really like to see happen is for hundreds more of you to get involved in our campaign for Congress.  We are trying to take our country back, and the only way that is going to happen is if we all work together.  You can find our volunteer page right here, and we need people all over the country to get involved.  We need more people to help us distribute literature, to help us spread the word on social media, and to contribute financially to the campaign.
President Trump's victory in November 2016 provided us with a once in a generation opportunity to reclaim our government.  But if pro-Trump candidates are soundly defeated in 2018, our momentum will be completely extinguished.
Many seemed to think that the war was over once Trump won, but the truth is that the war is only just beginning.  We are locked in a fierce battle with both establishment Democrats and establishment Republicans for the future of this nation, and if we lose we may never have this sort of opportunity again.
In my race, the primary is just over four months away, and whoever wins that primary is almost certainly going to be the next member of Congress because Democrats never win in this district.  At this point the race is totally wide open, and so you can make a tremendous difference by getting involved.
The stakes couldn't be much higher.  If we do not take control of the Republican Party and take our government back, the following are just a few things that will happen as a result…
-Hillary Clinton, Bill Clinton, James Comey, Huma Abedin and John Podesta will never go to prison.
-The Swamp will never be drained.
-The RINOs will never be dethroned.
-The Wall will never be built.
-Planned Parenthood will never be defunded.
-Our veterans will continue to be treated like second class citizens.
-Entrepreneurs and small businesses will continue to be suffocated by red tape.
-We will continue to be dependent on foreign powers for our energy needs.
-The corruption in Washington D.C. will continue to get even worse.
-Obamacare will continue to be the law of the land.
-We will continue to go even deep into debt.
-Sanctuary cities will continue to flout federal law all over the nation.
-We will continue to see factories shut down and we will continue to see jobs shipped overseas.
-Federal judges will continue to shred the U.S. constitution and legislate from the bench.
-Federal bureaucrats will continue to micromanage every area of our lives.
-Following the 2018 mid-term elections, it is likely that establishment Democrats will team up with establishment Republicans and make an all-out effort to impeach President Trump.
At the end of the day, establishment Democrats and establishment Republicans are very much on the same side.  That is one of the deep, dark secrets that nobody is really supposed to talk about.  The "Uniparty" has been dominating D.C. for decades, and this is our moment to try to take control of our government away from them.
If you believe in what we are trying to do, please help us win in May.  I am competing against five opponents, and four of them are absolutely horrible.
If any of those four win, it will be a major setback for the Trump movement, and we cannot allow that to happen.
I know that so many of you are standing strong with President Trump, and the best thing that you can do to support Trump in 2018 is to support pro-Trump candidates for Congress.  I am a 100% pro-Trump candidate, and I need every Trump supporter that is reading this to help us out by donating at least 48 dollars for my 48th birthday.
I want to thank everyone that has helped us so far.  We are more than halfway through this race, but the most intense part by far is still ahead of us.  We are picking up more momentum with each passing day, and the fact that we are doing so well is literally freaking out our opponents.  I wish that I could tell you everything that we know, but at this point I still need to keep some things secret.
Idaho's first congressional district is considered to be one of the safest districts in the entire country for Republicans, and so whoever wins this primary in May could easily be in Congress for the next 20 years.
Our campaign is potentially the only thing standing in the way of a major swamp monster taking this seat, and I cannot stress how critical the next couple of months are going to be.  We are asking for your help, because the battle for this open seat is going to be one of the most important political battles in America in 2018.
Thanks again for all that you have done to help this campaign, and please keep us in your prayers.
In Liberty,
Michael Snyder
&nbsp